Whatsapp updates status after 8 years; 15 best hater tweets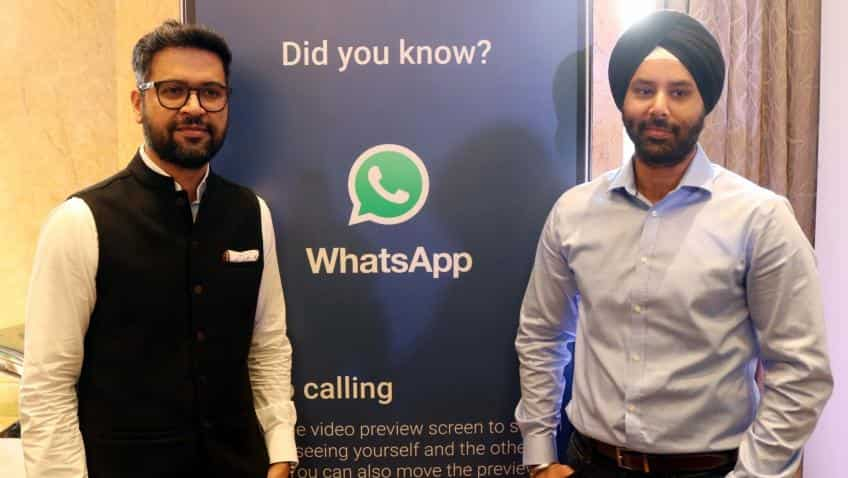 WhatsApp Business Head Neeraj Arora and Product Head Manpreet Singh at the launch of 'WhatsApp Video Call' in New Delhi. Image Source: IANS
Updated: Fri, Feb 24, 2017
05:05 pm
Mumbai, ZeeBiz WebDesk
People woke up to a familiar update to popular messaging app – Whatsapp on Friday as it upgraded its 'status' feature to enable users to share photos, GIFs or videos.
The new feature resembled Snapchat's original Stories feature launched three years ago and Instagram's Stories feature which was also rolled out last year.
Social media was abuzz with the new update with people calling it an 'unnecessary feature' to accusing the app of plagiarising in an obvious way with the hashtag #MyTakeOnNewWhatsapp.
Snapchat creators when they updated their WhatsApp pic.twitter.com/FoowqER8Pi

— Trev (@Tokyo_Trev) February 24, 2017
The old method of posting a status on the app has been removed and instead you can now only see your username and phone number.
Whatsapp that was founded in 2009 by Jan Koum had its old status option could enable people to give a collective message to its contacts like – 'Can't talk, Whatsapp only' or 'Lost all my contacts' or even 'Hey there! I am using Whatsapp,' which has now been erased completely.
Here are few of the rant tweets that express how people really feel about Whatsapp updating its 'status.'
Snapchat story, Instagram story... Now WhatsApp story...but why?! Like the WhatsApp video call isn't enough pic.twitter.com/uO6ThRJ49S

— Akeem Sharyzal (@AkeemSharyzal) February 24, 2017
The new Whatsapp status update is so......unnecessary.....

— Ameera Kamalrudin (@ameerakmlrdn) February 24, 2017
Congratulations Whatsapp for joining my social media list of trash after facebook #mytakeonnewwhatsapp

— Paul ©️ (@OmondilisedPaul) February 24, 2017
RIP WHATSAPP Status pic.twitter.com/2c24HoQZnj

—(@IAmABdulBasitAB) February 24, 2017
Even Mark Zuckerberg himself does not know how to use this new WhatsApp version. #MyTakeonNewWhatsapp

— El Ray (@RaymondSiwale) February 24, 2017
*Whatsapp new update* pic.twitter.com/hS3ncvXSFB

— Misanthropist (@sanasial007) February 24, 2017
Now you can Snapchat on WhatsApp... and let your parents see your doggie face HAHAHA pic.twitter.com/NzYtY3yp7E

— MGAG (@My_MGAG) February 24, 2017
Pic 1: Whatsapp stories
Pic 2: Snapchat stories#Whatsapp #WhatsappStories pic.twitter.com/QbwxqkRrjc

— Dr. Gill (@ikpsgill1) February 24, 2017
My first confusion on WhatsApp was me trying to find where my contacts were. pic.twitter.com/lvuEohDDPB

— Katlego Hendricks(@TheFirstbourne) February 24, 2017
ada update baru for WhatsApp and it's very questionable pic.twitter.com/gei7QPiBu3

— /mooseworks/ (@comoosenist) February 24, 2017
When you kick someone who created that new WhatsApp pic.twitter.com/YI6vJF1wsu

— Da nxt karaboMokgogo (@TBanSA) February 24, 2017
Why WhatsApp why??? Noooo #WhatsApp pic.twitter.com/TvuSoX1K2O

— Rizwan Siddiquee (@BinaryGru) February 24, 2017
Snapchat story, Instagram story... Now WhatsApp story...but why?! Like the WhatsApp video call isn't enough pic.twitter.com/qmlq5Z9Cbh

— D.O.C.K.i.E (@olatejumola1) February 24, 2017
My Instagram, Snapchat and WhatsApp story. pic.twitter.com/r62kGcrVH1

— 500 (@tobaccostain) February 24, 2017
Lol ok now Whatsapp is following Snapchat's concept too? I'm so done pic.twitter.com/QmYeBge6QJ

—(@Shaismn) February 24, 2017