Sony MHC-V73D party speaker review: A dynamite that offers more than what you pay for
Sony MHC-V73D party speaker review: The Sony MHC-V73D isn't a party speaker. It is the party. The Sony MHC-V73D is priced at Rs 44,990 which might raise a few eyebrows and understandably so. Not everyone can spend that sort of amount on an audio box. But, if you can, should you? Let's find out in our review of the Sony MHC-V73D.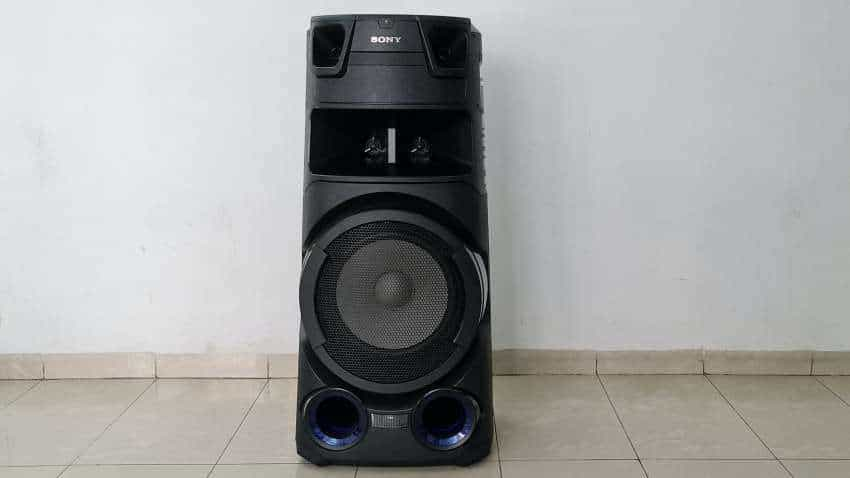 The speaker should come with a warning that reads – 'Install at your own risk, it can steal your thunder'.
Updated: Thu, Sep 17, 2020
12:15 pm
New Delhi, ZeeBiz WebDesk
Sony MHC-V73D party speaker review: The Sony MHC-V73D isn't a party speaker. It is the party. A couple of weeks back the Sony MHC-V73D was shipped to my place, in a big brown box, almost like as they used to transport dinosaurs in Jurassic Park. And, it's no less than a Tyrannosaurus Rex or as you say – the mighty T-Rex. The Sony MHC-V73D is strong, big, powerful and certainly one of the most refined party machines out there.  
The speaker was launched recently in India as part of Sony's high-power One Box Audio System range along with the MHC-V83D, MHC-V43D and MHC-V13. The timing couldn't have been better with people having spent close to six months at home, itching to bring out the party demon in them, probably hoping to turn their living room into a dance floor. Also, with the festive season around, you can expect audiophiles exploring options.  
Despite all these factors, the Sony MHC-V73D is priced at Rs 44,990 which might raise a few eyebrows and understandably so. Not everyone can spend that sort of amount on an audio box. But, if you can, should you? Let's find out in our review of the Sony MHC-V73D. 
Sony MHC-V73D party speaker review: Design and Built 
The speaker should come with a warning that reads – 'Install at your own risk, it can steal your thunder'. The Sony MHC-V73D is designed to own the party. Not matter how well you have decorated the house or how expensive food you order, your guests will only end up talking about the Sony MHC-V73D.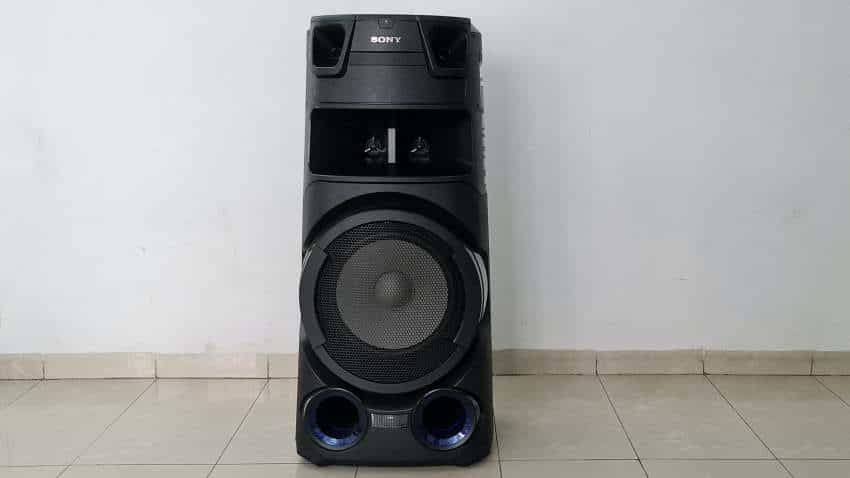 There are two aspects of this speaker that draw attention – a large body and almost hypnotic LED lights flashing from every corner. Now, when I say large, the Sony MHC-V73D is a gigantic speaker which will occupy decent space in your house. The wheels at the bottom offer some relief allowing you to drag the speaker easily.  
On top, you get a splash-proof control panel which is basically a disc with touch support. The disc allows you to control almost all features of the speaker. There is a gesture panel in the middle, surrounded by other touch buttons for: Sound Field, Bluetooth, Function, Volume, Gestures, Bass etc.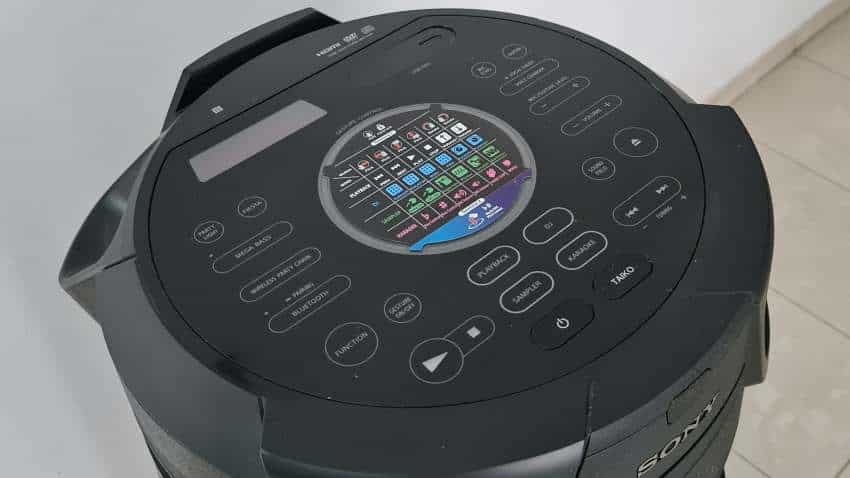 The entire disc looks chic, with coloured lights around buttons. The touch panel is quite responsive as well, just that you should go for sensitive touches and hard presses.  
There is also a small LED display on the panel which shows important information like connectivity method, volume levels and others. Right next to it is a covered cavity which houses a USB port, a Mic port and a guitar port.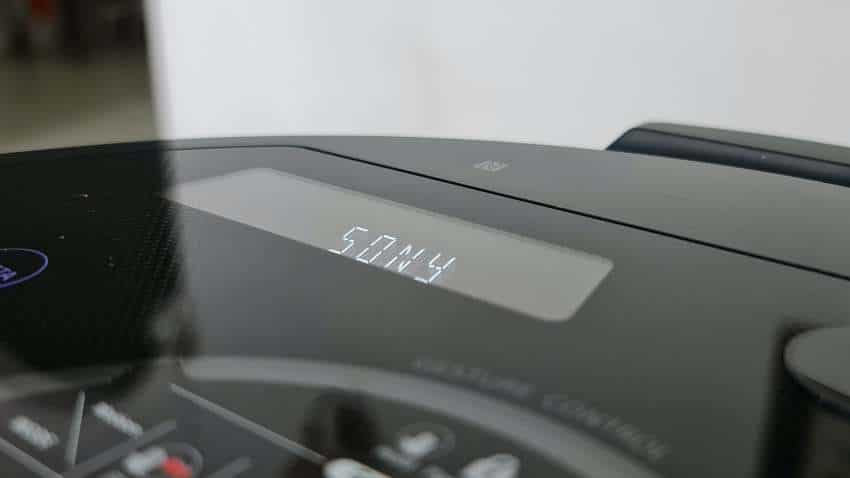 The box has party lights all around it, giving a surreal experience. The omnidirectional party lighting has been setup in a way that the speaker is placed in the middle and you party around it. While a noble idea, it is very difficult to do so in an Indian household without somebody damaging the box. Thankfully, I didn't.  
Also, there are wires. You need one to connect the speaker to power source. Then, if you plan to connect it to your TV (as I did), you will be using a HDMI cable as well. The number can go up as much as you want with multiple connectivity options available.  
There is another cavity at the back, which took a while to find out, that houses the 3.5mm headphone jack, HDMI port and an Optical In port. 
Moving from top to bottom, you get four upward-facing high-efficiency tweeters – two in the front and two on the back. These claim to expand the soundstage and increase the sound pressure level upwards, spreading the sound around the venue you choose. Between the front tweeters you get the Sony branding. And, under that is your built-in DVD player which can be handy for a few.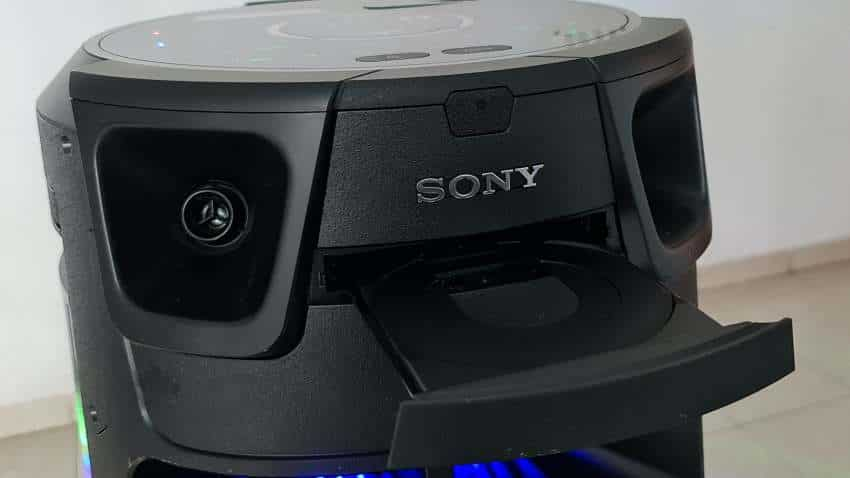 Below these tweeters are the midrange drivers that use mid-horn speakers on the front and back to distribute sound. At the bottom you get Jet Bass Boosters, which as the name suggests, concentrates the airflow of the bass sound so you can hear it clearly.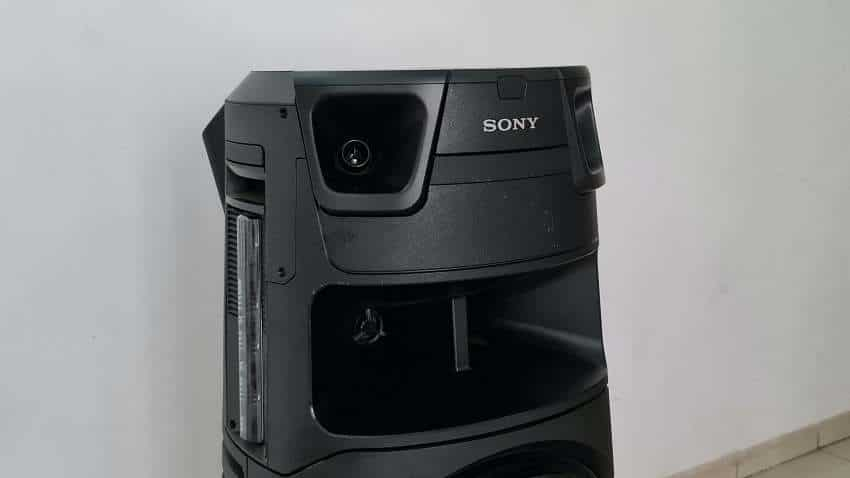 Overall, the Sony MHC-V73D is a beautifully-built party speaker that is strong and sturdy.  
Sony MHC-V73D party speaker review: Connectivity and Controls  
For connectivity, you get almost all the options you can think of: HDMI port with eARC support, Bluetooth, Aux in, Optical In, Mic In, Guitar In, DVD disc and most importantly, NFC. The last allows you to instantly connect the speaker with another NFC-enabled device by just tapping the latter against the NFC sign on the panel.  
An interesting way to use this speaker is through the Fiestable app which gives you complete control of the MHC-V73D. To use the Fiestable app, you'll need to download the Sony Music Center app first. You can use the app to control music, lighting and more, through your smartphone or voice control.  
You can also create a playlist on the app and ask others to add their songs to it. Again, a lifesaving feature for anyone playing the DJ in a house party.  
Coming to controls, you get a button-laden remote control with the speaker. When I say button-laden, it truly is. Sony probably did this to ensure that you don't have to walk up to the speaker, every time you want to change something. But, it has made the remote too crowded with little spacing in between. You literally have to search for the right buttons every time before pressing the right one. It would have been better if some lesser used buttons were ditched.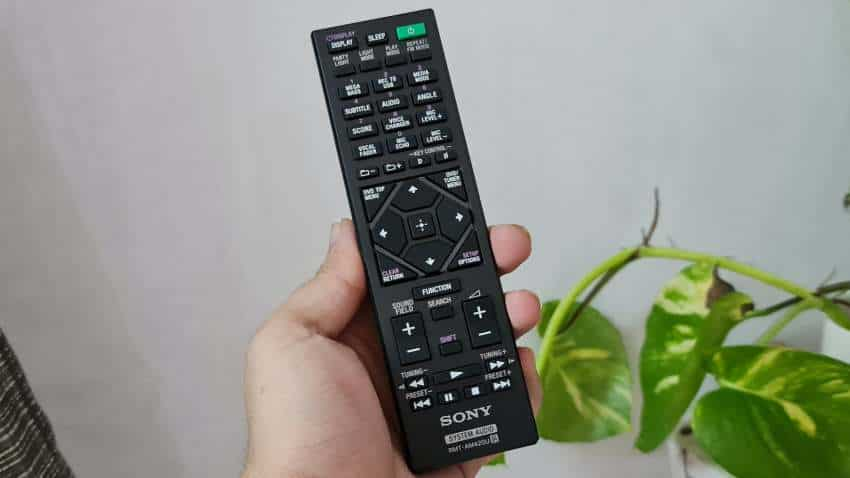 The other cool way to control the machine is through, wait-for-it, gestures. Yes, the MHC-V73D supports gesture controls allowing you to skip a track, turn up the karaoke mic, control the pitch of the mic and music, or turn up the volume with a vertical or horizontal wave of your hand.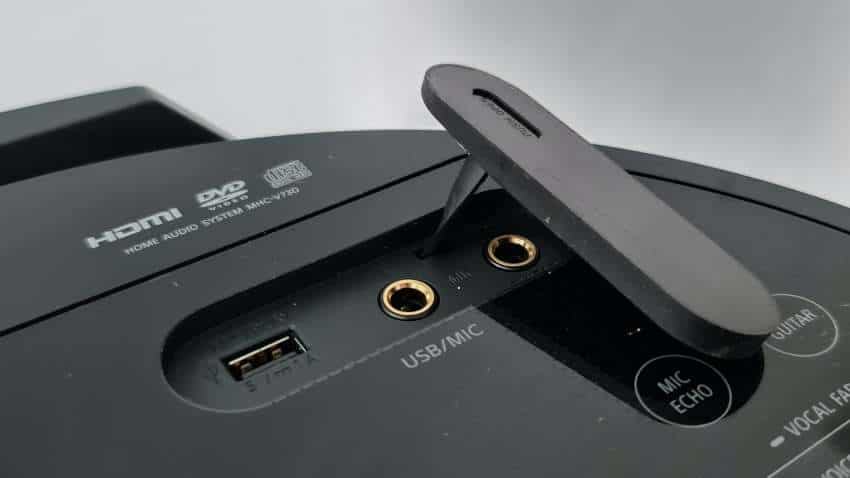 However, you will have to spend a lot of time to learn these and ensure that readings are accurate.  
Sony MHC-V73D party speaker review: Audio and Performance 
It's a shame that you are unlikely to use the Sony MHC-V73D to its full potential, unless you live in the middle of nowhere with no neighbours to remind that it's late and you need to turn down the volume. This speaker is booming, flamboyant and a total party stealer.  
It can go really loud while being the bass-heavy side but there is an option to turn off Mega Bass, which improves the mids and the lows. And if you can somehow manage to keep the volume in check, the glowing party lights will catch the eye of next-door humans.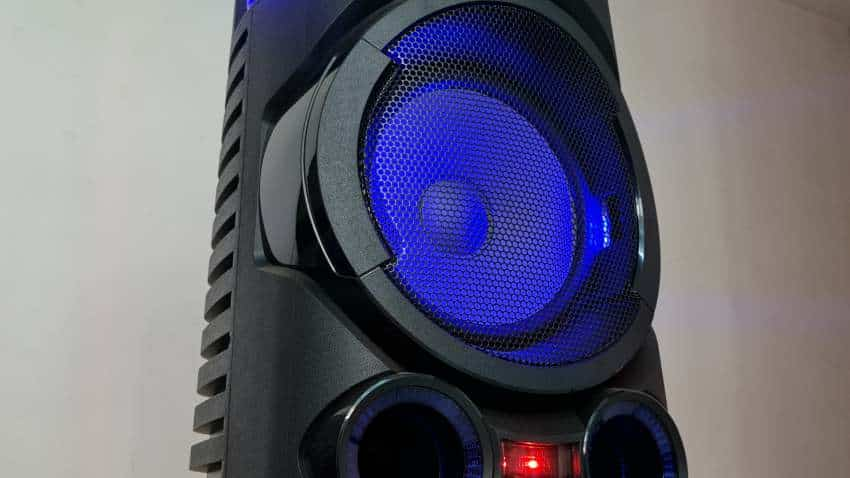 The party speaker sends out waves of deep blue, sky blue and green lighting along with multi-coloured stripe lighting creating immersive party-like experience. It literally lights up both floor and ceiling. It also features an all new animation programming that creates more dynamic patterns, thereby producing an incredible atmosphere to spice up the party. 
The Sony MHC-V73D is a party-heaven for the fans of electronic and pop music. The bass is truly amazing, sending chills down your spine.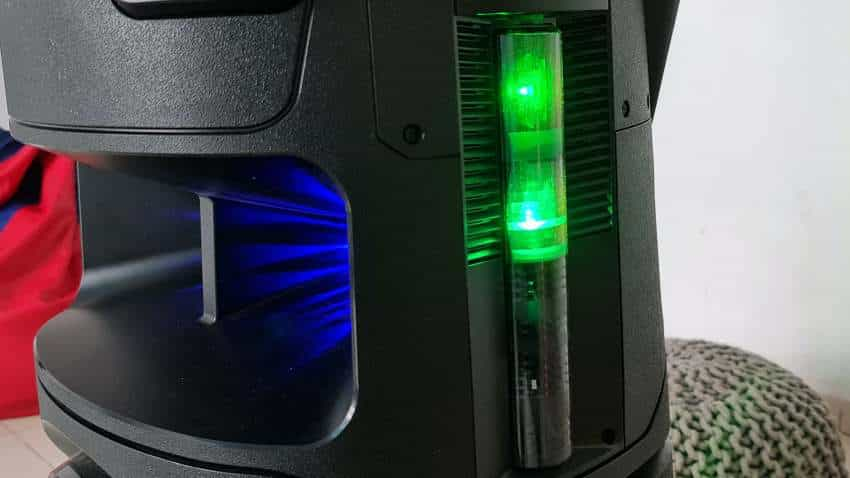 The entire floor was vibrating during 'Blinding Lights' by The Weekend. And, this is when the volume was around 50 to 60 per cent. Taking it to the maximum could be a ceiling breaker. The beat-heavy 'Don Don' by Daddy Yankee, Anuel Aa and Kendo Kapani was equally sweet.  
But, the best mood was set by Ritviz's 'Mukti' where the lights really complemented the music to create a hypnotic environment, showing the capabilities to set the mood for any party.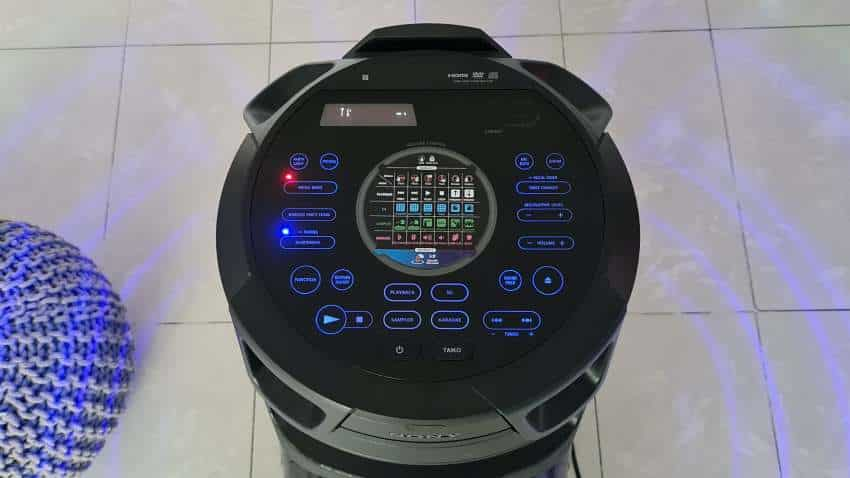 An indie track like 'Alag Aasmaan' from Anuv Jain was decent too. The instruments were clear for most part of the song, with voice getting muffled only as the volume passed 80 per cent levels. I played a number of other tracks like 'Choo Lo' by The Local Train and 'Behe Chala' by Yasser Desai and Shaswat Sachdev with pleasant results. 
And, don't believe those who say that this speaker is only good for partying. I had it connected to my TV for watching movies and playing some high-intensity FIFA games over the weekend. The crystal clear Martin Tyle-Alan Smith commentary added life to the already draining FIFA matches.  
The dialogues in 'Cargo' were clear, which by the way is one of the most sincere attempts at sci-fi from India. The world created by Aarti Yadav truly makes you a part of it and a lot of credit goes to the background score by Sagar Desai which sounded great on the Sony MHC-V73D.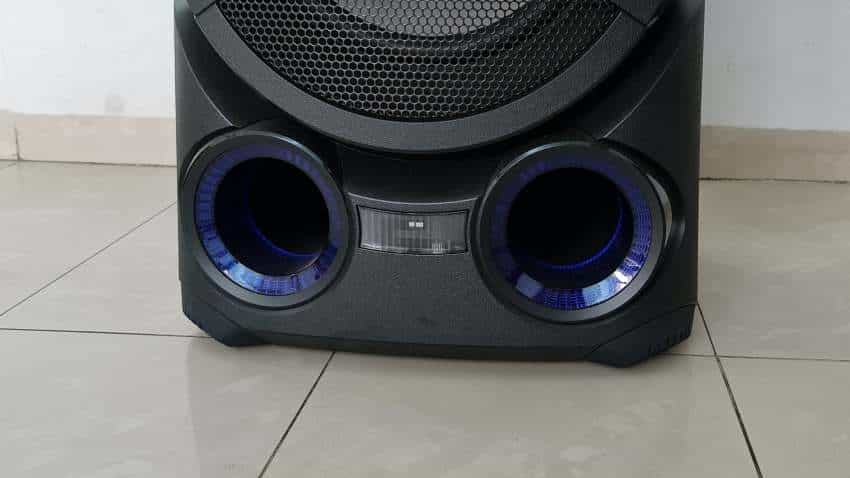 Worth mentioning, I also watched the Premier League opening weekend games using the same speaker. With no crowd in stadium, the experience isn't the same but you can hear the thumps at every pass and shot. And, what a treat the Liverpool-Leeds game turned out to be.  
Lastly, there are some modes for jamming session, that is if you connect the guitar: Clean for playing pop songs, Overdrive for rock and metal tracks and Bass for a bass guitar playing experience. Giving my past exploits in playing instruments, couldn't test this.  
Sony MHC-V73D party speaker review: Should you buy? 
The Sony MHC-V73D could easily be the one of the best speakers under Rs 50,000 in India, let aside the party segment. It is alluring, loud and outperforms that price tag. It has every base covered and comes with so many features that I kept discovering something new for the first 10 days, And chances are that I might have missed one two even then. 
If you have people coming over frequently and like to host parties at home instead of the crowded (at least once upon a time) bars, then you should definitely make some space for the Sony MHC-V73D. 
However, if watching movies and listening to more soothing music are our preferences then there are lot of soundbars to choose from – most priced significantly lower.  
Get Latest Business News, Stock Market Updates and Videos; Check your tax outgo through Income Tax Calculator and save money through our Personal Finance coverage. Check Business Breaking News Live on Zee Business Twitter and Facebook. Subscribe on YouTube.