New Tesla Roadster to fly? Elon Musk says SpaceX rockets coming to this 'out of the world' car
Elon Musk, Tesla CEO, may well be coming up with another innovative creation. This time he is not using rocket technology in spacecraft, he has something else in mind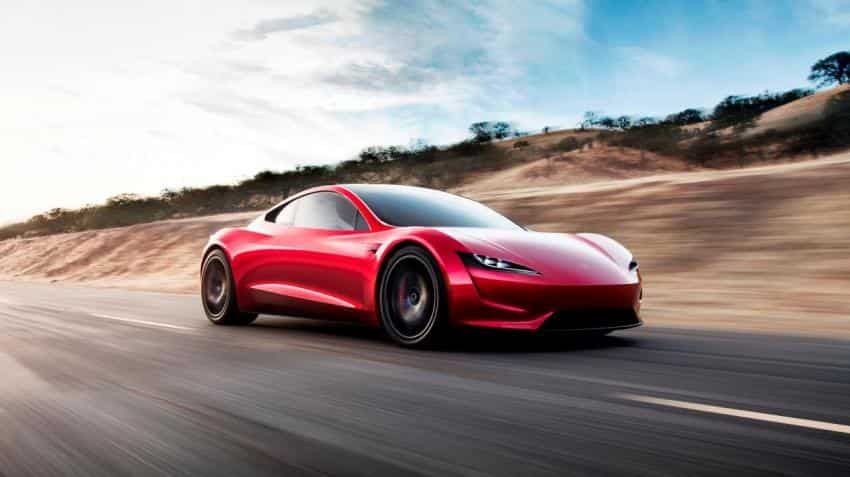 SpaceX option package for new Tesla Roadster will include 10 small rocket thrusters arranged seamlessly around the car. Image source: Reuters
Updated: Tue, Jun 12, 2018
02:36 pm
ZeeBiz WebDesk
Elon Musk, Tesla CEO, may well be coming up with another innovative creation. This time he is not using rocket technology in spacecraft, he has something else in mind. Musk said Tesla will use rocket thrusters in a new car to improve acceleration and control. This seems to be not just a throwaway comment, as the technocrat billionaire confirmed in a series of tweets that New Tesla Roadster will come with SpaceX rocket thrusters.
SpaceX option package for new Tesla Roadster will include 10 small rocket thrusters arranged seamlessly around the car. These rocket engines dramatically improve acceleration, top speed, braking & cornering. Maybe they will even allow a Tesla to fly, Musk said in a tweet.
Musk said gas contained would be ultra high-pressure air in a SpaceX rocket COPV bottle and the air exiting the thrusters will immediately be replenished whenever, according to an Express, UK report.
"You have my word, Marques. Next-gen Roadster will be absolutely out of this world. For those who love to drive, there is no finer car in history and we don't think there will be another," he tweeted.
 However, Roadster could be a 2 seater instead of a 2+2, the report said, adding that there will be COPV in place of the kid seats.
The new Roadster would be able to achieve 620 miles from its 200kWh battery pack, Musk confirmed. However, many express doubt on the idea of a car fitted with rocket thruster. The car, as the Tesla founder claims would be able to run faster due to rocket technology it is fitted with.