Jivi Mobiles launches cheapest 4G Volte smartphone in India at Rs 699
Reliance Jio has tied up with the homegrown mobile phone brand to offer cashback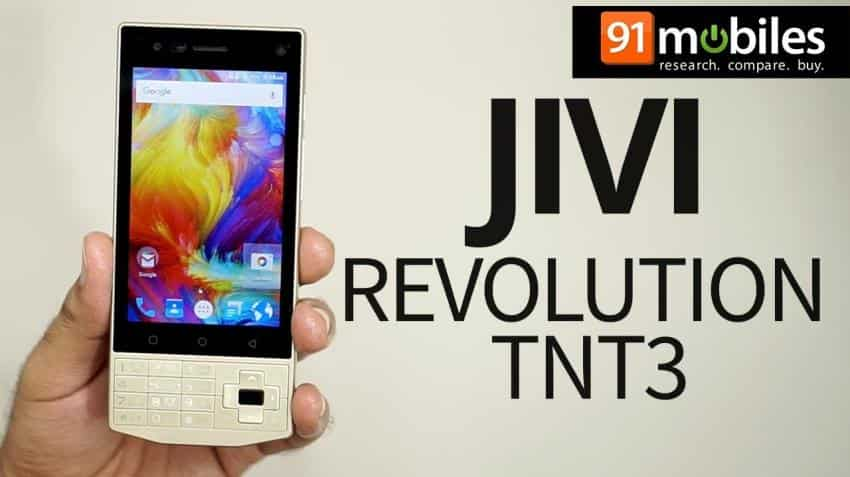 Under the offer, 44 cashback vouchers of Rs 50 each will be disbursed to the customer at the very first recharge of Rs 198 or Rs 299 on or before March 31, 2018. Image source: Youtube
Updated: Sat, Feb 17, 2018
03:32 pm
ZeeBiz WebDesk
Jivi Mobiles, a homegrown mobile phone brand, today announced its tied up with Reliance Jio for cashback offers to its customers.
It is for the first time that Reliance Jio has tied up with a homegrown mobile phone brand. 
Reliance Jio is offering Rs 2,200 cashback instantly through "Jio Football Offer" on the entire range of 4G VoLte smartphones of Jivi Mobiles. One of the five models on which this cashback is available is the revolutionary TnT3. 
"Jio & Jivi Mobiles have taken a major step in the direction of realising Prime Minister Narendra Modi's Vision of 'Digital India' by offering a 4G Volte Smartphone at an effective price of Rs. 699 only," Jivi Mobiles said in a statement.
Pankaj Anand, CEO of Jivi Mobiles, said, "With the percolation of 4G technology to the rural geographies and impeding demand of smartphones, it is imperative for brand like us to understand the changing needs of the customers and come up with the products which can yield demographic dividends." 
Association with Reliance Jio is a right step towards achieving our vision to provide better communication solutions till the last mile,  Anand said.  
"It is indeed a proud moment for us. With this cashback in place, we shall be able to offer our range of 4G VoLte smartphones to our customers at an effective price starting Rs 699, the lowest in India as of now," Anand said.
This is an instant cashback offer where 44 cashback vouchers of Rs 50 each will be disbursed to the customer at the very first recharge of Rs 198 or Rs 299 on or before March 31, 2018. 
The cashback vouchers can be redeemed, one at a time, by May 31, 2022, on recharges of Rs 198 or Rs 299 Jio Plans via MyJio App only. This cashback is available for all new Jivi customers & applicable to both existing & new Jio customers.
Product Specifications:
Jivi prime P444 (8GB)
Dual SIM (4G + 4G) VoLte
1 GB RAM, 8 GB ROM expandable memory up to 64 GB
Finger print sensor
Free Protection Gear: flip cover, protective case and tempered glass
Jivi prime P300
5 inch HD IPS 2.5 D curved screen
1 GB RAM, 8 GB ROM expandable memory up to 64 GB
8 MP rear camera, 5 MP front camera with Flash for selfies
Free Protection Gear: flip cover, protective case and tempered glass
Jivi Prime P30
5 inch FWVGA screen
1 GB RAM, 8 GB ROM expandable memory up to 64 GB
8 MP rear camera, 5 MP front camera with Flash for selfies
Free Protection Gear : flip cover, protective case and tempered glass
Jivi Revolution TnT3,
Dual SIM (4G + 4G) VoLte
Touch n Type Smartphone
Finger print sensor
Free Protection Gear : Protective case and tempered glass
Jivi Energy E12
Dual SIM (4G + 4G) VoLte
4 inch WVGA screen
1 GB RAM, 8 GB ROM expandable memory up to 64 GB
5 MP rear camera, 2 MP front camera for selfies
Free Protection Gear : Protective case and tempered glass
Jivi Energy E3
Dual SIM (4G + 4G) VoLte
4 inch WVGA screen
5 MP rear camera, 2 MP front camera for selfies
Free Protection Gear : Protective case and tempered glass