Budget 2022: Digital Currency Versus Cryptocurrency – FM Nirmala Sitharaman says this on definition, taxation
An entity can be termed as a currency only if it is issued by a Central Bank even if it is a crypto, Finance Minister Nirmal Sitharaman today said in her post Budget 2022 press conference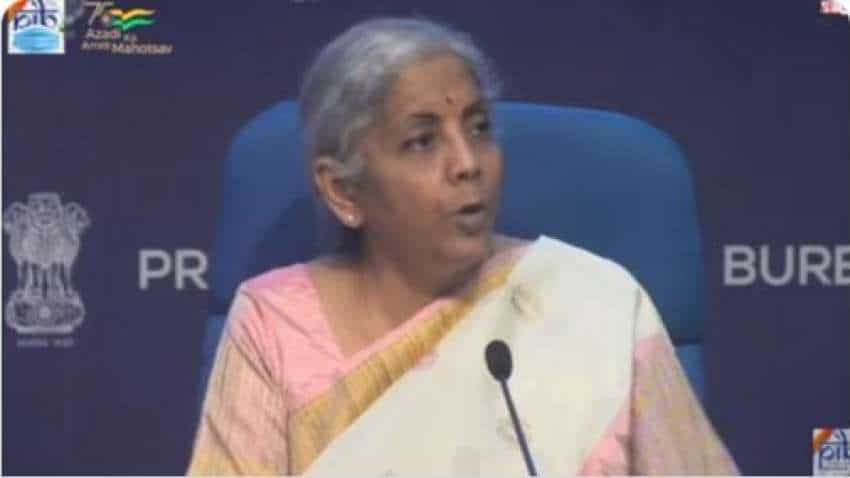 And anything outside of this is loosely referred to as "crypto currency" and they are not currencies, she further said. Source: PIB
An entity can be termed as a currency only if it is issued by a Central Bank even if it is a crypto, Finance Minister Nirmal Sitharaman today said in her post Budget 2022 press conference.
And anything outside of this is loosely referred to as "cryptocurrency" and they are not currencies, she further said.
See Zee Business Live TV Streaming Below:
"So let us first understand that we are not taxing currency that are not yet issued and that provision is now made and the currency in the name of digital rupee will be issued…exact name you will get later but the Reserve Bank will be the one that will issue it and what Reserve Bank will issue is the digital currency," she added.
"Anything that prevails outside of it in the name of digital…whatever are assets that is being created by individuals and in transacting that asset if there are profits being made… we are taxing that profit at 30 per cent,"she clarified.
"We are also tracking every trail of that money in that and every transaction will be 1 per cent TDS," she said. There will be a TDS on every transaction in the crypto world, she further said.
"So the distinction is very clear," she said.
She also said that the government has circulated a paper and the inputs are coming and the public stakeholders are also talking about it and the regulation goes through that process, Sitharaman said.
"I don't wait till regulations come in place for taxing people who are earning profits," Sitharaman said.
She was responding to a question on how the government intends to tax crypto currency in the absence of regulations.
The Reserve Bank of India (RBI) will issue Digital Rupee, using blockchain and other technologies in FY 2022-23, the Finance Minister said in her Union Budget 2022 speech.
"Introduction of Central Bank Digital Currency (CBDC) will give a big boost to digital economy," he said. Among other things, the Digital currency will also lead to a more efficient and cheaper currency management system, she said in her 90 minute speech.
"There has been a phenomenal increase in transactions in virtual digital assets.The magnitude and frequency of these transactions have made it imperative to provide for a specific tax regime.Accordingly, for the taxation of virtual digital assets, I propose to provide that any income from transfer of any virtual digital asset shall be taxed at the rate of 30 per cent," FM had said in her Budget 2022 speech.
"No deduction in respect of any expenditure or allowance shall be allowed while computing such income except cost of acquisition. Further, loss from transfer of virtual digital asset cannot be set off against any other income," the Budget 2022 speech said.
See Tweet Here:
LIVE NOW

Post-budget press conference by Union Finance Minister @nsitharaman #AatmanirbharBharatKaBudget #Budget2022

Watch here https://t.co/sjIWlHCJQP https://t.co/Rvn1UwQR32

— PIB India (@PIB_India) February 1, 2022
"Further, in order to capture the transaction details, I also propose to provide for TDS on payment made in relation to transfer of virtual digital asset at the rate of 1 per cent of such consideration above a monetary threshold. Gift of virtual digital asset is also proposed to be taxed in the hands of the recipient.".
Updated: Tue, Feb 01, 2022
07:10 pm
New Delhi, ZeeBiz WebDesk