SBI vs HDFC Bank vs ICICI Bank FD rates: Lenders to hike your deposit rates? Going forward, this is what may move your money
Fixed deposit interest rates over the past two years, have been on a roller coaster ride. So, what will move your money? Find out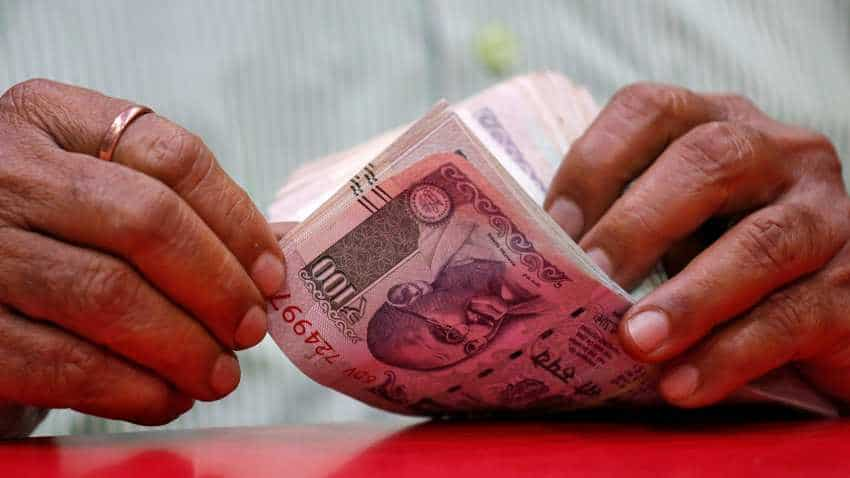 Deposit interest rates over the past two years have been on a roller coaster ride. Photo: Reuters
Banks fixed deposit schemes are likely to see a rise in interest rates due to a strong loan growth scenario. This is also despite the Reserve Bank of India (RBI) policy repo rate cut, which generally indicates no good news for depositors, as it leads to a reduction in lending rates for borrowers. However, the current situation of banks is such that, credit growth may boom and at the same time deposits are stabilizing too, creating more room for bankers to hike interest rates in saving schemes like fixed deposits. This comes as a good news for depositors in India, as they will have a pool of options to park their money. Recent data of RBI revealed that bank term deposit rates were flat in February 2019 to 6.9%. Notably, deposit interest rates over the past two years have been on a roller coaster ride. 
Between November 2017 to March 2018, the deposit interest rates saw uptick of 20 basis points to 6.7%, however, thereafter they were mostly flat with a marginal 15 basis points jump until September 2018 when the rates came in at 6.8%. By end of Q3FY19, deposit rates have been hiked by additional 10 basis points by banks. 
From the above it can be said that, banks have been reluctant in increasing deposit rates. Banks already are facing stiff competition from government's small saving schemes which have more attractive offerings in deposit rates compared to the former. However, with the rising gap between lending and deposit rates, many experts earlier believed that lenders will have to increase their fixed deposit rates to stir up competition. 
But matters changed when RBI under governor Shaktikanta Das regime, started to reduce policy repo rate. Any change in monetary policy, either hike or cut in repo rate, the banks are the ones to be immediately impacted. Their lending and deposit interest rates depend upon the change in repo rate. However, the rate cut may not have an immediate impact on borrowers or depositors as the banks may not be willing to pass on the changes. Banks generally analyze their liquidity position and cost of funds. 
In a rate cut scenario, it becomes easier to depend upon RBI for borrowing as their lending interest rate will be cheaper. This creates an accessibility of low credit cost, which gives the lenders a chance to reduce lending rates of customers. Recently, lenders like HDFC Bank, Bank of Maharashtra and ICICI Bank have already cut their MCLR rate which is a benchmark for home loan, personal loan and car loan interest rates. This makes their EMIs cheaper. 
On the other hand, this is not the scenario for deposit interest rates. As rate cut helps bank to depend more upon RBI for borrowing funds, the banks will be least bothered to increase deposit interest rates. 
However, that is now set to change! 
M B Mahesh, Nischint Chawathe, Dipanjan Ghosh and Shrey Singh analysts  at Kotak Institutional Equities said, "Term deposits have started to stabilize around 6.9% post increasing at a slow pace in the past few months. Gap between outstanding loan and fresh loan rates reversed to 55 bps. With decrease in repo rate by 25 bps in April 2019 and drop in MCLR rates by some banks in March 2019, lending rates will stabilize."
On deposits, the analysts said, "Wholesale deposit cost (as measured by CD rates) has seen a robust increase in March 2019 (~15 bps). Average term deposit rates are broadly similar to term deposit rates (1-2 years) offered by most banks today, slightly lower than rates offered by SFBs."
Thus, Kotak added, "Deposit rates are expected to remain stable over the near term, though gradual rise in CD ratio might push some private banks to raise deposit rates in an environment of strong loan growth."
Hence, one can expect to enjoy higher interest rates on fixed deposits as well. Let's compare latest change in FD rates of major private lenders like HDFC Bank and ICICI Bank with largest PSB namely State Bank of India (SBI). 
HDFC Bank! 
For general category, highest FD rate is of 7.40% for tenures between 2 years to 3 years. In case of senior citizen, the rates are 7.90% for the same tenure. Going forward, 7.30% is given between 1 year to 2 years to general, while 7.80% interest rates is kept for senior citizen here. 
FDs for 3 years to 5 years, is set at 7.25%, while 6.50% each is given for 5 years to 10 years tenure. Meanwhile, senior citizen enjoys 7.75% rate for 3 - 5 years tenure, while 7% rate between 5-10 years tenure. 
Below 1 year, the interest rates range from lowest 3.50% to maximum 7.10%. 
ICICI Bank! 
In general category, a depositor will earn 6.75% interest rates on their FD for 290 days to less than 1 year, while 6.90% is given on 1 year to 389 days tenure, 7.10% on 390 days to 2 years tenure, 7.50% on 2 years 1 day upto 3 years, 7.25% on 3 years 1 day upto 5 years tenure and  7% on 5 years 1 day upto 10 years.
Senior citizen will continue to enjoy more higher FD rates as expected. This category will get 7.25% on FDs made for 290 days to less than 1 year tenure, followed by 7.40% on 1 year to 389 days tenure, 7.60% on 390 days to 2 years tenure, 8% on 2 years 1 day upto 3 years tenure, 7.75% on 3 years 1 day upto 5 years tenure and 7.50% on 5 years 1 day upto 10 years tenure. 
Below 290 days tenure, the FD rates varies from lowest 4% to maximum 6.75%. 
#LIVE | क्या है गन्ना किसानों के लिए अच्छी खबर, जानने के लिए देखिए हमारा खास शो @mrituenjayj के साथ। https://t.co/ZbMoaEVw1D

— Zee Business (@ZeeBusiness) April 9, 2019
SBI! 
At SBI, a general category depositors enjoy 6.80% each interest rates on FDs made between 1 years to 5 years. Meanwhile, for these tenures a senior citizen gets 7.30% rates. 
Above 5 years to 10 years tenure, a general customer will get 6.85% rate, while 7.35% rate is given to senior citizen. 
For less than 1 year tenure, FD rates vary from 5.75% to 6.90%. 
It is no mystery that, private banks do offer higher interest rates compared to PSBs. With more private banks seen to increase their deposit rates in future course, one can expect even PSBs to follow the same pattern in order to stay float in the competition. Well, which bank makes the first move will be keenly watched. 
Get Latest Business News, Stock Market Updates and Videos; Check your tax outgo through Income Tax Calculator and save money through our Personal Finance coverage. Check Business Breaking News Live on Zee Business Twitter and Facebook. Subscribe on YouTube.
Updated: Tue, Apr 09, 2019
12:30 pm
Mumbai, ZeeBiz WebDesk