SBI student loan offers - Don't let cash crunch stop you from getting the education you want - check list here
There are host of student loans offered by largest lender State Bank of India (SBI) for education purposes.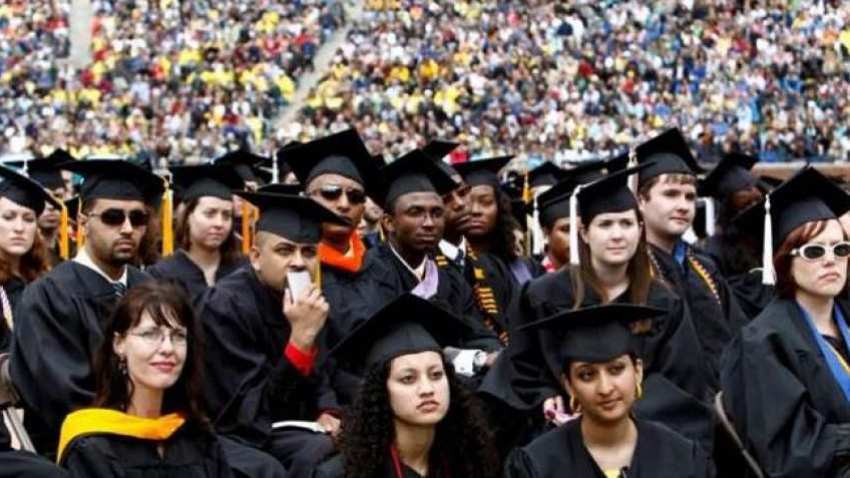 Education is an important part of our lives. Photo: Reuters
Education is an important part of our lives. It is critical in shaping a better future for us. Recently, on International Youth Day, SBI announced that it will help spread awareness on the importance of making education relevant and inclusive to build a brighter future for our youth. However, with higher studies come greater expenses, which not many can afford and these youngsters are left with shattered dreams. But not anymore! You can still opt for whatever education you like and pay for it via student loans. One of the best advantages of having a student loan is that it reduces your burden of having cash on hand for immediate, lumpsum payment and instead allows you to pay in installments.
There are host of student loans offered by largest lender State Bank of India (SBI) for educations opted within India and even outside. If you are opting for student loans, here's a list of different schemes offered by SBI. 
SBI Scholar Loan scheme: 
Benefits of SBI's this student loan:
100% Financing
NO Processing Fee
Quick sanction at Designated Campus Branch or more than 5000 Selected Branches all over the country
Repayment period of upto 15 years after Course Period + 12 months of repayment holiday
To become eligible for such loan, you must be an Indian citizen. Also, you should have secured admission to Professional/Technical courses in select Premier Institutions through entrance test/selection process.
Expenses Covered:
Fees payable to College/School/Hostel
Examination/ Library/ Laboratory fees
Purchase of Books/Equipments/Instruments
Caution deposit / building fund/ refundable deposit supported by Institution bills/ receipts [not to exceed 10% of the tuition fees for the entire course]
Travel expenses/expenses on exchange programme
Purchase of computer/laptop
Any other expenses related to education
In case of married person, co-obligator can either be spouse or parent/ parent-in-law. Parental co-obligation can also be substituted by a suitable third party guarantee.
If you are taking loan upto Rs 40 lakh for these premium instution, then your interest rate is set at 10.70%. Reset period in your student loan is 1 year. Also, there is 0.50% concession for girl students. Also, there is 0.50% concession for students availing of SBI Rinn Raksha or any other existing policy assigned in favour of the Bank.
SBI Global ED-Vantage scheme: 
SBI Global Ed-Vantage is an overseas education loan exclusively for those who wish to pursue full time regular courses at foreign colleges/universities. Key features include:
Faster: Online application process
Lighter: Attractive interest rate
Higher: Loan amount of Rs. 20 lakhs to Rs. 1.5 Cr
Easier: Repayment through EMI upto 15 years
Early Approval: loan sanction prior to i20/Visa
Tax Benefit: under section 80(E)
For being eligible you must be a Regular Graduate/ Post Graduate/ Doctorate Courses in any discipline offered by foreign Institutes/ Universities in USA, UK, Canada, Australia, Europe, Singapore, Japan, Hong Kong and New Zealand.
Expenses covered: 
Fee payable to college/school/hostel.
Examination/Library/Laboratory fee.
Travel expenses/passage money for studies abroad.
Purchase of books/equipments/instruments/uniforms/ computer at reasonable cost, if required for course completion and any other expense required to complete the course– like study tours, project work, thesis, etc. can be considered for loan subject to the condition that these should be capped at 20% of the total tuition fees payable for completion of the course.
Caution deposit /building fund/refundable deposit supported by Institution bills/receipts the amount considered for loan should not exceed 10% of the tuition fees for the entire course.
Premium of 'RiNn Rakhsha' (IRDA License No: UIN: 111N078V01): Finance for 'RiNn Rakhsha' will improve insurance-coverage of the loan
SBI Student Loan scheme: 
A term loan granted to Indian Nationals for pursuing higher education in India or abroad where admission has been secured.
Courses covered: 
1) Studies in India:
Graduation, Post-graduation including regular technical and professional Degree/Diploma courses conducted by colleges/universities approved by UGC/ AICTE/IMC/Govt. etc.
Regular Degree/ Diploma Courses conducted by autonomous institutions like IIT, IIM etc.
Teacher training/ Nursing courses approved by Central government or the State Government.
Regular Degree/Diploma Courses like Aeronautical, pilot training, shipping etc. approved by Director General of Civil Aviation/Shipping/ concerned regulatory authority.
2) Studies abroad:
Job oriented professional/ technical Graduation Degree courses/ Post Graduation Degree and Diploma courses like MCA, MBA, MS, etc offered by reputed universities.
Courses conducted by CIMA (Chartered Institute of Management Accountants) - London, CPA (Certified Public Accountant) in USA etc.
For studies in India, you can opt for maximum Rs 10 lakhs loan, while for abroad Rs 20 lakhs borrowing is allowed. 
Repayment will commence one year after completion of course. Loan to be repaid in 15 years after the commencement of repayment. In case second loan is availed for higher studies later, to repay the combined loan amount in 15 years after completion of second course.
SBI Skill Loan Scheme:
A term loan granted to Indian Nationals for pursuing Skill development courses in India.
Courses Covered: 
Training Institutes/ Courses: Courses run by Industrial Training Institutes (ITIs), Polytechnics, training partners affiliated to National Skill Development Corporation (NSDC)/ Sector Skill Councils, State Skill Mission, State Skill Corporation, preferably leading to a certificate / diploma / degree issued by such organization as per National Skill Qualification Framework (NSQF) are eligible for a Skilling Loan.
Schools recognized by Central or State Education Boards or Colleges affiliated to recognized university leading to a certificate / diploma / degree issued by such organization as per National Skill Qualification Framework (NSQF) is eligible for a Skilling Loan.
Expenses considered for loan:
Tuition / Course Fee
Examination / Library / Laboratory fee
Caution deposit
Purchase of books, equipments and instruments
Any other reasonable expenditure found necessary for completion of the Course. (As such courses are localized boarding, lodging may not be necessary. However, wherever it is found necessary, the same could be considered on merits).
A minimum loan amount Rs 5000 and maximum upto Rs 1.50 lakh can be availed at SBI. 
The disposal of the loan amount takes a period of maximum 6 days, after the receipt of duly completed application with supporting documents. The timeline start from the date of receipt of complete documents from the applicant and the time taken by the applicant for submitting documents and/ or for furnishing information sought by the Bank will not be taken into account for the purpose of timeline indicated above.
Repayment period is from 1 year to maximum 7 years depending upon your loan amount. 
SBI Takeover of Education Loans: 
With SBI Take-over of Education Loans, you can switch your existing high cost Education Loan to SBI and reduce your monthly EMIs.
Features: 
Education Loans upto Rs. 1.5 Crores can be considered
Competitive Interest Rate
Flexible repayment tenure upto 15 years*
No Processing Fee
No Hidden Charges
Facility to avail top up loan for further study
Benefits: 
Switch to SBI and reduce your monthly obligation
Pay your EMIs through Net Banking/ Mobile Banking/ Cheques
Avail of top up loan after take over for pursuing further studies subject to submission of required documents with extended repayment period for that course
Eligibility: 
Loan to be a fresh (first-time) takeover
The student-borrower should be a major at the time of switch over
The loan should have been fully disbursed at the time of takeover
Repayment should have been started & EMIs are regular in the books of other Bank/Financial Institution
The collateral security acceptable to the bank to be minimum 100% of the value of the proposed loan.
Hence, fulfill your dreams by doing away with cash crunch problem for higher studies.
 
Get Latest Business News, Stock Market Updates and Videos; Check your tax outgo through Income Tax Calculator and save money through our Personal Finance coverage. Check Business Breaking News Live on Zee Business Twitter and Facebook. Subscribe on YouTube.
Updated: Tue, Aug 13, 2019
03:04 pm
Mumbai, ZeeBiz WebDesk