On MoneyTap, consumers can borrow up to Rs 5 lakh in just 4 mins, says Bala Parthasarathy CEO and Co-Founder
Even though the digitization of processes has helped curb these challenges to a great extent, there are still multiple issues that need to be addressed by the government. One way the government can help emerging start-ups is by reducing the GST rate for VCs, incubators, etc. investing in the start-ups.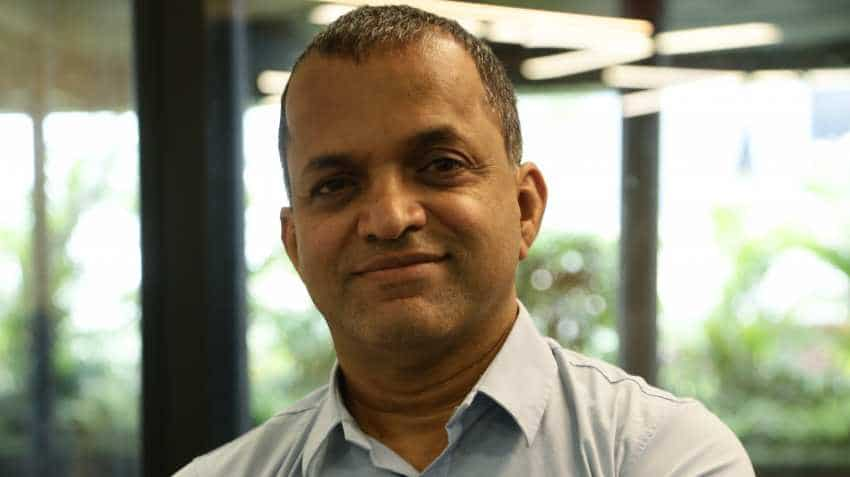 Bala Parthasarathy CEO & Co-Founder, MoneyTap. Photo: MoneyTap Official
Money is one of the most important requirements today for any person to ensure a comfortable lifestyle for self as well as loved ones and also to create assets for the future. However, it is not easy to ensure copious amounts of wealth to meet all demands and that requires help and this is available in the form of loans. Picking the best options is tough though. So, cutting through the confusion is Bala Parthasarathy CEO & Co-Founder, MoneyTap, who explains how an ordinary person looking for good opportunities can benefit and that too in a very short period of time. Here are the edited excerpts:   
Personal loans are one of the most critical tools to get things that are out of reach? It is a critical decision for borrowers, So, can you provide some tips that can make the decision more logical and beneficial? 
 
Collateral-free loans are arguably the best option for borrowers to avail credit without the fear of losing their assets. They are quick, flexible and ideal for short-term cash requirements. With more and more fintech companies coming to the fore debt financing has become easier and more accessible for the common people.
 
Digital personal loans and paperless transactions are the future of banking, augmented further by the latest cutting-edge technologies and a relaxed regulatory environment. Several companies are providing instant digital loans on smartphones. Borrowers can apply for these loans and gain access to cash on their phone anywhere, anytime.
 
Also, the absence of intermediaries in the process makes online, paperless loans a much more dynamic and hassle-free option for borrowers who may have urgent financial requirements. Gone are the days of the hassle of undergoing slow, and bureaucratic loan processes. Apart from reducing the turn-around time, digitization of end-to-end processes also eliminates the chances of human error. Applications are now getting processed within minutes as the credit underwriting is getting done with the help of smart algorithms.
How will Budget 2019 help customers in availing loans?
 
In light of the full tax rebate for individual taxpayers earning up to Rs. 5 Lakh annually, more and more people belonging to the middle-income segment will gradually seek to make long-term financial plans and long-term investments to create wealth. With the gratuity limit increased from Rs. 10 Lakh to Rs. 20 Lakh, Indian consumers will be able to avail a higher amount of loans as a result of higher income levels and better repayment abilities. Consequently, entrepreneurs will turn to debt financing products to realize their projects or grow their existing businesses through newer avenues of availing credit.
How is MoneyTap different from other lenders?
 
Upon its launch in September 2016, MoneyTap introduced the concept of a personal line of credit for consumers in India. Using the MoneyTap Credit Line, consumers can borrow up to Rs. 5 Lakh within 4 minutes on the app. This facility is a boon to salaried employees and self-employed professionals who may need to borrow only a menial sum and return it as per their convenience in EMIs of 2 months to 3 years. What distinguishes MoneyTap from other lenders is that it allows customers to borrow as low as Rs. 3,000. Also, with the issue limit being Rs. 5 Lakh, the borrowers only need to pay interest for the amount borrowed, not on the entire limit. And depending on their credit profile, the interest rates can be as low as 1.08% per month (13% pa). The best part is, credit limit gets automatically replenished as soon as the EMIs are paid back.
 
The idea: 'From wallet to credit!' Your thoughts on the same?
 
Turning India into a cashless economy has been one of the primary focuses of the Government. With the digital developments on the rise and a spurt of fintech companies in the market, we are closing in towards accomplishing this goal. Digitization has made all the processes related to money lending and borrowing paperless, faster and more efficient. These new-age fintech companies are creating an alternative financial ecosystem and working towards bringing instant, hassle-free and accessible lending solutions at the tap.
For instance, MoneyTap - India's first app-based Credit Line introduced the concept of "Personal Credit Line" upon its inception in September 2016, which enables borrowers to avail small ticket loans at affordable interest rates and convenient repayment tenures using an app. Any salaried employee or self-employed professional can use this free app available on Android and iOS, and within a few minutes apply and get approved for a credit line of up to Rs. 5 Lakh. Once approved, the money is available on the app, and any amount from the Credit Line can be transferred to the bank account instantly.
#BrokerageReport | नतीजों और खबरों के दम पर ब्रोकरेज हाउस की यस बैंक, भारत फोर्ज समेत अन्य कंपनियों पर क्या है राय जानिए देवांशी आशर से। @devanshiashar @AnilSinghviZEE #LuvUZBiz #ValentinesDay pic.twitter.com/byIXAHwENP

— Zee Business (@ZeeBusiness) February 14, 2019
How does the fintech industry gain traction in the loan category compared to big banks?
 
The level of convenience and seamlessness offered by digital lenders is far higher than that provided by traditional lenders like banks and NBFCs. Banks usually require tedious documentation processes and guarantors (sometimes even collaterals in the form of high-value assets such as self-owned property, a car, or gold) to approve borrowers for a loan. Consequently, first-time borrowers, especially young, salaried individuals are often unable to secure a loan. Also, traditional lending outlets often take a minimum of seven to eight business days to process and approve loans. On the other hand, fintech companies provide faster, flexible and efficient debt financing solutions within minutes. A credit line app MoneyTap provides credit approvals in just 4 minutes.
Further, digitization has substantially reduced the hassles associated with the borrowing process, eliminating paperwork, and shifting the entire customer journey online. Fintech platforms also offer borrowers a flexible credit line that could range anywhere from as little as Rs. 3,000 to Rs. 5 lakh. The need for small-ticket loans is being catered by the digital lenders, as opposed to banks which usually consider loans below Rs. 1 Lakh as a high-risk proposition.
What are the major challenges for the fintech industry?
 
The primary challenge for any incipient enterprise in the fintech sector is to secure investors and access start-up or growth capital. Then, there are multiple legal and administrative hassles entrepreneurs must deal with when the setting up their businesses. Multiple taxes and cumbersome governmental procedures, and a lack of coordination among officials and ministries also pose a big problem. Even though the digitization of processes has helped curb these challenges to a great extent, there are still multiple issues that need to be addressed by the government. One way the government can help emerging start-ups is by reducing the GST rate for VCs, incubators, etc. investing in the start-ups.
 
Providing rebates on angel tax to entrepreneurs and investors would also have a positive impact on the start-up ecosystem as it would encourage more and more individual investors to invest in start-ups and emerging industries. The Government can also achieve its goal of regulating the movement of funds while at the same time simplifying the mechanisms for claiming tax exemption. One such change that could streamline the system could be that instead of the 45-day evaluation period, illegal money laundering activities can be avoided with simpler alternatives such as conducting KYC of investors and only permitting bank transfers for angel investments.
 
However, the most significant barrier to the fintech industry is the growing issue of cyber-crimes. Fintech companies are constantly leveraging cutting-edge technologies such as Blockchain to overcome this challenge.
 
How do they ensure data security in the world of rising cybercrime?
 
As mentioned above, fintech industries are constantly adopting advanced digital security strategies to render themselves protected against a rising tide of cyber-threats. Global data policies like EU-GDPR, as well as the Srikrishna Committee's draft bill for India on data privacy,  are making it mandatory for enterprises to adopt more robust IT security measures. Fintech industry is embracing robust digital infrastructure like Blockchain, cloud security solutions, automated threat intelligence systems, and application security systems to ensure risk management and data privacy.
Get Latest Business News, Stock Market Updates and Videos; Check your tax outgo through Income Tax Calculator and save money through our Personal Finance coverage. Check Business Breaking News Live on Zee Business Twitter and Facebook. Subscribe on YouTube.
Updated: Thu, Feb 14, 2019
10:27 am
Mumbai, ZeeBiz WebDesk