Did you get a Diwali bonus? Here's a list of 10 best ways to spend this extra money
Every penny you earn in this way should be spent wisely as, after all, it is only during this once a year moment that you get a bonus, courtesy this festival.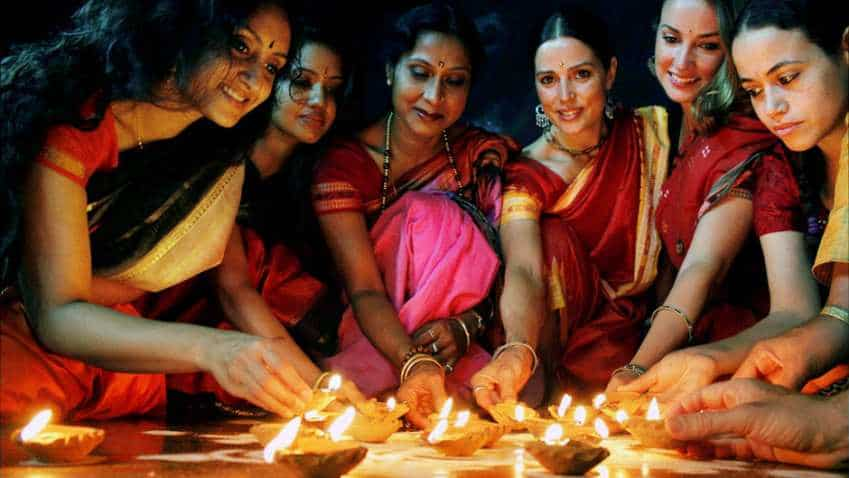 The month before Diwali festival is always flooded with airline offers, where domestic route and international routes heavy discount on air tickets. Image source: PTI
Updated: Fri, Oct 26, 2018
07:22 am
Mumbai, ZeeBiz WebDesk
The joy of celebrating Diwali should not just be limited to enjoying sweets and firecrackers with family and friends. In fact this is also the period when many working class people sit around with shining eyes, checking their bank account for news about their Diwali bonus. Majority of the organisations in India bless their employees with Diwali bonus for their hard work. Diwali bonus comes as a helping hand, considering the festival is one expensive occasion. Because Diwali bonus comes as a lump sum amount, many of us think of spending it on buying expensive products like a two-wheeler, jewelries, four wheeler or some just decide to add extra funds and opt for buying their own dream house or other big items. 
Diwali is seen as a spiritual occasion and any heavy spending during this festival is always believed to be a good luck charm. But what happens, when you have hefty amounts of money in your hand in the form of Diwali bonus and want to do a lot of stuff, but are confused about where to begin. Every penny you earn in this way should be spent wisely as, after all, it is only during this once a year moment that you get a bonus, courtesy this festival. 
Hence, it is advisable to be wise when you decide how to spend your Diwali bonus - at the end, you should not only be satisfied with your spending, but also have a great sense of happiness too. There are many ways to begin with, when it comes to spending the Diwali bonus. You can go ahead and do heavy shopping - clothes, home appliances, decorate your house or get furniture. Surely, the list is long. 
If you are among the ones who has received a Diwali bonus, here's a list of 10 ways to spend it wisely. 
1. Prepare a list
If given a chance we would go around purchasing everything we can with our Diwali bonus. But that is not healthy. You should always make sure to prepare a list of items that you need for celebrating Diwali. Ask yourself what are the products that you need first and should spend on? This prevents impulsive and irrational buying. Always make sure to prepare your list in such a way where you are not spending too much on it, but are also saving some and use that for investment. Items which are not necessarily needed at that particular time or in near future, can be avoided. 
2. Prepare a budget
The moment you are making your list of items, you should also chalk down budget for each product. This helps you in knowing what items you are looking for and whether they are in your budget. One can segregate a portion of your money on how much to spend in Diwali, while keeping a section of money aside for other needs. Without a budget, you may end up spending more money than you have in hand. 
3. Check for Discount offers
 
Almost every company right from banks to consumer durables to online shopping portals, will be ready with a list of discounts on products during the festive season. 
It is always advisable to survey the best discounts available on the product you need in order save big on the. 
If it is loan, then compare the offers given by every bank. If it is home related products then compare both online and offline companies' discounts. Not only this, even auto and airlines will be ready to lure you with discounts given on vehicles and air tickets. Hence, remember to set a day aside and just compare every discounts offered on the items you need, to avail best benefit. 
4. Make maximum use of online shopping sale 
Online shopping portals like Flipkart, Amazon, Myntra, Snapdeal and Shopclues all will be flooded with discount offers on products right from smartphones to home appliances to furniture and even clothing items. In fact, online shopping portals begin their offers way ahead of Diwali festival could arrive, to allow customers prepare for their festival way ahead. 
If you are lucky enough, then your bank will be providing discounts on these shopping portals for payment made using their debit or credit cards. 
However, it is advisable when you are planning to buy any home appliances and furniture products, then first compare the offers of online shopping portals with the offline as the prices would differ, and with this you will be able to avail the best one. Even offline companies will be offering you discounts on items to compete with online portals. 
A good discount on products always comes as a big saving in your bonus. 
5. Be Alert! Don't get carried away with EMI offers 
During Diwali festival, many lenders will be motivating you to purchase products on no cost EMI option and heavy discounts on your buying. When it comes to EMI do not get carried away with the offers. 
Most of the offers are meant for dealers, and you end up paying higher interest rates. If you are using your credit card for purchase, make sure to calculate how much would be your monthly EMIs for the period, and on what interest rate. Contact your bank as well for information of the EMI offers if needed. Terms and conditions are always given. 
6. Jewelry offers
Gold would surely be on top of your buying list, as Dhanteras is an auspicious occasion to purchase the yellow metal. Many jewellers would also be offering you heavy discounts, especially the major ones like Titan, PC Jewellers and Manappuram, etc. It is always advisable to compare first the offers before making any purchase. 
The price movement in gold depends on a list of factors. Firstly, it is fixed by Indian Bullion Jewellers Association. This institution fixes the price taking into account - the rates fixed by largest dealers in the city, local import duty added on import items and while some dealers derive prices based on some formula prepared by in the futures market of the MCX.
There are also certain things to remember while making a gold or any other form of jewelry purchase. Remember to check the purity of gold, compare the jewelers making charges, see whether the gold is man-made or machine made, what are the buy back offers and charges, buy from reputed jewelers and lastly see whether your gold has mark of Bureau of Indian Standards. 
7. Advance planning for travelling in Diwali vacation 
The month before Diwali festival is always flooded with airline offers, where domestic route and international routes heavy discount on air tickets. Many families and friends use Diwali vacation to travel abroad or some places in India, to enjoy the festival. In this case, advance planning of your travels is best advice. 
Remember to prepare the location you plan to go, check airline offers on those destination, write down funds you need to spend and how many days your vacation should be. With this, you will not overspend - usually travelling spend can shoot up way beyond budgeted amounts if not planned properly. 
8. Payoff of your loans 
What can be better than to be clear of debt when you receive a lump sum amount as Diwali bonus. This helps to reduce the burden you carry every month in repaying your loans. Many of us would have opted small loans like personal loans, home loans and vehicle loans. Every month, a borrower pays a section of amount which includes interest rate from his or her salary as EMIs on the loan taken. 
While a majority of state-owned banks allow you to repay your loans in bulk amount given at any period of time, however, there are some private banks that keep a lock-in period of one year before allowing you to clear the debt with bulk money. Hence, always check with your banks on what are the conditions to make an lump sum repayment of your loans. 
In case, if you have been already paying your EMIs for one year, then you might as well use your Diwali bonus to clear debts or reduce it by some margin. By doing this, the interest rate charged on your principal amount for repayment on loan every month gets reduced and hence your burden too. 
9. Look for raising insurance coverage 
There are many forms of insurance coverage namely car insurance, life insurance, home insurance and many more. They are the amount of risk or liability that is covered for an individual or entity by way of insurance services.
For instance, if you have an car insurance coverage, then you are eligible to recover the losses of your vehicle in scenarios like theft, robbery, fire or maintenance. Similar is the case for home insurance coverage. In case of life insurance coverage, then your family members will be in position to recover premiums or lump sum amount for any loss to your life. 
If you are high believer in insurance, then it can be advisable to use a portion of your Diwali bonus to increase your insurance coverage for your car, home or life - depending upon your needs and risks. 
10. Investment in tax saving schemes
A lot has been said and written on how you can save tax on investments. In fact, there are many smart ways to make your way around the tax trap and make maximum savings as possible. There are list of tax savings investments, which allow you begin with minimum amount as possible like Rs 500 and earn big on your investment for longer period. Some of them are: 
National Pension Scheme - Up to Rs 1.5 lakh investment made in NPS, can be tax exempted under section 80C. However, deductions under this section should not exceed 10% of your salary. Further, returns on this scheme can be claimed  under Section 80CCD(1B) of up to Rs 50,000 in a financial year. 
Life Insurance - Although, life insurance is not a pure form of tax saving investment, yet it comes under the list, because under section 80C of IT Act, the premium you pay under this plan is deductible from your total income – which means your taxable fraction can be lowered. Upper limit for this deduction is up to Rs 1 lakh. Also, premiums paid for the unit linked life insurance plans (ULIPs) are exempted from taxes under section 80C - under which Rs 1.5 lakh can be tax saving medium.
ELSS - This scheme is considered to be one of the most sought after tax saving investments options - as these are market linked product. Investment in equities becomes a most flexible medium, as risk is taken according to your ability and financial status. Investment in ELSS is tax free under section 80C. 
PPF - Just like NPS, up to Rs 1.5 lakh investment is tax free under section 80C of IT Act. Moreover, the interest earned and received on the maturity is completely tax free. Taxpayers can earn more than 8.50% rate of return from PPF.
Watch this Zee Business video 
Therefore, make the most and wise use of your Diwali bonus and remember to enjoy the festival too. 
Get Latest Business News, Stock Market Updates and Videos; Check your tax outgo through Income Tax Calculator and save money through our Personal Finance coverage. Check Business Breaking News Live on Zee Business Twitter and Facebook. Subscribe on YouTube.