Zoom from Delhi to Meerut in 1 hour! High-speed rail link gets cleared for takeoff; better than Metro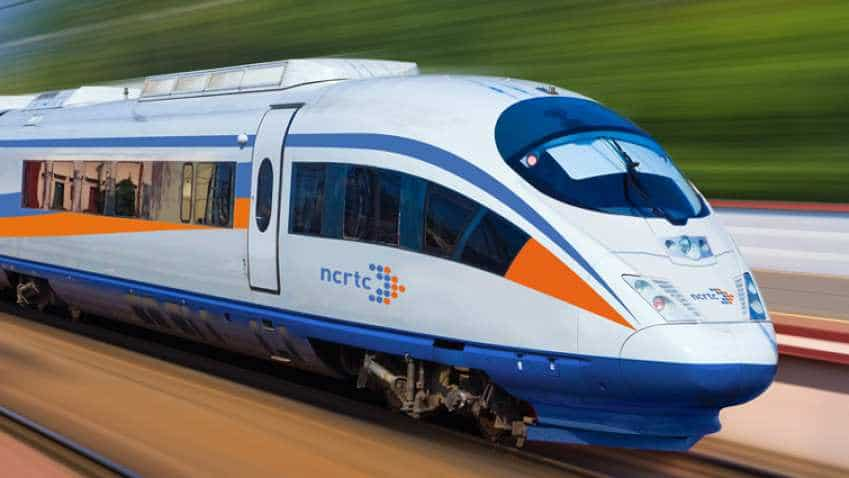 National Capital Region Transport Corporation is a joint venture between Central Government (50%) and four state governments - the government of NCT Delhi, Uttar Pradesh, Rajasthan and Haryana (12.5% each).
Good news for travellers! The high-speed Regional Rapid Transit System (RRTS) corridor, which is expected to connect Delhi to Meerut in just 60 minutes, has received in-principal approval from the Delhi government. The corridor has already been approved by the Uttar Pradesh government and is under active consideration of the Central government, said the National Capital Region Transport Corporation (NCRTC).
The project is expected to be completed by July 2024 at the cost of a whopping Rs 31,632 crore. The corridor will be similar to Metro systems but will be more comfortable and time-saving. The NCRTC trains will have reserved coaches for women, business class seats besides other facilities and can run at an average speed of 100 kmph.
Out of the total 8 identified RRTS corridors in the functional plan for NCR 2032, the Task Force, appointed by the Planning Commission, has prioritized 3 corridors for implementation in Phase I. These are: Delhi – Ghaziabad – Meerut, Delhi – Gurugram – Rewari – Alwar and Delhi – Sonipat – Panipat. All three corridors of Phase-I will converge at Sarai Kale Khan in Delhi and will be inter-operable.
Progress Status
"During the phase-I, the NCRTC is going to implement a network of around 349 km of Regional Rail System. It would be the first of its kind rail network to be implemented in India with a design speed of 180kmph and average speed of 100kmph. The system will be a high-frequency system with trains at every 5-10 minutes," said Sudhir Sharma, NCRTC CPRO to Zee Business Online.
The 82-km long Delhi-Ghaziabad-Meerut corridor will be the first corridor to be implemented in phase -I.
"The pre-construction work like geo-tech investigation, utility-diversion, road-widening, final location surveys, detailed design are in advance stage. NCRTC is geared up to start construction," said Sharma.
Watch This Zee Business Video
Land Acquisition
When asked about the land acquisition status, the corporation said that is not an issue for RRTS due to its low ground foot-print.
"The RRTS has a low ground foot-print. The project has been planned in a way that majority of the corridor will be within the RoW of the Delhi-Meerut Highway (erstwhile NH-58), which minimizes the land requirement for the project," he added.
However, the corporation will still be requiring land primarily for constructing maintenance depots, providing entry/exit for stations and for utilities.
"Government of Uttar Pradesh has already issued necessary orders enabling procurement of land and action has been initiated for land acquisition for the RRTS project," he said.
Cost and Funding
The estimated cost of the Delhi – Meerut RRTS Corridor is approximately Rs 31,632 crore. Almost 60% of the funds are envisaged through financial assistance from multilateral funding agencies. Half of the balance 40% will be provided by Government of India and the other half will be funded by Government of Uttar Pradesh and government of NCT Delhi in the ratio of investment in the respective states.
Metro vs RRTS: What commuters will get?
The RRTS will have business class for commuters seeking luxury comfort. However, the Metro and the RRTS will be complementing each-other.
"While Delhi Metro offers intra-city movements majorly within the NCT of Delhi, the RRTS would provide mobility services for inter-city movement across the NCR. So, both complement each other," said Sharma.
RRTS will be integrating with all seven lines of Delhi Metro, which will serve either as a feeder for RRTS services or used for dispersal of RRTS commuters.
"Multimodal integration is one of the core activities of RRTS implementation. Seamless movement of commuters from one mode to another mode is one of the primary objectives of RRTS. A large number of interchanges, more waiting period, poor first/last mile connectivity are found to be the primary reasons for poor patronization ofpublic transport. NCRTC is committed to implementing RRTS project in way that these gaps are filled," he added.
The Delhi end of the project will converge at Sarai Kale Khan. "It will be interoperable so that any commuter can board a train from any corridor for a destination of any corridor without a need to interchange," he said.
Some key benefits of the RRTS:
* High Speed – 180 kmph at a high frequency of train at every 5 minutes
* Saving time leading to improve quality of life
* Safe and reliable services
* Airconditioned metro like comfortable services
* Multimodal integration with every other transport modes such as Delhi Metro, Inter-State bus terminus, Airports etc
* Significantly reduce vehicular congestion and pollution
* To encourage adoption of public transport by affluent class, there is a provision of one coach for business class in each RRTS train
National Capital Region Transport Corporation is a joint venture between Central Government (50%) and four state governments - the government of NCT Delhi, Uttar Pradesh, Rajasthan and Haryana (12.5% each).
Updated: Fri, Aug 24, 2018
11:25 am
ZeeBiz WebDesk