Yes Bank, Axis Bank CEOs sad fate a beginning of new era? See, which bank's leader will be next as RBI refuses to bluff over divergence
Well the private banks with their old CEOs are sitting with bated breath to when they might face the same fate of Yes Bank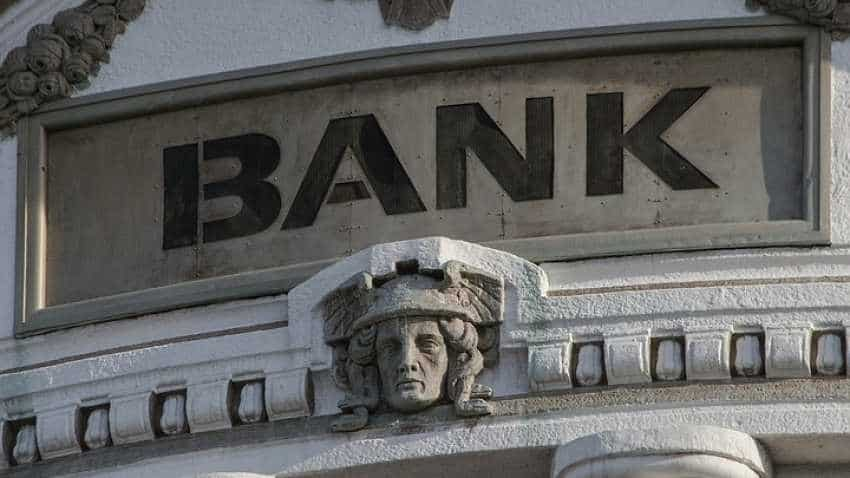 Representational Image: Photo: Pixabay
Updated: Wed, Nov 21, 2018
05:50 pm
Mumbai, ZeeBiz WebDesk
A stronger management means a  powerful bank. It is no mystery in India, that a strong management has generally stirred trust among companies, other financial institutions, investors, analysts, markets and most importantly the common citizens. There are many occasions, where analysts look at a bank through the prism of its leader. Remember Arundhati Bhattacharya for SBI, Aditya Puri for HDFC Bank, Uday Kotak for Kotak Mahindra Bank, Shikha Sharma for Axis Bank, Chanda Kochhar for ICICI Bank, and Rana Kapoor for Yes Bank. It is also a truism that some of these leaders have left, or are due to exit, because of controversies and scandals. The amazingly soaring graph of Kotak Mahindra Bank under tremendously popular Uday Kotak may suffer going forward as it is under watch. 
 
No one knows the real insight stories but headlines tell the tales. The story of Yes Bank is also one of a kind. In fact, it is one of the most interesting of cases as its management is falling apart, with their man in charge, co-founder Rana Kapoor set to exit by end of January 2019. This exit can blamed on RBI, but the central bank took the decision on the back of certain trends and proofs. But if you look closely, the RBI fury at the Yes Bank reveals a whole different picture. One which many banks are fearing! 
What happens when the bank and its management you trust so blindly fails or in other words is dishonest with you. Patience was definitely tested and RBI has made a move. RBI asking Yes Bank's MD & CEO to leave by January 2019, is such a shocking outcome that many investors are exiting the bank's, once very profitable, stock. Yes Bank is not alone in this list, Axis Bank was first to see their chief Sharma's exit. All point to a beginning of new era, if looked at closely one can actually expect many more banks to go through management shifts and new faces may take over soon. Simply put, RBI has sent out a strong message that it does not bluff or spare the ones who disrespect the code of transparency and mislead others about their banking operations. 
A reality check! 
While Axis Bank has managed to bring a new CEO & MD Ashish Chaudhary as Sharma's successor. On the other hand, Yes Bank is facing difficulty in finding a new boss, plus others. Yes Bank has to not only search for a new CEO now, but also an Independent Director (as  Rentala Chandrashekhar has resigned) and non-executive chairman (Ashok Chawla had also quit). 
Not much is revealed to why RBI decided to end the tenure of leaders of both the major private banks. But many experts have speculated that, RBI's decision could be due to divergence in NPA reported by these banks. 
Divergence a game-changer! 
The word divergence in simple words can be explained that, banks were simply not recognizing bad loans properly. This means they were not following uniform procedures which was not making adequate provisions for loans that had stayed NPA for a long time. 
It all began in May last year, RBI blasted Yes Bank for not reporting its gross NPA accurately in fiscal year FY16. 
After Yes Bank's divergence in gross NPAs came to light, it was just a matter of time when the central bank would take its decision. The entire banking system was trapped in its own wrongdoing! In that month, itself, RBI revealed other private lenders namely Axis Bank and ICICI Bank too. 
Few questions that arose in the minds of investors and many experts was: Why was there so much gross NPA; why did the banks not report it; is their corporate governance weak; is the bank ignoring NPAs to push growth; is our bank honest? 
Coming to current scenario, divergence has stolen limelight in FY18 where RBI has asked Yes Bank and Axis Bank to re-appoint a new CEO well within time frame of 4 months. RBI's decision is well placed due to weaker asset quality and disclosures relative to its own data, and/or the need to separate the roles of promoter and CEO.
Not all banks have reported divergence in FY16 and FY17. But divergence in NPA and provisions reveals that how skewed a bank is.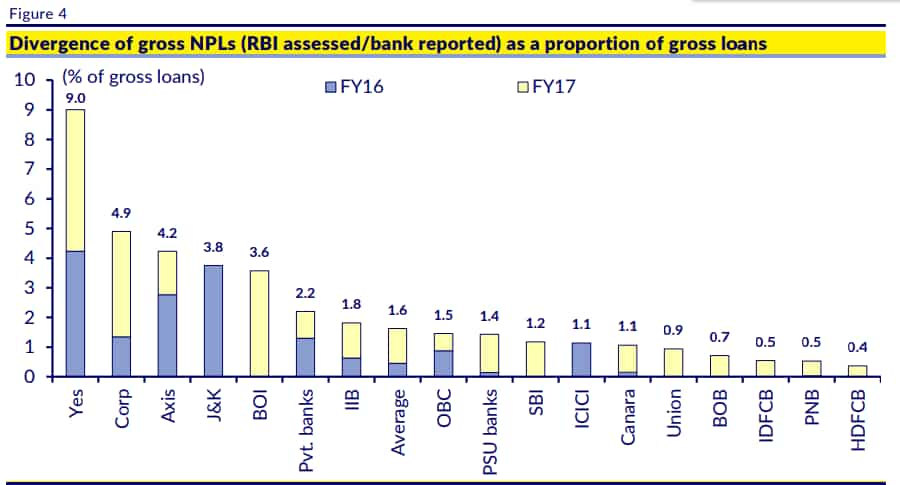 It's not just CEOs exit from private banks, even few directors have resigned just like what Yes Bank has faced. 
A few notable resignations: HDFC's deputy director Paresh Sukthankar announced his resignation in August 2018 ahead of CEO Aditya Puri's retirement in October 2020. At ICICI Bank, N.S. Kannan (executive director) moved to ICICI Prudential Life Insurance in June 2018. This follows the departures of two ICICI executive directors, Zarin Daruwala and Rajiv Sabharwal, in 2015 and 2016 respectively. Also, according to media reports, Axis' deputy MD, V. Srinivasan may resign by December 2018, while IDFC may see multiple changes at the senior management level following its merger with Capital First in the coming months.
Nitin Aggarwal and Alpesh Mehta analysts at Motilal Oswal earlier said, "We believe the Central Bank's focus on asset quality clean-up, continued reforms in the banking sector as pushed by the Center, and maintaining high levels of corporate governance amidst several large-scale issues in the banking system has driven such a harsh outcome at few private banks."
The duo added, " The RBI also promptly rejected Kotak Bank's preference share issuance proposal to lower promoter's ownership. The RBI is, thus, making a big difference to the running of banks and valuations of the stocks. Over the next 18-24 months, this will be a key variable for private banks as many of them could see management changes. What always looked like a given, will get closely scrutinized!"
Shockingly a next target of RBI can be Kotak Mahindra Bank who rides on the popularity of Uday Kotak who is also on the board of Sebi. 
Talking about Yes Bank's current situation, CLSA said, "We understand that these moves stem from two key reasons: disappointing asset-quality and stressed-loan reporting, leading to higher NPLs than the banks' supplied data; and the need to separate the CEO role from promoters at Yes."
But the CLSA also pointed out that, "If the promoter-CEO role is a chief RBI concern, we believe that it may also review Uday Kotak's position, as he serves as Kotak Bank's promoter and CEO."
It would not be wrong to say that, private sector banks leadership team are among most stable than compared to that of public sector banks. PSBs generally lack behind private counterparts who have more stable management teams and independent directors. 
Even though PSUs have board representation from RBI, yet the central bank can do little to control them. The current RBI battle with government who controls 70% of PSBs, is one such example. RBI is vocal of not having freedom to make decisions in PSBs, however, that is not the case with private banks. 
At present, on an average banks have 10- 11 directors, with older and larger players having a slightly higher number than their newer and smaller counterparts. 
Over half are independent, with the remainder comprising executives, shareholder representatives and other stakeholders. The chairman is non-executive in all cases, although not necessarily an independent director.

Aashish Agarwal at CLSA says, "Private bank boards are well designed, with adequate representation from independent directors and regular meetings. However, the RBI is rebuffing some of their decisions in areas such as CEO re-appointments and proposed means and timelines of reducing promoter ownership stakes."
Agarwal adds, "The central bank also has gross NPL data that shows lower asset quality than the lenders' reported numbers as evinced in central bank's asset-quality reviews. We believe boards need to make more independent decisions that may potentially challenge management. While this may slow the decision-making process, it will structurally put players on the right track."
Former governor of RBI Raghuram Rajan, in his letter to parliament said, "Bankers, promoters, or their backers in government sometimes turn around and accuse regulators of creating the bad loan problem. The truth is bankers, promoters, and circumstances create the bad loan problem. The regulator cannot substitute for the banker's commercial decisions or micromanage them or even investigate them when they are being made."
Rajan calls RBI primarily a referee, not a player in the process of commercial lending. 
Hence, RBI can best make sure banks are made to follow the standard procedure of doing a business, reporting accurate stressed assets and provisions. Even though if it means, decades of CEO stability at private-sector banks comes to an end.
Due to RBI's scrutiny, even the CEOs salary has been made sure to be in an adequate manner. Until recently, there was a wide gap between salary hikes for top management and median employees, but over the past year they have been aligned by banks towards the 10% level.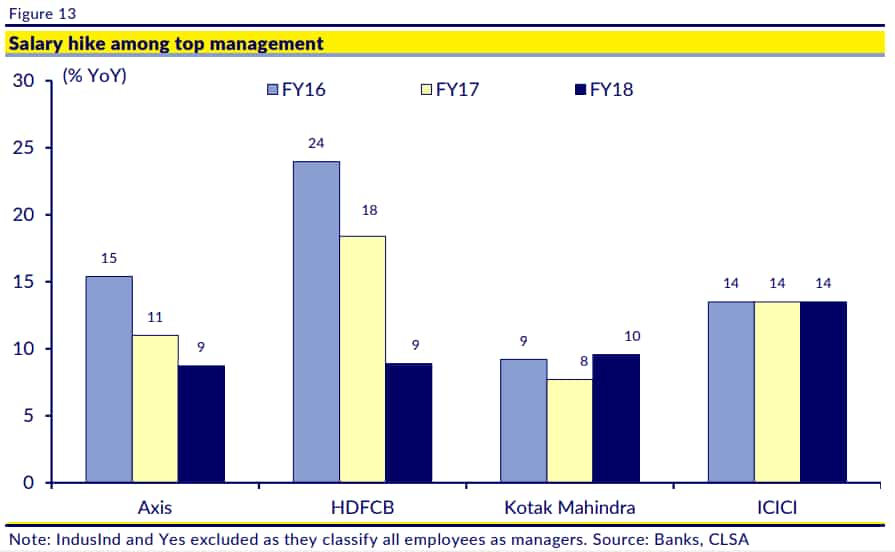 Non-bank talent is the new trend in banking system! 
Recently-appointed CEOs mostly come from outside of the banking sector, although they do have financial backgrounds. 
Axis Bank's Amitabh Chaudhry was previously the chief executive of one of HDFC Standard Life Insurance - one of the leading and most profitable players in its sector. 
ICICI Bank chairman Sandeep Bakhshi has been with ICICI Group for 32 years, but was mostly at ICICI Limited or the organisation's insurance subsidiaries; his last role was CEO of ICICI Prudential Life Insurance.
V. Vaidyanathan, who will take up the chief executive role at IDFC Bank by year-end, has served in that role at an NBFC, although he was once head of ICICI Bank's retail business.
Can we expect a non-bank talent in Yes Bank as well? 
For new CEOs, CLSA said, "The new CEOs will need to demonstrate their ability to run much larger and more diverse organisations versus the businesses they previously managed. We believe that banks with decentralized operations, higher share of retail business, lower attrition rates at the mid-management level and consistent employee stock ownership plans (Esops) will be better placed to oversee a leadership transition."
Well the private banks with their old CEOs are sitting with bated breath to when they might face the same fate of Yes Bank. However, looking at the current scenario it will only be a matter of time where new talent will lead these banks. How, when, why will be keenly watched. For now, RBI holds the rope for changing private banks. 
Get Latest Business News, Stock Market Updates and Videos; Check your tax outgo through Income Tax Calculator and save money through our Personal Finance coverage. Check Business Breaking News Live on Zee Business Twitter and Facebook. Subscribe on YouTube.