WPI easing but CPI still remains a concern for RBI
Clocking over 5% mark, the CPI is now at 17-month high, mainly driven by  primarily by vegetables, house rent and fuel.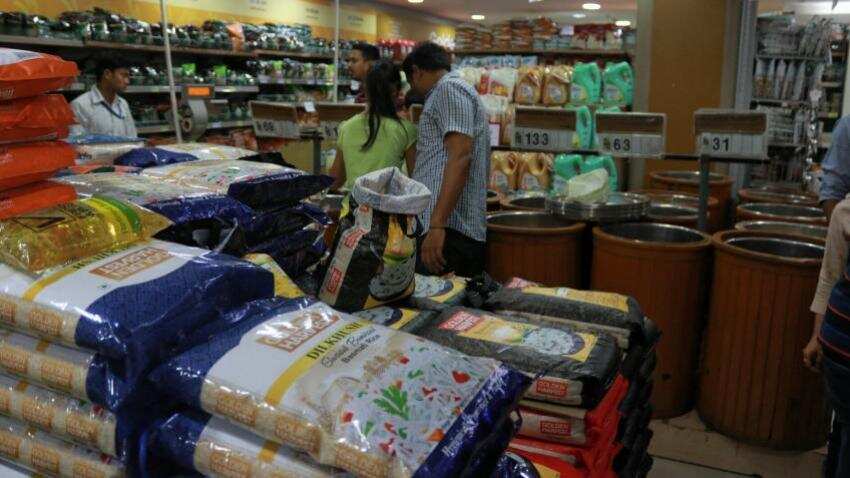 Shoppers rush at a supermarket after Goods and Services Tax (GST) roll out in New Delhi. Photo: IANS
The RBI may face a tricky situation while laying down monetary policy, as two economic indicators, Wholesale Price Index (WPI) and Consumer Price Index (CPI) inflation, have shown opposite trend in their latest data.
 
The WPI inflation in December 2017 was at 3.58%, gradually lower 3.93% to November 2017, and higher 2.10% a year ago the same period.
 
source: tradingeconomics.com  
The retail inflation or CPI, however, surged to 5.21% in December 2017 - from 4.88% in November 2017, and 3.41% in the similar month of the previous year.
 
source: tradingeconomics.com  
The correction in WPI was largely led by food inflation, partly mirroring the trends shown in CPI inflation. The primary food inflation contracted 4.3%, backed by 22% contraction in vegetables, 3% contraction in pulses and 2.3% contraction in egg, meat & fish. Overall primary food inflation moderated to 4.72% from 6.06% in November.
 
Clocking over 5% mark, the CPI is now at 17-month high, mainly driven by  primarily by vegetables, house rent and fuel.
 
Inflation in vegetables shot up to a four-year high of 29.1% in December 2017, from 22.5% in November, contributing 22 basis point to the MoM rise in headline inflation.
 
If we exclude vegetables, inflation was 150 basis points lower at 3.7%, as per Motilal Oswal data.
 
Sujan Hajra and Pooja Banthia, Economists at Anand Rathi, stated that the divergence between wholesale and retail inflation is again emerging, reflecting higher food and services inflation along with modest manufactured price inflation.
 
They cited much higher weightings of food products in the retail index than in the wholesale index coupled with faster hardening of food prices are also contributing to this divergence.
 
While retail inflation includes services activities, these are not included in the wholesale index, because manufactured products dominate the wholesale index (by weight) and these products are not facing strong inflationary pressures.
 
The conclude that "This is another reason for the divergence."
 
Madhavi Arora, Upasna Bhardwaj and Suvodeep Rakshit, analysts at Kotak Institutional Equities, said, "Weakening food inflation dynamics contributed the most to moderating headline WPI inflation, largely mirroring the trends seen in CPI inflation. Even as WPI inflation has been trending higher since August 2018 largely due to fading base effect, it will remain soft to average ~3.0% in FY2018."
 
The trio on CPI explained that adverse base effect continues to propel the CPI inflation readings significantly higher than RBI's expected range of 4.3-4.7%. CPI inflation trajectory is set to trend even higher towards 5.5-6% in 1QFY19, along with a cyclical economic recovery.
 
Another analyst at Motilal Oswal expects retail inflation to even shoot up to over 6% in Q1FY19 and peak at 7% by end of June 2018 on account of adverse base.
 
Nikhil Gupta and Rahul Agrawal, Research Analysts at Motilal Oswal, said, "This closes the possibility of a rate cut and increases the odds of a rate hike. However, a high base should pull down CPI inflation to sub-4% in 2HFY19. Thus, we believe that the RBI is likely to look through such statistical effects and maintain status quo in 2018."
 
Kotak, however, said, "We maintain our call that RBI would pause at least through1HCY18 and assess underlying risks by early FY2019 before changing its stance."
Updated: Mon, Jan 22, 2018
06:03 pm
Mumbai, ZeeBiz WebDesk