We had an exciting journey of 25 years at Motherson Sumi Systems: Vivek Chaand Sehgal
Vivek Chaand Sehgal, Chairman, Motherson Sumi Systems, in an interview with Zee Business, talks about the strategy that will help the company to achieve its target of $18 billion revenue by 2020, the opportunities related to acquisitions and more.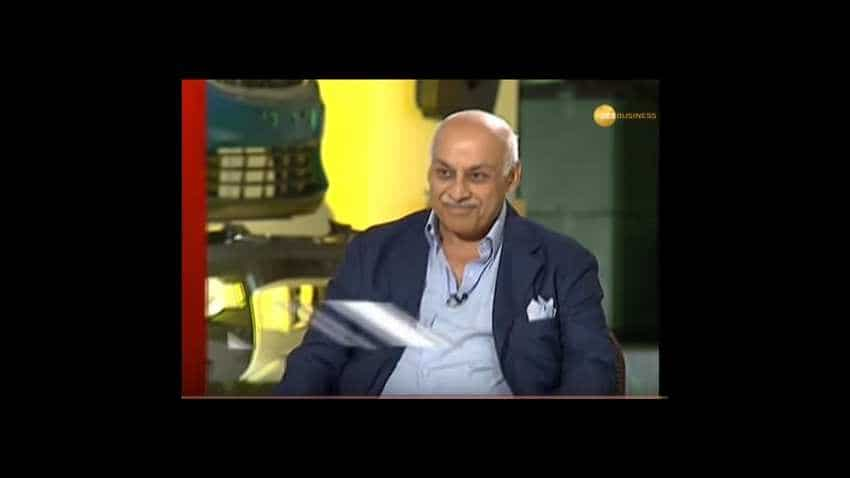 Vivek Chaand Sehgal said that a decrease in sales of the vehicle will not have an impact on our business. Image source: Zee Business
Updated: Mon, Oct 08, 2018
09:08 pm
Mumbai, ZeeBiz WebDesk
Vivek Chaand Sehgal, Chairman,  Motherson Sumi Systems, in an interview with Swati Khandelwal, Zee Business, talks about the strategy that will help the company to achieve its target of $18 billion revenue by 2020, the opportunities related to acquisitions and more. Edited Excerpts: 
Q: Motherson Sumi has rewarded its shareholders by offering bonus shares to commemorate 25 years of its listing on the BSE. Let us know about the 25-years journey of the company and the secret behind this success in terms of expansion and growth?
A: Don't know the way 25years have passed but it has been an exciting journey for us. On the occasion, I would like to thank almost everyone from our customers to employees for bringing us to the place where we are standing today. In this journey of 25 years, we have turned ourselves into a wiring harness manufacturing company from a wire manufacturing company. We are also in the production of plastic goods where we are producing several products in the segment. Actually, people think that we are in production of only one or two parts but we are manufacturing more than 2500 parts in different countries. In fact, we have production facilities in 41 countries at present. 
Q: How you deal with the certain challenges, like ongoing volatility in the market and subdued mood at the global level including India, trade war, the protectionist attitude of several countries, that has a direct impact on the demand, especially when you have just 8 per cent market in India?
A: See, you are not supposed to see on the market especially when you are working with an automaker or a carmaker. For instance, we have growth 7000 times in the past 25 years, the time when the world faced several challenges. At the time of listing in 1993, we had a turn over of nearly Rs 17-18 crore ($2.5 million) but today we have a turnover of around Rs 70,000 crore, which is equivalent to 5000-7000 times growth in all these years. In all these years, we have learnt a lesson in which we are supposed to connect with our customers and resolve their problems at our end. 
We created a vision in 1997 saying "to be a globally preferred solution provider" and we have been following the same steps of providing solutions to our customers. This is a reason that such disturbances and disruptions are don't have any impact on our business, in fact, we get more opportunities. For instance, during the Lehman Crisis in 2008-09, we were able to develop mirror company which was appreciated by carmakers and since then we have been able to increase our sales by four times in a period of just 8 years. 
Q: The German automaker BMW in recent past lowered its global forecast and that's why the investment community is saying that this lowering by an OEM will have a direct impact on the component supplier. 
A: It is a very complicated thing as there is clarity on the area where the demand has gone down. Secondly, two-weeks ago, Bloomberg in its report said that its August sales in Europe has gone up by 3 per cent and is the best one. This is a reason that things can't be generalised at least when there is no clarity on what has happened and the area where it occurred and what is its reaction to the company. I think the reaction of carmaker for a reaction of a particular area is not going to have any impact on our everyday sales. 
Q: Actually, such forecasts are enough to raise concerns among the investor community as they co-relates the two things together and I feel you can make us understand the same in a better way?
A: See, the thing that they are selling their products in 60-70 countries across the globe and interestingly are not aware of the market where the sales have gone down and will not be able to calculate the percentage of the decline. In fact, we will not be able to take care of all these nuisances that happen in the market even after buying the biggest computer available in the market. 
Q: Do you generally think that the demand for cars and these products and general sales is going to be a robust one at least in a world that is going to have connected cars and electric cars? Several countries are turning conscious when it comes to the environment. Can you see some problem with it?
A: See, this a not a new challenge. In fact, car production and its sales have gone up in the past six decades, it also went up at the time of Lehman crisis. Undoubtedly, there are people who don't want to buy a car but there are so many more who are buying. I would like to say that there is a huge difference between a vehicle and telephone, a sector that can see disruptions soon. But such disruptions can't be seen in the vehicle segment in recent future at least when you and your family travel in a vehicle. In fact, global consultants have said that the impact in the sector can be seen in 2040-2045. So, who has seen the future? 
Q: I will like to know about your preparations for the electric segment as you are a global caterer in the segment?
A: See, we are looking at opportunities in buses and trucks. Secondly, PKC Group Plc, which was acquired by us two years back, has all facilities related to electric vehicles. Similarly, Sumitomo also has the technology in the segment. Thus, the technology we are not bereft of anything, we have everything available. But, 10 crore cars were made last year and think about the number of electric cars which were manufactured, it was just 8 lakh cars. There is a huge difference between the two numbers and it is not an easy task to take over on it. But, it is a change for the future and we would like to welcome it. 
In fact, you can't retrofit electric engines as it was done in case of petrol engines, which were replaced by diesel engines three decades ago. It is a new technology and needs a new vehicle and that's why big companies in the US are struggling in producing electric vehicles. There are other problems related to the segment and it includes the availability of resources. However, Mothersomn Sumi as a company will not have an impact due to the change and we are agnostic to it 
Q: Beyond vehicles, you also have your presence in several other verticals of business like in medical diagnostic equipment. I would like to know the way you decide and segregate things because it is to many things to focus on? How did you want to identify yourself at end of the day?
A: Smiling, see, we have decided to grow and have a positive contribution to the society. We create jobs and needs for people to be educated and come in and make their life and future. Actually, I got a chance to grow 25-30 years back and now I want to give that chance to everybody. So, all these people who come in they want to do something. We just ask them to go ahead with the product that they want to design. In fact, we have an ecosystem and a geography where we can make anything and everything possible. So, in this situation, what is important for us is to maximize our machinery, plants and geographical advantages that are available with us. When it comes to the medical sector than we are going into medical devices, not medicines and interestingly devices and car products are similar items. Actually, we are taking advantage of what we have in different sectors like defence and aerospace. 
Q: You have a vision of being an $18 billion revenue company by 2020. Are you on course or can you do better than that? 
A: Yes, we are on course. In fact, we can achieve it before that with the kind of disruptions being highlighted by you. 
Q: It is a magic formula for you as you are too confident? 
A: See, we have seen a big change in these  
This confidence is due to the change that we have seen in the segment in the past three-four decades. There was a time when 80 per cent vehicle parts were developed internally by the automaker but now they are producing only 15-20 per cent products in-house. This is why car makers are in a need of supply chain as the absence of a single part may affect it while designing a car. Besides, if a company in the supply chain goes a company going bankrupt in the supply chain management will call the people or company to whom it trusts and ask them to take over the company and under such situation, we have very less time to take over the firm and go ahead with it. That is why all our acquisitions till date, 21 acquisitions, are running well at present. 
Q: You have acquired 21 companies in 25 years of your existence and that is a great thing. You talked about the Lehman brothers crisis which was a good time to acquire distressed assets. Do you have any plan to acquire any distressed asset in India or at global level amid the ongoing distress?
A: In recent past, we acquired Reydel Automotive Group. There are people who plan their acquisition in the morning but we don't have that ego and we wait for a time, where the carmaker approaches us asking for a solution. In fact, we are not afraid while acquiring a company due to the geography of its presence as because India was created by merging 500-600 princely states, which means we have 600 different cultures together and what will change if we add 40-50 more cultures to it. 
Q: Can you let us know the segment that will be acquired by you? 
A: Only automotive. 
Q: This means your strategy related to acquisition always remains straight and stable?
A: Always. See we have three engines of growth and they are we are capable of developing technology and parts at our end, joint ventures and we have 34 joint ventures in nine different countries and they are doing well and the third is the engine of acquisition, under which we go with the suggestion of the carmaker, interestingly, we have been able to acquire just 5 companies out of 100 of opportunities that came on our way. We don't have a ghost riding on our heads and commanding us to acquire everything to achieve the target of $18billion. In fact, acquisitions will be done if it suits our parameters. 
Q: You were saying that the demand impact will not have an impact on your business and you on course to achieve your targets. What is your contribution in Europe as it is a place with such a situation? 
A: We have the maximum over there and it stands between 50-52 per cent. 
Q: Do you think that the downfall in Europe can factor-in in your business?
A: See, the consumption in Europe is just not restricted in Europe itself. In fact, the products are being sold across the world and that's why it will not have an impact. Secondly, there are talks that there will be an end of luxury cars but I have not been able to understand the reason for such talks. 
Q: We have seen your growth pattern and you are confident enough to carry it on. Can you provide some important highlights for the next two-three years that will contribute to your business?
A: As I have said that we don't want to have three CX 15, which means one country, one customer and one component, in more than 15 per cent of our turnover. Interestingly, we do it knowingly because it helps us in derisk ourself in a natural way. If we start thinking that the normal components available with us today can bring opportunities to us then it is not going to have. But, new verticals will be available in the market in a few days but I don't have approvals to name them. In fact, our USP is the way we increase our content per car, for instance, consider we are supplying products valued Rs 10,000 for a car and we have a target to double the value to Rs 20,000, which means that our turnover has doubled. 
Watch this Zee Business video
In such a case, a decrease in sales of the vehicle will not have an impact on our business and this is something that we have been doing for all these 25 years and this is the process that has helped us in increasing our business 7000 times. 
Get Latest Business News, Stock Market Updates and Videos; Check your tax outgo through Income Tax Calculator and save money through our Personal Finance coverage. Check Business Breaking News Live on Zee Business Twitter and Facebook. Subscribe on YouTube.