Two years of Reliance Jio: 10 ways Mukesh Ambani's telecom masterstroke touched people's lives, triggered digital revolution
Two years of Reliance Jio: It has been a dream run for Mukesh Ambani's Reliance for the last two years.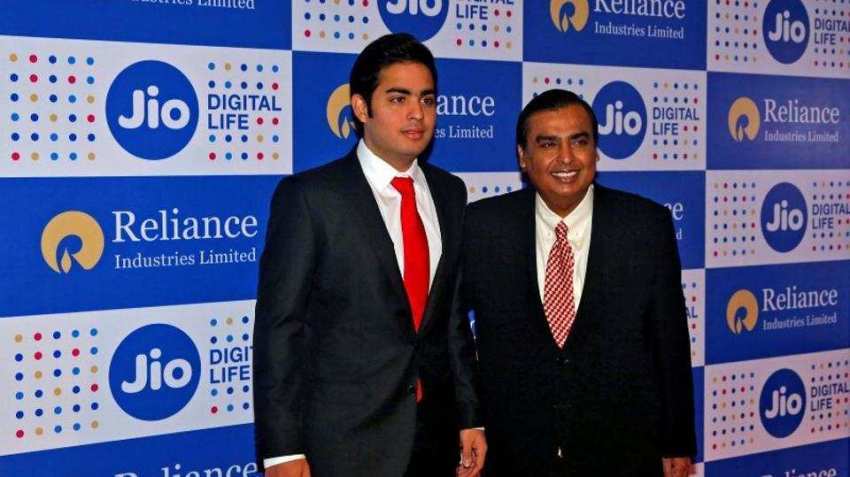 Mukesh Ambani (R), chairman of Reliance Industries Ltd, poses with his son Akash. Image: Reuters file
Updated: Wed, Sep 05, 2018
08:55 pm
New Delhi, ZeeBiz WebDesk
Two years of Reliance Jio: It has been a dream run for Mukesh Ambani's Reliance Jio for the last two years. The one of its kind company has not just touched people's lives by offering cheap internet data but also revolutionized the telecom sector by triggering a price war like never before. Jio today stands for speed, access and much more, forcing rivals to keep revising their strategies on a regular basis.  Two years ago, Jio launched as the catalyst Digital India needed to put the power of data within the reach of every Indian. Powered by a new age technology, Jio offered customers not just affordable but abundant data as well. 
Here are 10 highlights of Jio's two-year journey:
1. World's largest all IP network: Jio's network is state-of-the-art, all IP network, with LTE spectrum across 800MHz, 1800MHz and 2300MHz bands, and the largest fiber footprint. Jio has the widest LTE coverage in India, more than any other telecom player. Jio's network will soon cover 99% of India's population. Thanks to Jio, India has achieved larger 4G coverage than 2G coverage set up over last 25 years by incumbents
2. Free Voice became a reality in India. Jio gave unlimited free calling with all of its tariff plans. The market rapidly moves towards data and consumer is the winner, once again.
3. Mobile data consumption in Indiahas gone up from 20 crore GB per month to nearly 370 crore GB per month. Jio customers alone are consuming nearly 240 crore GB of that data. India moves from 155thin broadband penetration to 1stin the world in terms of mobile data consumption. Within months of its launch, Jio became World's 1stand only Exabyte Telecom network with data transmitted over Jio's network surpassing 100 crore GB per month. 
4. Fastest Ramp up of Subscribers in the world by any technology company. Jio added seven customers every second reaching 100 million customers in just 170 days. Today over 215 mn (as on 30th June 2018) customers are enjoying digital life on Jio network.
5. Data democratization: Tariffs become much more affordable – from the time when a GB of data cost anywhere between Rs. 250 - Rs. 10,000,post launch of Jiothe cost has come down to less than Rs 15 per GB currently. Jio users pay even lesser on various plans.
6. Data speed: The TRAI SpeedTest portal, which officially monitors the quality of telecom networks in India, has consistently ranked Jio as the clear 4G network leader in coverage, usage and data speeds month after month. 
7. Tariff Simplification: Prior to Jio there were nearly 22,000 tariff plans on offer. Post Jio all operators are trying to replicate the Jio model by trimming the number of plans. Jio offers only a few simple tariff plans with specified marquee plans at any point in time. This has simplified life for customers and they are able to choose the best deal for themselves.
8. Digital ecosystem: Post Jio, all key social media platforms like Facebook, Youtube and others have seen enhanced user base in India. India has become most active market for Google and Facebook, estimated 70mn additions in the first year of Jio's commencement of operations.
Watch this Zee Business video
9. Device ecosystem: Launch of VoLTE devices under LYF by Reliance Retail, which propelled all smartphone brands to increase focus on LTE shipments in the country leading to the current status where almost all smartphone shipments are LTE devices. Introduction of JioFi – the personal voice & data hotspot that enables users to enjoy Jio Digital Life on multiple devices and also enjoy the benefits of VoLTE calls on their old 2G/3G mobiles.
10. JioPhone: Ushering in a new digital era for feature phone users with JioPhone, India's new smartphone. With 25 million sold by June 30, 2018, the phone is targeting 100 mn customers in the shortest possible time. While effectively free, consumers can get this device by depositing only Rs 501 and exchanging their old feature phone