Sensex drops 467 points, gives up 38k mark; 6 power points
Sensex saw its worst nightmare come true as it plunged by a whopping 467.65 points or 1.22% to 37,922.17-mark.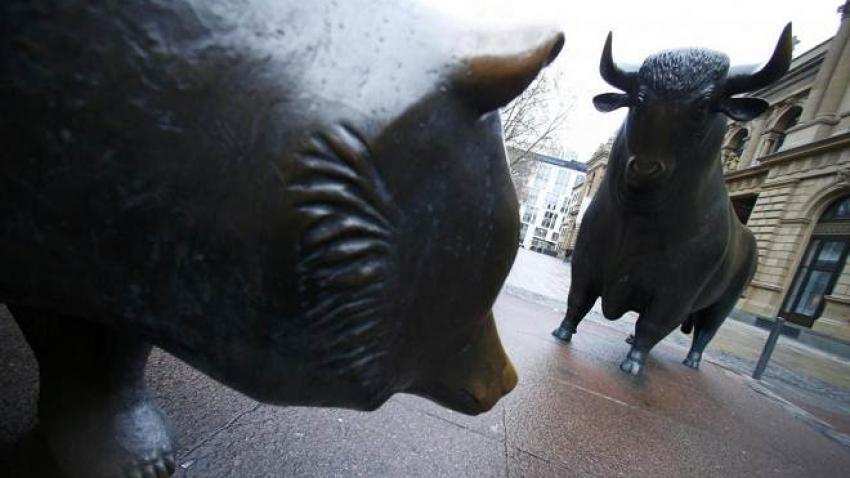 Representational Image: Photo: Reuters
Updated: Mon, Sep 10, 2018
05:26 pm
Mumbai, ZeeBiz WebDesk
Today's trading session was not in favor benchmark indices like Sensex and Nifty50. However, shockingly the Sensex gave away more than 450 points away and even shrunk below 38,000-mark. After taking massive beating from investors, Nifty50 finished at 11,438.10 down by 151 points or 1.30%. On the other hand, Sensex saw its worst nightmare as it plunged by a whopping 467.65 points or 1.22% to 37,922.17-mark. 
There were a number of factors that were involved in pulling Sensex down to such an extreme level. Let's see what they are. 
Gainers! 
There were barely any gainers on Sensex index. Only two stocks ended on positive note with Axis Bank taking lead by ending at Rs 651.55 per piece up by 0.99%. However, the share price of Axis Bank had gained by nearly 5% on approval from RBI for appointing new MD & CEO Amitabh Chaudhry. 
Meanwhile, Wipro closed at Rs 324.90 per piece above by 0.26%. There were Yes Bank and TCS who also finished mostly muted at Rs 323.75 and Rs 2,081.20 per piece respectively. 
Losers: 
The line of losers on Sensex was massive with Sun Pharma taking top spot by tumbling 3.72% ending at Rs 639.50 per piece. This was followed by M&M at Rs 938 per piece down by 3.64%, Vedanta at Rs 223.10 per piece below 3.44%, IndusInd Bank at Rs 1,828.60 per piece lower by 2.54% and State Bank of India at Rs 285 per piece down by 2.35%. 
Other losers were - HDFC at Rs 1,883.80 per piece (2.14%), ONGC at Rs 168.65 per piece (2.03%), Bajaj Auto at Rs 2,866.55 per piece (1.96%), Coal India at Rs 280.15 per piece (1.96%), Asian Paints at Rs 1,292.45 per piece (1.89%), Kotak Mahindra Bank at Rs 1,225.15 per piece (1.83%) and Hindustan Unilever at Rs 1,610.55 per piece (1.73%). 
Companies like Reliance Industries, Hero Motocorp, Adani Ports, Power Grid, Maruti Suzuki, Bharti Airtel, Tata Steel and HDFC Bank also plunged in the range of 0.75% to 1.54%. 
Sectors: 
Except IT sector, remaining all industries saw decline in today's trading session with FMCG, healthcare, auto, banking, consumer durables, metal and oil & gas. 
Starting with S&P BSE Auto who was worst hit by investors, as the index completed at 24,272.24 down by 431.80 points or 1.75%. This was followed by S&P BSE Bankex which slipped by 317.15 points or 1.02% at 30,692.71. 
S&P BSE Healthcare meanwhile dropped by 245.01 points or 1.50% at 16,066.11, whereas S&P BSE Metal slipped by 244.50 points or 1.74% at 13,800.97. 
S&P BSE FMCG, Oil & Gas and consumer durables all tumbled over 200 points each while finishing at 11,985.56, 14,733.06 and 20,654.78 level. 
Indexes as per market cap: 
Stocks under S&P BSE Sensex Next 50 were among major losers, as the index gave away 661.79 points or 1.89% and ended at 34,264.98. on Sensex. 
S&P BSE MidCap and S&P BSE SmallCap also plunjed by 277.02 points (1.68%) and 180 points (1.07%) ending at 16,227.84 and 16,716.94. 
Rupee:
At the interbank forex market, the Indian rupee has depreciated so far by 13% in 2018 and has even touched a historic low of Rs 72.67 against US benchmark dollar index. However, today, it finished at 72.395 above 0.280 points or 0.39% as per investing.com data. 
It is being stated that the Indian rupee staged a comeback on the strong intervention of the Reserve Bank.
According to Kotak Securities, even if the yields were to decline post CPI release, we expect sellers to emerge in bonds in such a dip. Hence, Indian long bond yields and Rupee should continue to move in lockstep.
Global markets:
According to PTI, negative leads from global markets as investors were cautious amid fears of a possible escalation in the US-China trade conflict hit the market sentiment.
Reportedly, US President Donald Trump last week threatened tariffs on all Chinese imports, while Beijing warned of retaliation if the US goes ahead with any new measures.
The Asian stocks plunged to 14-month low so far in today's trading session.