RBI says 83% currency remonetised but does it really matter?
The after-effects of demonetisation are still not over. RBI is yet to announce the total currency that found its way back to the banks between November 9 2016 and December 31, 2016. However, RBI said that currency to the tune of 82% of pre-demonetisation levels have been pumped in the economy.   
People queuing up outside ATMs for withdrawal of cash to meet expenses in Varanasi. Photo: IANS
Key Higlights: 

RBI said nearly 82% of currency back in circulation
Says no cash shortage in ATMs
Digital transactions are gaining ground
Reserve Bank of India (RBI) on June 7, 2017 said that demonetisation's impact on currency circulation has been minimised with 82.6% of cash now 'remonetised'.
BP Kanungo, Deputy Governor, RBI said, "The data of remonetisation is available on public domain. If you look at the data, 82.6% of the economy has been remonetised which is a vast number. 
Madan Sabnavi and Manisha Sachdeva economist at Care Ratings said, "Money circulated in the economy has increased but has not reached the levels of pre-demonetisation."
"In volume terms, 108% of the currency has been replaced," Kanungo said. 
Kanungo added, "Yes there could be a shortage in economy in some pockets but whenever such things comes to our notice we respond immediately through various means like inter-chest remittances. Several measures have taken in this regards."
RBI data how that currency-in-circulation (CIC) stood at Rs 14.88 lakh crore as on May 26, 2017 and as against Rs 14.32 lakh crore for the month of April 2017.
This would be lower by 14.13% and 16.74% when CIC was at Rs 17.33 lakh crore in May 2016 and Rs 17.2 lakh crore in April 2016.
Currency in Indian economy four days before demonetisation on November 8, 2016 was at Rs 17.97 lakh crore. This reached to a low of Rs 9.38 lakh crore by end of December 2016.
Kanungo said, "I will not agree to the view there is cash shortage at longer term basis or persistence basis in some places."
The deputy governor stated, if there are seven to eight ATMs in one place, there is always one or two working and some don't which has always been the case before demonetisation.
As per Care Ratings report, money supply in the month of April and May 2017 has sequentially contracted by 0.3% versus the growth of 2.3% in the corresponding period of the previous year.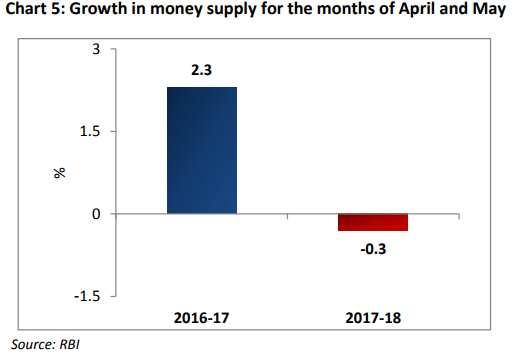 In the month of April, C.H. Venkatachalam, general secretary of All India Bank Employees Association was quoted by Free Press Journal saying, "Actually, the problem is directly linked to demonetisation. Many ATMs are yet to be recalibrated. Plus, people have started hoarding Rs 2,000 notes. There is still a huge mismatch in the demand and supply of currency notes." 
 
Updated: Thu, Jun 08, 2017
02:03 pm
Mumbai, ZeeBiz WebDesk