RBI Monetary Policy: Should Urjit Patel take a pause on repo rate? Bond, CPI Inflation give comfort
Currently, policy repo rate stands at two-year high of 6.50%. Moreover, the reverse repo rate now stands at 6.25%, while the marginal standing facility (MSF) rate and the Bank Rate at 6.75%.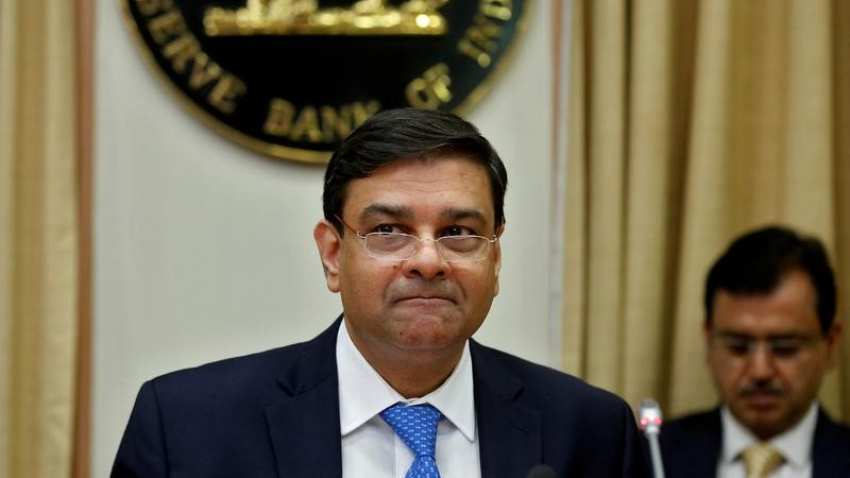 Representational Image: Photo: Reuters
Updated: Fri, Oct 05, 2018
01:19 pm
Mumbai, ZeeBiz WebDesk
Countdown has begin for investors and markets, which are watching Reserve Bank of India (RBI) keenly for action on key rate today. RBI Governor Urjit Patel along with MPC members will be presenting India's fourth bi-monthly monetary policy for fiscal year FY19 today at around 14:30 hours. The MPC members have been meeting from last two days, and today they will presenting their decision. Majority of experts believe that once again RBI will hike policy repo rate, which is currently at 6.50%. The last time this kind of policy repo rate was seen in April 2016 policy. Ahead of the policy, the Sensex has given away its 35,000-mark, and was trading at 34,741.28, down by 427.88 points or 1.22%. Meanwhile, Nifty 50 was trading at 10,434.95 below 164.30 points or 1.55%. 
Markets are desperately hoping for a status quo in today's policy. 
There are two scenarios, which have made many analysts predict for rate hike ranging from 25 basis points to 50 basis points. They are -  higher core inflation and weakening INR.
Interestingly, Motilal Oswal says, "Both the explanations are highly surprising because the Monetary Policy Committee (MPC) members have repeatedly confirmed their mandate to target headline inflation, and not core inflation or the INR."
According to the minutes of the last two MPC meetings (on June 6, 2018 and August 1, 2018), there was no mention of either core inflation or the INR to support successive rate hikes. In fact mentions were made in regards to higher crude oil prices – from ~USD70/bbl to USD77-78 at May-end – and approval of 1.5x hike in minimum support prices (MSPs) for kharif crops led to the successive rate hikes. Crude oil is now trading at USD79/bbl.
Indian rupee has weakened 11.5% in FY19YTD, however, the domestic currency has weakened only ~6% against the basket of 36 currencies. 
Nikhil Gupta and Rahul Agrawal, Research Analysts at Motilal Oswal said, "The impact of the piecemeal rate hike approach on the INR amid a period of global slowdown is highly unclear, while its adverse impact on domestic borrowings is certain. A 100bp rise in bond yields increases the government's interest payments by INR60b – more than the budgeted spending on 'jobs & skill development' program in FY19."
Since the last monetary policy meeting, the 10-year bond yield is up from 7.70% to ~8.15%. 
The duo at Motilal adds, "A look at data from the past decade confirms that movements in the bond market have always preceded the movements in the policy rates by 3-6 months. However, the surge in the yields this time has been much sharper and began almost nine months in advance to the RBI's rate hike."
Furthermore, explaining about core inflation, analysts at Motilal said, "Notwithstanding these facts, we believe that the concerns related to the so-called core inflation are overstated because (a) it is driven by very few items, (b) several items in core inflation are rate inelastic and (c) more than 90% of the CPI basket (excluding most volatile items – 'vegetables' and 'fuel') is at 4.5% inflation."
Finally, the duo said, "rather than looking at 'core inflation,' one must also look at CPI-inflation excluding most volatile items in the basket – 'vegetables' and 'fuel'."
Thereby, Motilal said, " A rate hike of 25 basis points (bps) has almost become a consensus, and now talks of a 50bp hike are slowly gaining momentum. We, however, believe that the RBI should avoid further rate hikes."
Highlighting key pressure to GDP numbers, if RBI hikes rate, Motilal said, "Overall, we believe that the spread between the repo rate and the bond yield must be narrowed by affirmatively talking down the rate hikes arguments rather than giving in to such demands. Otherwise, we might see downward pressure on real GDP growth."