Rakesh Jhunjhunwala's holding value plunges by over Rs 1,600 crore; Here's how
 As on June 2018, Rakesh Jhunjhunwala's entire portfolio was valued at Rs 12,165.11 cr, which is lower compared to holdings of Rs 13,775.28 cr by end of March 2018.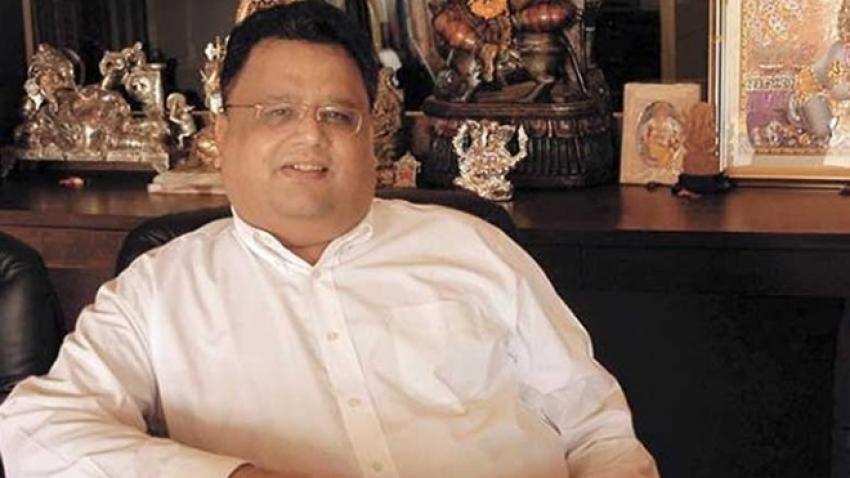 Representational Image: Photo: Reuters
Among many quotes of ace investor Rakesh Jhunjhunwala regarding trading in stock markets would be, "Anticipate trend and benefit from it. Traders should go against human nature." Considering Jhunjhunwala's recent investment trends, looks like this quote fits him best. Jhunjhunwala who has been unofficially anointed as the 'king of Dalal Street', has always been firm on his word when he says stocks will go up and down but grabbing opportunities is what matters most. Jhunjhunwala has been known to take risk and that too in extreme one, but did you know in from April - June 2018 quarter, the man referred to as the 'Warren Buffett of India' saw his holdings come down by Rs 1,610.11 crore compared to previous quarter? 
Well, take a look at this. As of June 2018, Rakesh Jhunjhunwala's entire portfolio was valued at Rs 12,165.11 cr, which is lower compared to holdings of Rs 13,775.28 cr by end of March 2018, as per data given on Trendlyne.
A total of 29 companies have Jhunjhunwala's love, when it comes to his investments, however, this year six companies saw some reduction while four companies witnessed an increase in holdings. 
The highest cut that was made by Rakesh Jhunjhunwala was in his favorite stock Titan Limited. The ace investor removed a massive Rs 1,135.61 crore from this company and now has about Rs 5,766.84 crore in June 2018 compared to March 2018 where the holding stood at Rs 6,902.45 crore. 
With this, Jhunjhunwala reduced his portfolio in Titan to about 7.06% from previous 8.46%.
In an interview to ET Now, Jhunjhunwala said, "I still own 6 crore 25 lakh shares whose worth today is Rs 5,500 crore. If I lost confidence, I would have sold the balance. I sold a part to make another very large investment. I am investing Rs 2,400 crore in a single unlisted company. I need money and Titan became too disproportionate part of the portfolio."
Jhunjhunwala added, "I still believe in Titan very much. I am extremely bullish but I sold because I needed money to make an alternative investment."
Also, Rs 78.73 crore was removed by Jhunjhunwala in Dewan Housing Finance Corp where now his holding stands at Rs 511.12 crore compared to Rs 589.85 crore by end of March 2018. 
Also, Rs 11.45 crore and Rs 3.83 crore were taken out by Jhunjhunwala from Federal Bank and Escorts. 
Crisil and Edelweiss Financial Services also saw money going out by 0.1% each. 
Now in Crisil, Jhunjhunwala holds 5.52% with 3,965,000 equity shares worth Rs 717.27 crore. 
Whereas in Edelweiss, his holding has come down to 1.08% with 10,000,000 shares valued at Rs 299.55 crore. Jhunjhunwala's lowest holding is in Edelweiss among the 29 stocks. 
While the above mentioned companies saw reduction in holdings, Jhunjhunwala took the opportunity in increasing holdings in four of his stocks. 
About 1.78% was increased in these four stocks, under which Jhunjhunwala invested highest in Karur Vysya Bank. He increased his holding by 0.86% in Karur to 4.22%, now having 30,712,288 shares worth Rs 300.67 crore. 
Surprisingly, second highest investment was made in debt-laden Jaiprakash Associates where Jhunjhunwala added another 0.83% in the company. He currently holds 2.06% with 50,000,000 shares worth Rs 75 crore in Jaiprakash. 
A marginal increase of 0.06% was seen in NCC, where Jhunjhunwala now holds 9.50% with 57,055,932 equity shares worth Rs 534.61 crore. 
Also, Jhunjhunwala saw opportunity in pharma major Lupin, where he has increased his holding by 0.03% to 1.95% with 8,798,605 shares worth Rs 719.02 crore. 
Jhunjhunwala, meanwhile, maintained his holdings in Aptech, Geojit Financial Services and Ion Exchange, Man Infra Construction, MCX and VIP Industries. Shareholding patterns of many other companies of his portfolio are yet to be disclosed. 
Updated: Thu, Aug 02, 2018
04:59 pm
Mumbai, ZeeBiz WebDesk