Rakesh Jhunjhunwala's favorite stock just got 'Sell' rating, govt to blame; ace investor to lose big amount
The downgrade call on this favourite stock of ace investor Rakesh Jhunjhunwala can be blamed on government, which has hiked import duty on the back of depreciating rupee on a number of items.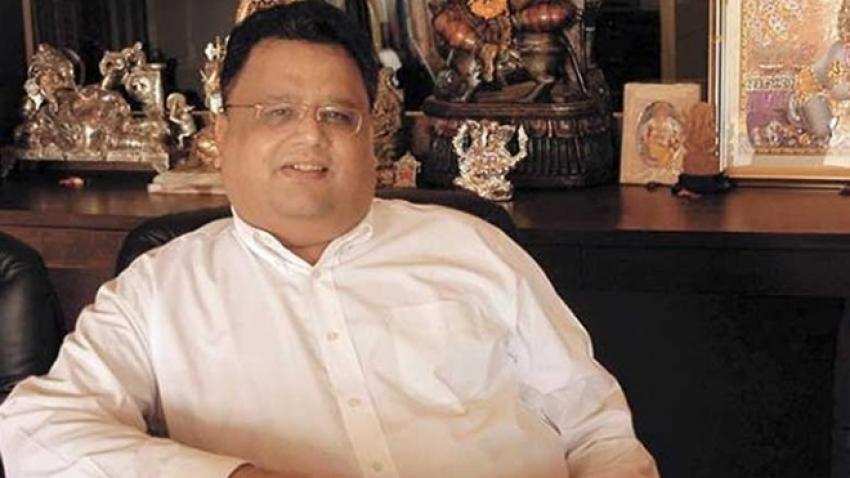 Representational Image: Photo: Pixabay
Updated: Fri, Sep 28, 2018
04:16 pm
Mumbai, ZeeBiz WebDesk
Among many stocks, it would be Titan Company that has the most love of Rakesh Jhunjhunwala. The ace investor holds massive amounts in Titan. Notably, the company has never disappointed the investor when it came to trading on stock exchanges in terms of generating profits. In a year's time, Titan has more than doubled on BSE. Titan had touched a low of Rs 522 per piece on July 27, 2017, and since then gained by 92.72% on BSE to touch a high of Rs 1,006 per piece. This is better than the 31-scrip and 51-scrip indexes as well, as both Sensex and Nifty 50 have grown between 20% - 22%. However, looks like tables have finally turned, and Titan is bound to lose some money for investors on exchanges, and thereby take down Jhunjhunwala's investment by quite an extreme amount.
 
Significantly, rating agency CLSA has downgraded its outlook to 'Sell' on Titan. The downgrade call on this favourite stock of ace investor Rakesh Jhunjhunwala can be blamed on the government, which has hiked import duty on the back of depreciating rupee on a number of items. Let's understand how Titan is likely to lose some of its valuation and leave Jhunjhunwala facing the heat. 
Recent rupee depreciation has prompted the government to hint at a stricter import regime and media reports indicate the possibility of a higher import duty on gold. The yellow metal remains among top three imported items for the country. 
The situation today in India was last seen in 2013. 
2013 was tough for India's economy due to a sharp rally in crude oil prices, steep rupee depreciation & a widening current account deficit, ahead of general elections. 
According to CLSA, since gold was the 2nd-largest contributor to the import bill, regulators imposed a series of restrictions: higher customs duty, a ban on gold-on-lease and a 80:20 scheme (quantity restrictions) to limit gold imports. Titan's stock declined >35% between Dec 2012 and Jun 2013 led by a PE derating and earnings cuts.
Hence the current scenario is not any different than 2013.  Crude oil prices are on an uptrend, the rupee has depreciated 7% over the past three months to Rs 71.9:US$1 and concern is rising on a widening of the current account deficit (CAD) ahead of the 2019 national elections. 
Many media reports have indicated  the possibility of a further increase in gold import duties (from 10%). 
CLSA adds, "If the current situation persists, tightening cannot be ruled out as gold remains among the top three imported items and the government's actions could be staggered."
Although the situation is not that grave than 2013 one, and even Titan has focused on increasing the salience of gold exchange which was as much as c.40% of FY18 gold procurement and the target is to take this up to c.50% by FY23. 
The rating agency further explains that, unlike 2013, overall competitive intensity is benign with regional and local retailers struggling to survive post measures like demonetisation and GST. Brand metrics for Tanishq have been their strongest for the past many years.
Despite being better placed than the previous cycle, CLSA is worried of the impact of a potential hawkish stance on gold regulations which could weigh on Titan's premium valuation.
It even said, "Even if the government does not take specific action to curb gold imports in the near term the overhang would still remain as actions could be staggered."
Considering this, CLSA said, "Growth concern also exists after Titan missed its jewellery growth guidance in 1QFY19 though retained its 25% guidance for FY19. We cut our rating to SELL and lower our target price to Rs720 (32x Sep 20CL earnings)."
Now the CLSA has predicted a target price of Rs 720. If we compare to Titan's all-time high of Rs 1006 recorded in April this year, the decline from that growth would be nearly 40%. 
Interestingly, from April - June 2018, Jhunjhunwala also sold about 1.4% stake in Titan taking his overall holding down to 7.06% from previous 8.46%.
Jhunjhunwala after selling a portion of Titan, reiterated that he still believes in the jewelry maker. He even said in an interview, "I am extremely bullish but I sold because I needed money to make an alternative investment."
With this, Jhunjhunwala now has about 62,751,220 equity shares in Titan worth Rs 5,196.11 crore. 
If we take 40% decline in market price of Titan (CLSA's target of Rs 720),  then Jhunjhunwala's loss can be over Rs 2,000 crore. 
Hence, Titan may soon give the Dalal Street king some shocks and shivers.
 
However, how does Jhunjhunwala react if Titan is set to achieve CLSA target, would be interesting to watch. Will he stay invested or will he remove his money are key things to watch going forward.