Railways recruitment 2018: Hiring for 90,000 assistant loco pilots, technicians, gangmen, switchmen starts
Railways decision to fill the vacancies is in sync with Railway Minister Piyush Goyal's plan to strengthen safety in train operations after it saw a series of derailments in the recent years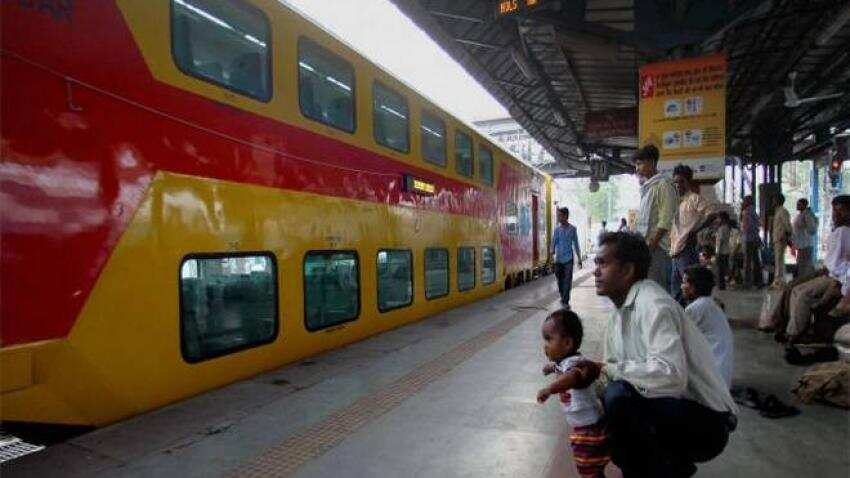 Railways has done away with the requirement of an Industrial Training Institute (ITI) or equivalent certificate to apply for 62,907 vacancies of trackmen, helpers, etc. Image source: PTI
Updated: Tue, Feb 27, 2018
10:56 am
ZeeBiz WebDesk
If you are a government job aspirant and preparing for railways recruitment examinations, there is good news for you. Indian Railways, world's biggest rail network, has kickstarted the process of hiring 89,500 employees, including assistant loco pilots, technicians, gangmen, switchmen, trackmen, cabinmen, welders, helpers and porters. 
 
The decision to fill the vacancies is in sync with Railway Minister Piyush Goyal's plan to strengthen safety in train operations after it saw a series of derailments in the recent years. 
 
Vacancies are mainly at the entry level, as the minister thinks that railways needs more staff to maintain the cleanliness and ensure safety.  
 
Around 1.2 lakh positions related to safety are lying vacant. The additional hiring is likely to cost Rs 4,000 crore a year. 
 
The railways will hire around 63,000 personnel in group D category and another 26,500 personnel as loco pilots and assistant loco pilots. 
 
The network's staff expenses pegged at Rs 76,451.89 crore for 2018-19, even as the expenses in this regard have gone up from Rs 69,713.22 crore in 2016-17 to Rs 72,705.57 crore in 2017-18. 
This was the long overdue as around 40,000-45,000 employees retired every year and the railways could not compromise with safety. 
 
It has done away with the requirement of an Industrial Training Institute (ITI) or equivalent certificate to apply for 62,907 vacancies of trackmen, helpers etc. Anyone with class X certificate can apply for these positions now. Besides that, the railways had also extended age limit by two years across all categories.
  
Railways Minister in a twitter post said, "Govt makes changes in the Railways' Mega-recruitment plan to ensure that aspiring candidates, who had been preparing over the past years for this recruitment, can get a chance to be a part of Indian Railways.
 
Apply online at http://www.indianrailways.gov.in/railwayboard/view_section.jsp?lang=0&id... …"