Raghuram Rajan wants RBI to play like Rahul Dravid, not Navjot Singh Sidhu in rift with Centre
Raghuram Rajan spoke in an interview over key developments in RBI vs govt controversy, section 7, debate on NBFC liquity, PCA framework and he also shed some light on rupee volatility.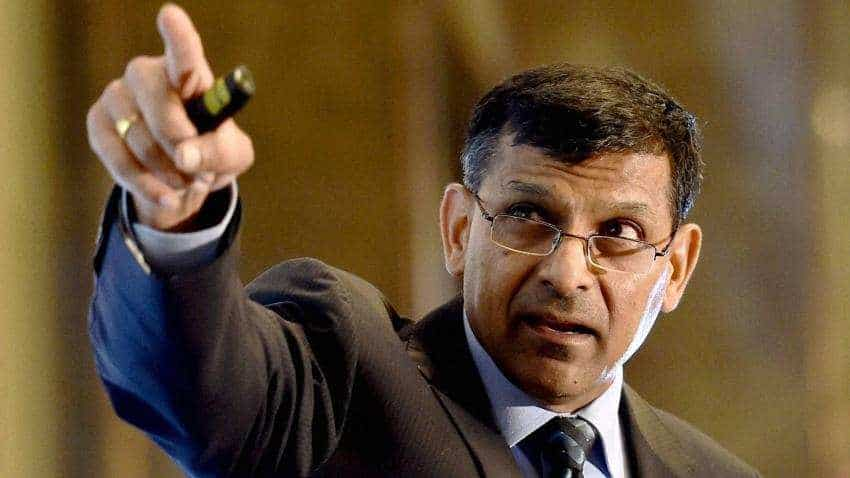 Representational Image: Photo: PTI
Updated: Tue, Nov 06, 2018
03:17 pm
Mumbai, ZeeBiz WebDesk
The public spat between the NDA government and the Reserve Bank of India (RBI) is getting intensified each coming day. There are reports where, the Finance Ministry has reportedly invoked section 7, which gives it the power  to issue direction to the central bank. Then there are many who are speculating whether this battle will lead to exit of current Governor Urjit Patel. However, ex-governor Raghuram Rajan has broken his silence over the battle between RBI and the Centre and he spoke in an interview over key developments in RBI vs govt controversy, section 7, debate on NBFC liquity, PCA framework and also shed some light on rupee volatility.   
In an interview with ET Now , Raghuram Rajan boldly stated that RBI should play like Rahul Dravid who was a former Indian cricket captain, famous for having been called 'The Wall'. Rajan mentioned that, in current tussle with the Centre, the role of central bank is to be the wise counsel just like Dravid, and not to make operational decisions and certainly not to be loud as Navjot Singh Sidhu who was also an Indian cricket team player. He was known for his deft use of a phrase and flamboyant way of batting. 
Talking about the public spat in the interview, Rajan compared central bank with a seat-belt for Centre, which is the driver. Rajan explains that government can decide whether it wants to put on the seat belt or not, however, wearing a seat belt definitely helps prevent unfortunate happenings eventually. 
Rajan says the government naturally thinks about pushing growth, whereas the RBI focuses on financial stability. 
Backing RBI's autonomy, Rajan said that RBI has the authority to say no because it is the one that has the responsibility to maintain stability in the financial system. 
RBI does not takes decisions out of political or self-interest, instead the central bank has to take a view on stability, as per Rajan. 
In Rajan's view, it is possible for Centre and RBI not to be in agreement, but still be respectful of each other's territory. 
Going ahead, on section 7, Rajan showed gladness that the section was not invoked on RBI which was a good news so far. 
According to Rajan, if the section 7 was to be invoked, then relations between RBI and government would have become precarious, cause of worry. 
Dialogue between RBI and Centre is always ongoing but must be respected on both front. They must be watchful of each other's territories, when encroached, it gets problematic, in Rajan's view. 
Rajan finally ended discussion over RBI and Centre, stating, hope respect for RBI's territory gets re-established. 
Meanwhile, when asked about the debate over PCA framework, Rajan said, Citing Basel norms to relax PCA for 11 banks is erroneous. 
The government has been demanding from RBI to relax the PCA framework, where about 11 state-owned banks are trapped. This banks are not allowed to lend further, pertaining to the risk involved in their stability. However, the finance ministry has pushing RBI for relaxation in the norms, so that these bank can lend more. 
These banks are - Allahabad Bank, United Bank of India, Corporation Bank, IDBI Bank, UCO Bank, Central Bank, Indian Overseas Bank, Oriental Bank of Commerce, Bank of Maharashtra, Dena Bank and Bank of India with NPAs ranging from 15% to 31%. 
In this regards, Rajan told, basel norms are flexible for some conditions but very stringent versus other Indian rules. RBI as a professional institution must be trusted for putting 11 banks under PCA. 
He added, "MSMEs world over are starved of funds, hard to lend to so always clamour for funds. Important to improve formalisation of MSMEs and business environment. Opening lending tap for MSMEs or relaxing norms risks creation of higher NPAs."
Moreover, Rajan in the interview also spoke on NBFC's liquidity position and rupee. On NBFC, he said, "In case of financial stress RBI has to decide if NBFC facing a liquidity problem or a solvency issue. Solvency problem of NBFCs is when some entities have taken on bad assets and are decapitalised. Solvency involves fiscal use of funds which the Centre has to direct and put tax payer's money at risk."
Adding Rajan reportedly said, "Bailing out private entities with taxpayer's money will raise issues. For addressing pure NBFC liquidity issue doing so via OMOs is a good idea. Lending through entities that can make direct loans to NBFCs is better. Allowing banks to guarantee bonds to the NBFCs is a good idea. Any intervention for NBFC must come after firms in trouble have taken steps to bolster own balance sheet."
On rupee, Rajan did not gave any specific level for rupee, instead, he says that, focus should not be on the rupee but the factors that will aid apt value. 
What has happened is that, Acharya spoke on government and RBI in last week of October. The topic was "On the Importance of Independent Regulatory Institutions – The Case of the Central Bank". Following this, it was revealed that senior officials spoke to news agency Reuters about the government's fears that this could hit country's image among investors.
Get Latest Business News, Stock Market Updates and Videos; Check your tax outgo through Income Tax Calculator and save money through our Personal Finance coverage. Check Business Breaking News Live on Zee Business Twitter and Facebook. Subscribe on YouTube.