One year of GST: When Modi invoked milk and Mercedes to attack Congress
Modi will remembered as the man who changed an entire face of India financial system with reforms like demonetisation and GST.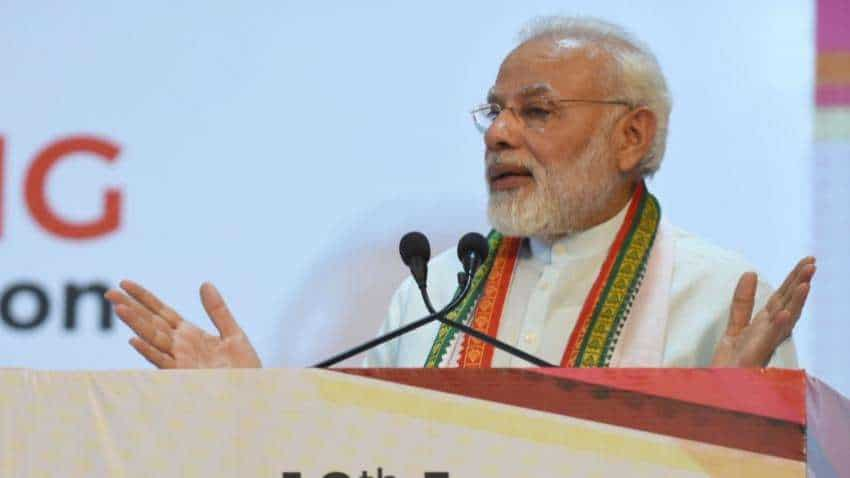 Representational Image: Photo: IANS
Updated: Mon, Jul 02, 2018
01:16 pm
Mumbai, ZeeBiz WebDesk
On the anniversary of Goods and Services Tax (GST), Prime Minister Narendra Modi gave Swarajya channel an exclusive interview, where he lashed out against critics including opposition parties for their harsh responses. On July, 1, India celebrates the first anniversary of Goods and Services Tax (GST) regime and the Finance Ministry has gone as far as to declare this day as 'GST Day' to highlight its importance well into the future.  It's a very special moment for the NDA government, as Modi will be remembered as the man who changed the face of India's financial system with reforms like demonetisation and GST. 
In the exclusive interview, Modi was questioned over various criticism which pointed towards one single rate for India under GST regime. 
However, Modi did not shy away in shutting those criticism with a bold statement. He said, "Can we have milk and Mercedes at the same rate."
Modi accepted that it would have been very simple to have just one tax slab, but it would also mean India could not have food items at zero percent tax rate. 
Modi hit out at the Congress party even as he called them 'friends' and said, "they will have just one GST rate, they are effectively saying they will tax food items and commodities, which are currently at zero or 5 per cent, at 18 per cent."
India follows a dual GST rate system because of its unique federal nature. 
Modi took to his Twitter handle to hail GST. He said, "GST has brought growth, simplicity and transparency. It is boosting formalisation, enhancing productivity, furthering 'Ease of Doing Business' and Benefitting small and medium enterprises."
Modi highlighted the key achievements of GST in one year's time. In 12 months gone by, GST has added 48 lakh enterprises, number of invoices processed increased to around 350 crore, number of returns filed jumped to 11 crore and number of e-way bills came in at over 10 crore. 
In the interview Modi said, the number of  enterprises registered from Independence until now was 66 lakh. He explained that because of GST in one years span of time we have seen 48 lakh new enterprises registering. 
Talking on criticism from business and economists, Modi said, "GST was a massive change, requiring a complete reset of one of the world's largest economic systems. The reform merged 17 taxes, 23 cesses into one single tax. When it was finally introduced, it was our endeavour to make it simple and ensure sensitivity of the system."
Modi reiterated that when reforms of this magnitude are carried out, there are often teething troubles. But he when assured that these issues were not only identified but also addressed in real time.  
On June 01, Finance Ministry while declaring 'GST Day' mentioned that, the Council has met for 27 times and no occasion has arisen so far that required voting to decide any matter. All the decisions have been taken by consensus. 
When asked whether GST rates will come down further, Modi stated that, government has reduced taxes on somewhat 400 groups of items. Whereas around 150 groups of items were included in zero percent tax rate. Meanwhile, large number of items especially of daily usage were either exempted or taken under lowest tax slab of 5%. Also, about 95% of items fall under or in 18% tax slab. 
Modi said, "If you look at the rates, for most of the day-to-day commodities, the rate has actually come down. Be it rice, wheat, sugar, spices, etc, total tax levied has been reduced in most cases."