One in 10 billionaires worldwide are women; India has just four out of 100
It will take 10 lifetimes for the average minimum wage worker in rural India to earn what the country's 'cream of the crop' earns. And Indian women are worse off.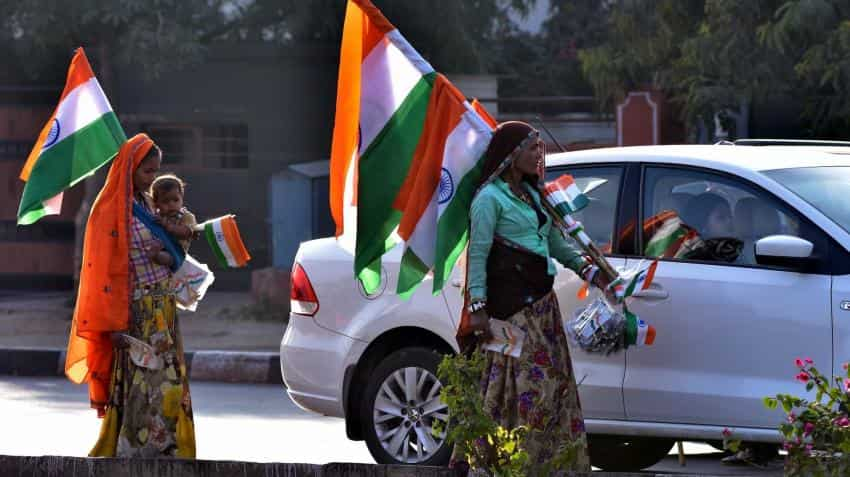 Representational image. Women sell tricolor ahead of Republic Day in Jaipur. Image Source: IANS
Updated: Mon, Jan 22, 2018
01:21 pm
Mumbai, ZeeBiz WebDesk
Key Highlights

Four Indian women billionaires' total net worth is not even half of Mukesh Ambani's.
India now has 101 billionaires.
Kiran Mazumdar-Shaw self-made billionaire ranked last among women on Forbes' list.
Ten out of every 100 billionaires globally are women. India has far less.
Kiran Mazumdar-Shaw, India's self-made woman billionaire and founder of Biocon, ranked 72nd on Forbes' list of richest Indians in 2017. She is joined by three others on the list who have inherited their wealth.
These four women are the only ones that feature on India's rich list amidst 100 men (4 out of 100). To put this in context, on a global scale one in 10 billionaires is a woman, a report by Oxfam revealed on Monday.
"Across the world, women consistently earn less than men and are concentrated in the lowest paid and least secure forms of work. By comparison, 9 out of 10 billionaires are men. In India, there are only four women billionaires and three of them inherited family wealth," the report said.
India now has 101 billionaires, however there still continues to be just four women on the list.
Why is this a problem?
As per Oxfam's statistics, Indian billionaires' wealth increased by Rs 4.89 lakh crore, from Rs 15.77 lakh crore to over Rs 20.67 lakh crore.
The survey revealed 1% of India's 'Ambanis' and 'Adanis' were in possession of 73% of India's wealth. The country added 17 new billionaires in 2017.
"It would take 941 years for a minimum wage worker in rural India to earn what the top paid executive at a leading Indian garment company earns in a year," the report jested claiming 10 lifetimes to achieve this feat.
The growing income inequality between the rich and poor also shines light on the wage gap in India, which was labelled as 'the worst in the world' by International Labour Organisation.
Male employees in the 'lowest paid' manufacturing sector earned Rs 256.6 on an average and female employees earned just Rs 179.8, a report by Monster India said in July 2017.
Shaw's wealth is a fruit of founding her own company. However, she featured last among the women on Forbes' list with a net worth of $2.16 billion.
Savitri Jindal, wife of Om Prakash Jindal, who founded Jindal Group - Indian manufacturing conglomerate, ranked first.
Vinod & Anil Rai Gupta, mother and son ranked next, draw their fortune from a 60% holding in flagship Havells India. And Leena Tewari followed who also inherited their wealth from family.
The four Indian women's total net worth, as cited by Forbes, amounted to $11.8 billion. This was not even half the net worth of the richest Indian on the list, Mukesh Ambani (over $40 billion).
"Approximately a third of billionaire wealth is derived from inheritance. Over the next 20 years, 500 of the world's richest people will hand over $2.4 trillion to their heirs – a sum larger than the GDP of India, a country of 1.3 billion people," the report said.
The report also revealed 67 crore Indians who comprise the poorest half of the population saw 1% increase in their wealth.
"In India, those living on $2 a day have a mortality rate three times the global average. The same is true in many other countries. If $2 is too low to achieve basic nutrition, or to secure a fair chance of surviving the first year of life, it is unclear why this should even be described as the end of 'extreme poverty'. Healthcare spending during accidents or emergencies for low-income households often means a reduction in the consumption of food or other basic needs that can push people below the extreme poverty line," Oxfam report said.
The report attributed this to a 'huge' share of global income growth is consistently accruing to those at the top.
"The poorest 40% of people living in developing countries, which account for 80% of the global population, have seen their incomes grow slower than the rest of society."
"It is alarming that the benefits of economic growth in India continue to concentrate in fewer hands. The billionaire boom is not a sign of a thriving economy but a symptom of a failing economic system," Nisha Agrawal, CEO of Oxfam India said.
Last year saw the biggest increase in the number of billionaires in history. "There are now 2,043 dollar billionaires worldwide."
Over 70,000 people were surveyed in 10 countries across five continents, representing over one-quarter of the world's population.
What Oxfam wants from the Union Budget 2018
Promote inclusive growth by ensuring that the income of the bottom 40% of the population grows faster than of the top 10% so that the gap between the two begins to close. This can be done by encouraging labour-intensive sectors that will create more jobs; investing in agriculture; and effectively implementing the social protection schemes that exist.
Seal the leaking wealth bucket by taking stringent measures against tax evasion and avoidance; taxing the super-rich by re-introducing inheritance tax, increasing wealth tax, reducing and eventually do away with corporate tax breaks; creating a more equal opportunity country by increasing public expenditure on health and education.
Bring data transparency, produce and make available high quality data on income and wealth. Regularly monitor the measures the government takes to tackle the issue of rising inequality.
Also Read:

Meet the four Indian women on Forbes list of world's billionaires

Billionaires Index: Mukesh Ambani can buy 595 million barrels of crude oil; Jeff Bezos can buy 1.53 billion

India's ease of doing business ranking does little or nothing for its women
Get Latest Business News, Stock Market Updates and Videos; Check your tax outgo through Income Tax Calculator and save money through our Personal Finance coverage. Check Business Breaking News Live on Zee Business Twitter and Facebook. Subscribe on YouTube.