Mukesh Ambani's net worth is $41.7 bn! This is what he can buy with it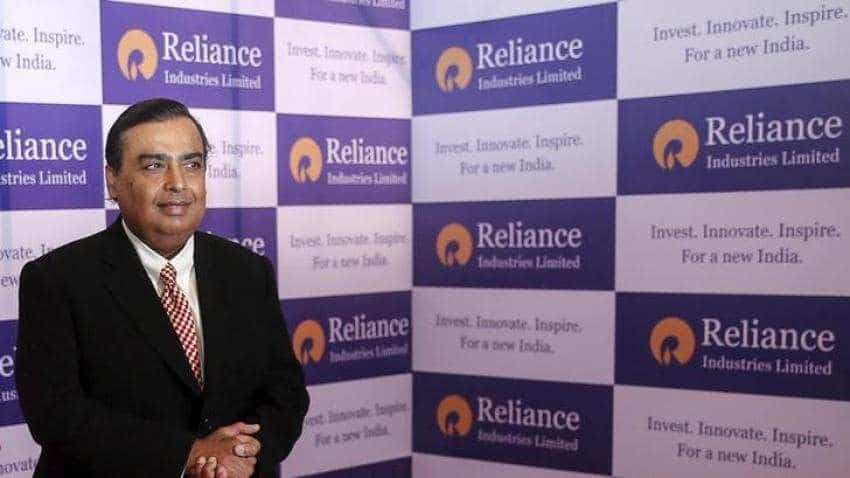 Rs 2000 rupee currency notes. Photo: IANS
Mukesh Ambani has now made a new headline, this time as the richest man in Asia, as per Bloomberg Index. Ambani has even outrun Jack Ma who is a founder of China's largest e-commerce company Alibaba. The success and money that Ambani holds at the moment can be attributed to Reliance Industries who has been a game changer almost in every sector. This company has turned out to be a very special one for India and can be said to be too big to fail. 
Ambani's net worth currently stands at 17th spot at $41.7 billion in Bloomberg's Billionaire index list across world. Ambani added $1.44 billion so far this year with last addition of $397 million.
Recently, riding on the back of RIL, Ambani's fortune has risen to $44.3 billion, as per Bloomberg index. His wealth was driven by RIL whose market valuation touched over $100 billion becoming the second largest company in India as per market cap after TCS. 
A $4 billion has been added in Ambani's fortune so far in 2018, as RIL doubled its petrochemical capacity.
Not only this, Reliance is reaping the fruits of its newest company Reliance Jio. Ambani also announced his plans to leverage his 215 million telecom subscribers to expand his e-commerce offerings. Significantly, this year Ma lost $1.4 billion in wealth.
Ambani's earning has been consistently growing since 2012. In last fiver years,  Ambani's net worth has grown by $23.6 billion or 130.39% to $41.7 billion compared to worth of just $18.1 billion in August 2013.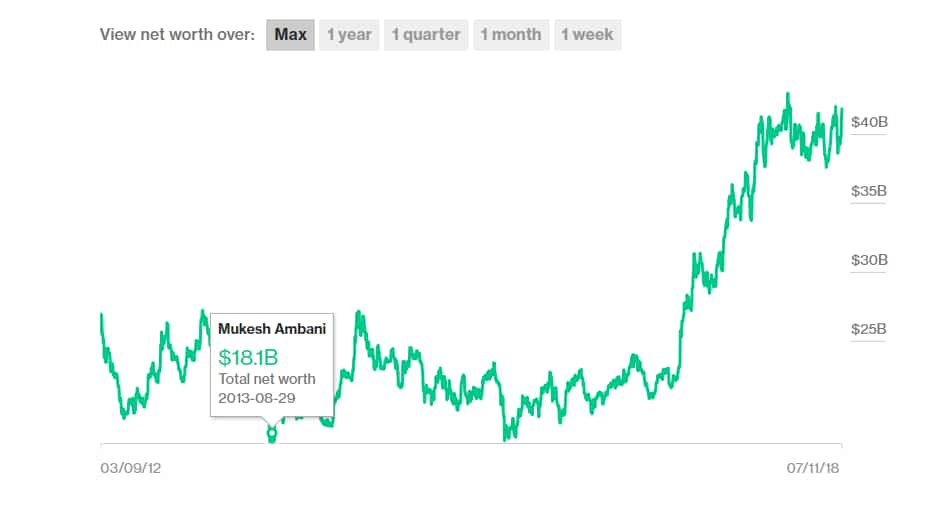 But did you know much worth is actually Ambani's net worth. Here are some interesting fact provided by Bloomberg, to how valuable Ambani's net worth.  
Guess what! Ambani's current net worth can buy 33.4 million troy ounces of Gold. Not only this, that money can purchase a massive 560 million barrels of crude oil. This is like 15.34% of US yearly oil production currently. On an average, US produces 10 million barrels a day, which comes as 3,650 million barrels a year - therefore, Ambani's net worth can buy up to 15.34% of US oil production.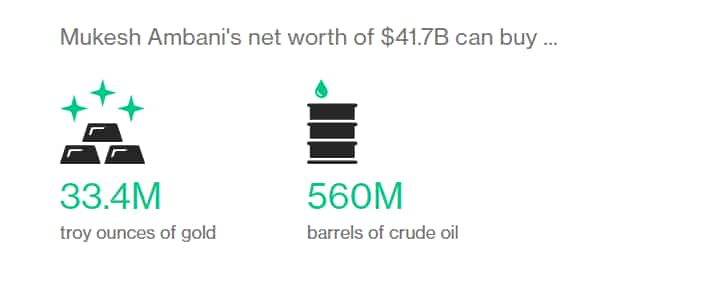 Going ahead, Ambani's net worth is equal to 0.215% of the GDP of the United States. Not only this, Ambani's money is equivalent to 0.785% of the  total wealth of the 500 richest people in the world. 
Furthermore, it is also equal to 10.5% of the top 100 U.S. college endowments. While you are trying to digest this information, there is still more to what you can gulp when it comes to comparing Ambani's net worth. 
Ambani's net worth is 660% of the top 200 US executives total awarded compensation. Also, this 61-year's net worth is 2.53% of US existing home sales, and furthermore, it is about 706,284 times the median US household income.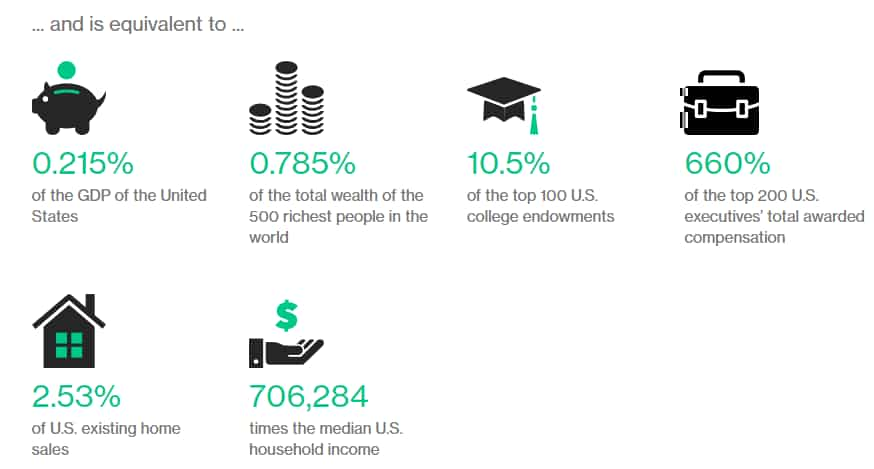 According to Wikipedia, if both brother were not separated and Mukesh remained a President, then his total wealth would be $ 85 billion, and he would be the richest man on earth, also from a large difference. That would have been even higher than investment king Warren Buffett and Facebook founder Mark Zuckerberg's current net worth of $82.6 billion and $81.2 billion respectively. 
On stock market, 1 out of every 4 investors in India is a Reliance shareholder, as per the company's website. Reliance has over 3 lakh shareholders which makes it one of the largest stock organizers. From 2006 to till date, Reliance has given a massive 541% return on exchanges under Ambani's leadership.
The founder of RIL has capped his salary till Rs 15 crore since 2009. Ambani voluntarily decided to limit his compensation surrounding debates over right-sizing of CEO salaries.
However, Rs 15 crore is just merely a fraction in Ambani's pocket considering the amount of other benefits RIL is offering him.
In addition to the salary, perquisites and allowances of Ambani shall be entitled to receive remuneration based on net profits which will be determined by the Board and / or HRNR Committee of the Board for each financial year.
Updated: Mon, Jul 16, 2018
06:34 pm
Mumbai, ZeeBiz WebDesk