Mukesh Ambani at MobiCom conference: Read full speech here
Reliance Industries Chairman Mukesh Ambani today said India's youth today do not just want to be innovative, but they want to be truly disruptive.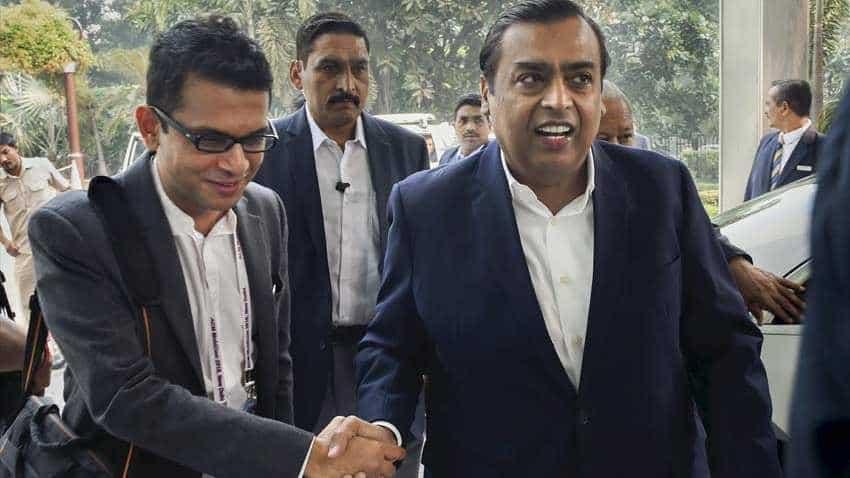 Rohan told me that he is busy disrupting the business that his father founded, said Mukesh Ambani.
Updated: Tue, Oct 30, 2018
01:37 pm
ZeeBiz WebDesk
After revealing his India vision as well as its ability to take advantage of the fourth industrial revolution, Reliance Industries Chairman Mukesh Ambani today said India's youth today do not just want to be innovative, but they want to be truly disruptive. He also said that India is on the way of becoming one of the three richest countries in the world. Read Mukesh Ambani speech full speech below:
Shri Ravishankar Prasad ji,
Shri Narayana Murthy,
Shri Rohan Murthy,
Ladies and Gentlemen,
A very good morning.
I feel honoured and privileged to be invited to the 24th MobiCom conference.
MobiCom is the world's leading forum in the domains of mobile computing, networks and algorithms.
When Shri Narayana Murthy called and requested me to meet Rohan Murthy and to be a keynote speaker for MobiCom 2018, I readily agreed.
I have the highest respect for Shri Narayana Murthy for putting India on the Global IT map.
My hearty congratulations to Rohan for organising MobiCom2018.
Rohan told me that he is busy disrupting the business that his father founded.
By using algorithms, big data, artificial intelligence to make enterprises and people and processes far more productive.
I admired Rohan for what he said.
Disrupting the old and constructing the new, which is bigger and better.
This is exactly the spirit of the youth of India. They are not happy being incrementally innovative but they want to be truly disruptive.
Disruption is about creating a new way of life that will make the old way of life completely obsolete.
Dear Friends,
When the first conference of MobiCom was held in the mid-90s, I was busy in the world of energy and atoms.
Not in bits and bytes.
It was an altogether different world then...the all-pervasive impact of mobile technologies was, at best, science-fiction.
India's GDP was around USD 350 billion.
We had just come out of a severe financial crisis.
And very few in the world thought that our country's prospects were bright.
Today our GDP is nearing USD 3 trillion, and India is well on its way to becoming one of the three richest countries in the world.
I am delighted that MobiCom chose to host its conference in India.
I can say with confidence that if there is one place in the world where the transformative power of digitisation is breaking new ground every day, it is India.
India's digital transformation is unmatched and unprecedented.
In just 24 months, India has taken a leadership position from being 155th in wireless broadband technology adoption . and the impact of this unprecedented growth can be seen across all digital domains.
Mobile computing as a catalyst is driving massive data consumption . and this has given young Indians a fertile ground for disruptive ideas.
Cloud computing and networking technologies have used broadband as a foundational enabler. leading to Indian entrepreneurs starting to make a global impact.
In the next two decades, I can confidently say . that India shall be leading the world and shall contribute to the next wave of global economic growth.
Friends,
Let me tell you why I am so optimistic about India's potential c
Not just optimistic, I am actually convinced.
Earlier, the world had witnessed three industrial revolutions.
The first one was powered by coal and steam,
The second was fuelled by electricity and oil,
And the third used electronics and information technology.
During the first two revolutions, India languished on the fringes.
It started playing catch-up in the computer-driven Third Industrial Revolution.
The Fourth Industrial Revolution is now upon us.
It is marked by a fusion of technologies straddling the physical, digital and biological worlds.
I can say with full confidence that India has a chance of not just participating in the Fourth Industrial Revolution, but also leading it.
And I say this because of three main reasons:
First, The India of today is remarkably different from the India of yesterday.
The India of today is a very young nation. 63% of its 1.3 billion population are aged below 35.
India's vast tech-savvy young population is its key strength.
Just imagine the kind of connected intelligence India can create if the power of billion-plus minds is combined!
Our nation is more vibrant and ambitious than ever before on the back of its youthful energy and enterprise.
Second, India is a democracy and is run on the model of equitable and inclusive growth with a society-wide culture of empathy.
And it is openly embracing the digital technologies of tomorrow.
With a world-class digital infrastructure in place, each one of the 1.3 billion people of India can now productively participate in the Fourth Industrial Revolution.
We can solve the biggest unsolved problems facing humanity right here in India.
Third, India is a rich and fertile ground for entrepreneurship.
It has already succeeded in creating a healthy ecosystem to nurture entrepreneurs, especially young entrepreneurs.
Most significantly, India has emerged as the fastest growing start-up base worldwide.
Today, the nation is home to the third largest number of technology-driven start-ups in the world.
Never before has India witnessed such an explosion of entrepreneurial spirit.
Dear Friends,
How can India rise to its full potential, to its destined eminence?
There are four major areas, which India needs to focus on and embrace:
First, we need to prepare ourselves for a period of information and digital abundance.
All Indians will have access to quantum computing on the cloud, and access to all the information on the planet.
I am proud to say that, instead of a digital divide, India today is digitally united.
All 1.3 billion connected minds are going to accelerate the future.
Digital platforms make it possible for many consumers to be entrepreneurs at the same time.
Imagine a force of 1.3 billion networked consumers and entrepreneurs having access to all the knowledge and all the computational power they want at an extremely affordable price.
Also, imagine the force of IoT when nearly 80 billion things worldwide join the network and begin to communicate with each other.
Every single aspect of our lives. the way we earn our living or conduct our businesses . will undergo a sea transformation c not in 30 years c. not in 20 years c but within a decade.
Early adopters will have the opportunity to leap-frog competition and create unprecedented societal value.
Second, we need to adapt ourselves to the scorching pace of innovation and learn to collaborate on scale.
As computational power gets faster, so do networks and sensors, AI and robotics, 3D printing, Synthetic biology, AR/VR, Blockchain c
All these technologies are accelerating in speed, rate and power.
You could be an expert in any one of these, but it's the convergence of two, three or four of these that's transforming existing ways of working.
Which means, collaborations will become both a necessity and a requirement for success.
You may have a brilliant idea that has the potential to disrupt an industry.
But so do a thousand others.
We need to quickly transform the idea into a breakthrough innovation.
And in order to do that, you have to master the art of collaborating with your peers anywhere in India or the world, pooling your ideas, and leveraging your competencies.
In the digital world, none of us is as smart as all of us put together.
Third, we have to shift from a system of time-bound education to a mode of continuous learning.
Now, it is both possible and necessary to reorient education for the new kinds of productive and creative opportunities.
We have to groom our children to be digitally-savvy right from school.
Schools should train students in the four C-s f . critical thinking, communication, collaboration and creativity.
These are the skills required to build the foundation for a sustained leadership in the digital age for India.
Within a single generation, we can empower and enrich our vast and young human resources to give India a competitive edge in the world.
The Fourth major task is closely linked to the third.
It is to ensure that new and disruptive technologies create more employment opportunities than they take away.
I have no doubt that they will.
However, there is a lot of apprehension to this score.
And these very apprehensions could resist or delay digital transformation of our societies.
That would be a mistake.
Therefore, governments, businesses and civil society organisations should put together an ecosystem for massive upskilling of workforce.
Significantly, most of the upskilling can happen on digital platforms.
Dear Friends,
We now have the opportunity to digitally reinvent all sectors of our economy. be it financial services, commerce, manufacturing, agriculture, education and healthcare.
India can leapfrog competition and lead the world in each of these sectors.
Let me focus on three important sectors "Ÿ agriculture, education and healthcare.
First, I have chosen agriculture because we cannot ignore the reality of underdevelopment in rural India.
Over 60 % of Indians still live in villages.
And by 2050, there will be 300 million more Indians to feed.
Today, our average farm yields are about 20-30 % of the best global yields.
There is both a pressing need, and a golden opportunity, to create a digital green revolution - an evergreen revolution.
India has an unprecedented opportunity to create wealth and new knowledge-rich livelihood opportunities in rural areas c
By encouraging adoption of technologies for water conservation, soil management, precision farming, waste reduction c
To enhance agricultural productivity.
I am sure that if we combine digital technology tools with the innate knowledge and wisdom of Indian farmers, we can usher in an evergreen revolution.
The second big digital opportunity is in education.
India's youth is our biggest asset.
But we need good quality education for all to make them a productive asset.
We need digital tools and innovations to break geographical, social, language and economic barriers.
58,000 colleges, over 700 universities and 19 lakh schools in India will be digitally connected, with Jio playing a leadership role.
Any student, even in a remote village, can have access to the best teachers and the latest knowledge in the world.
AI-based smart assistants can bring personalised learning adapted to the needs of each student.
And which can in fact overcome the gaps and constraints of classroom education ----- like any age, any time and any subject learning in any language.
Thirdly, healthcare is a basic human right of every Indian.
Our purpose is to ensure affordable and quality healthcare to all, which is both a national necessity and a national responsibility.
For the first time in history, this has become possible because of digital technologies. accessible even in remote locations.
Today, constraints of budget, physical infrastructure and trained personnel make it difficult to deliver quality healthcare to India's large and growing population.
India can overcome these constraints by adopting digital tools and innovations.
As in education, the best doctors and best diagnostic facilities can become accessible to all citizens anywhere in the country.
India can design a path-breaking and affordable healthcare system that will be a model for the rest of the world.
Similar disruptive and scale opportunities exist in India in virtually every domain.
I can safely predict that, from now on, every new generation of Indians will live a better, longer and more-fulfilling life than the previous generation.
Friends,
Reliance is a proud participant in India's rise.
And privileged to serve this new India.
I have been fortunate to participate in building global-scale Reliance businesses in energy, information and digital services.
Jio, our youngest and fastest growing venture, has been conceived not as a business, but as a digital movement.
It is on a mission of making Digital Life a reality for 1.3 billion Indians.
While India has pole-vaulted into global leadership in the mobile broadband space c we still lag behind in fixed-line broadband.
India is ranked quite low at 134th in the global ranking for fixed broadband.
Jio is determined to move India to among the top 3 in fixed-line broadband, too.
Our state-of-the-art digital infrastructure provides mobile and broadband connectivity across the country, with the largest fiber footprint.
We will now extend this fiber connectivity to homes, merchants, small and medium enterprises and large enterprises simultaneously across 1500 cities to offer the most advanced fiber-based broadband connectivity solutions.
For the 30 million small merchants and businesses, this will provide them the agility and customer obsession of a small owner-driven business and simultaneously provide them the tools and capability to compete on level terms with larger businesses.
The success of Indian small businesses and small merchants translates directly into faster and more sustainable growth with large-scale employment for the Indian economy.
Watch This Zee Business Video
Friends,
In conclusion, MobiCom technologies have inaugurated a new era in the history of the human race.
Across the world, the digital era is dispelling despair and bringing new hope.
For the first time, we can make poverty a thing of the past, and provide the fruits of prosperity for the entire world.
A better world is indeed possible.
Each one of us should work together in a spirit of partnership to make this optimism come true.
I am confident that when MobiCom returns to India to hold its conference a decade later, you are bound to see India's Digital Dreams come true, substantially.
With these words, I wish the very best for the success of the first-ever MobiCom 2018 conference in India.
Also, I take this opportunity to wish everyone a very happy Diwali.
Thank you.