Mission Pragati: Andhra Pradesh's long-cherished Narasapur Railway line project taking rapid strides - Know what it is and how it is progressing
Ministry of Railways said in a statement that Piyush Goyal is monitoring the progress of the project regularly as part of the mission envisioned towards strengthening the infrastructure for the enhanced rail network.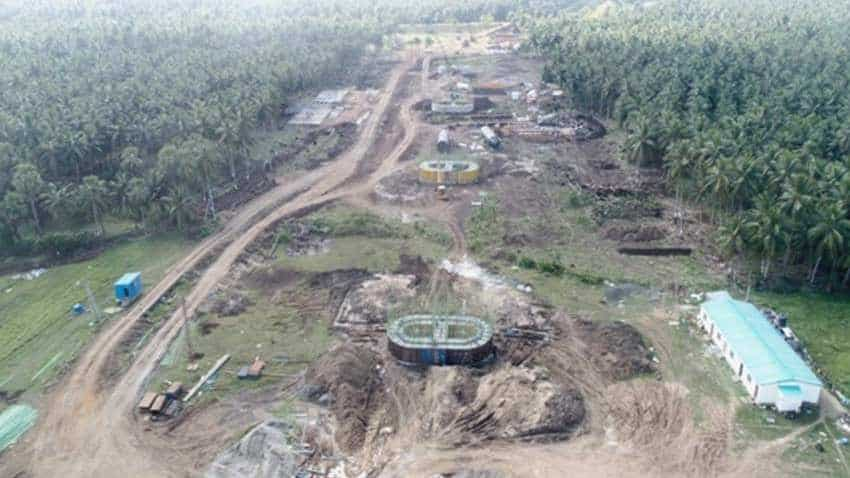 The Kotipalli – Narasapr project covers Konaseema region of Andhra Pradesh
The 57-kilometre long Kotipalli–Narasapur Railway line project is a long cherished dream of the people of Andhra Pradesh. The project was caught in different issues including land acquisitions and there had been only minimal progress till FY 2015-2016. However, the project has been taking a rapid stride since then. The project is being executed in 3 phases - 1. Narsapur-Chinchinada (10 km), 2. Kotipalli-Amalapuram (12.70 km) and 3. Amalapuram-Chinchinada (33.88 km). South Central Railway PRO Ch. Rakesh told Zee Business Online that the progress has been good in the last year.
"The first section is likely to be completed by 2021. Major problems that we are encountering is land acquisition. Out of 908 acres to be acquired, 276 acres of land has been acquired. Three major bridges are also part of the project. The work has picked up steam in the last one year because of which some progress is happening," said Rakesh. 
Rakesh said that given the discovery of Natural Gas by ONGC, this will be a crucial area going ahead. The work on the project had started in 2014 after the fund allocation. 
Ministry of Railways said in a statement that Piyush Goyal is monitoring the progress of the project regularly as part of the mission envisioned towards strengthening the infrastructure for the enhanced rail network. The project is also being monitored during "PRAGATI" meetings, a platform launched by Prime Minister Narendra Modi.  
The project was sanctioned in the year 2000-01 for a distance of 57 kms. The proposed alignment traverses through the important towns and villages of the very fertile Konaseema region. The new Railway line connects Magam, Amalapuram, Peruru, Pasarlapudi, Jaggannapeta and Razole towns. The detailed project report was sanctioned at an estimated cost of Rs 2,120 crores. The expenditure incurred on this project from 2014-19 to till now is  Rs 323 crores. The expenditure incurred on this project during the financial year 2014-15 is Rs 1.33 crore, 2015-16 is Rs 3.39 crore, 2016-17 is Rs 184.64 crore, 2017-18 is Rs 60.51 crore and during 2018-19 till the month of December is Rs 73.39 crore.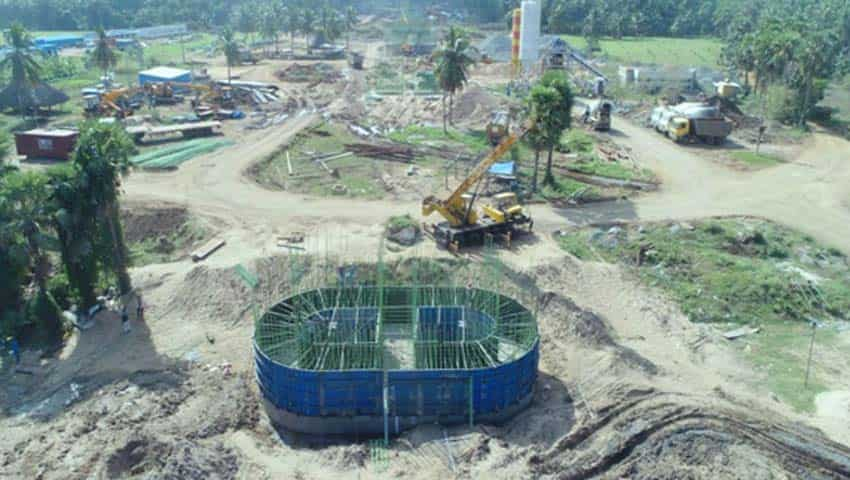 Benefits of the Project:
The Kotipalli – Narasapr project covers Konaseema region of Andhra Pradesh. As an alternative route connecting Visakhapatnam and Vijayawada, a branch line from Vijayawada – Bhimavaram – Nidadavole exists at present joining the main line from Chennai to Kolkata at Nidadavole.   The line from Bhimavaram extends up to Narasapur. There has been persistent demand from Konaseema region of Andhra Pradesh, that this region to be connected with Railway line from Narasapur to Kakinada, out of which Kakinada – Kotipalli restoration of BG line is in operation.  Now from Kotipalli to Narasapur portion of the Railway line is very essential to fulfill the above requirement.  This route will become an alternate route connecting Visakhapatnam - Vijayawada Mainline with the Konaseema region in Andhra Pradesh for the overall development.
The entire Konaseema area served by the proposed line is passing through highly fertile lands having agricultural produce including Paddy and Coconut crops. Gas based power plants, mini-refineries are establishing now and new industries are coming up in this area due to the discovery of Natural Gas by ONGC. By providing this rail transport facility, the distance between Kakinada to Amalapuram, Razole and other business centers will be reduced considerably in addition to the elimination of constraints of people crossing the ferry over the Godavari river at three locations within a short distance of 45 Kms.
Salient features of  the project:
1. Tender for Sub-structure of a major bridge across river Gowthami awarded on 8.11.2017 and Vainatheya & Vashista awarded on 25.05.18. 
2. Land acquisition is in process. Total land required 908 Ac. (East Godavari 791 Ac, West Godavari 118 Ac). 276 Ac land handed over in East Godavari, so far. The acquisition is in progress for balance land. 
3. Rs 2.69 crore deposited by the State Government till date. And the balance to be deposited is Rs 123.76 crore.
New Rail Rout on Beautiful Konaseema: The alignment passes through rich fertile central delta area of Godavari river.  The entire terrain is rich alluvial soil. From Kotipalli the alignment crosses important rivers of Godavari like Gowthami, Vainatheyam, Vasista. The alignment is passing through wetlands and commercial lands which are irrigated by canal network and built up area and Government lands. The alignment connects Amalapuram, Razole towns.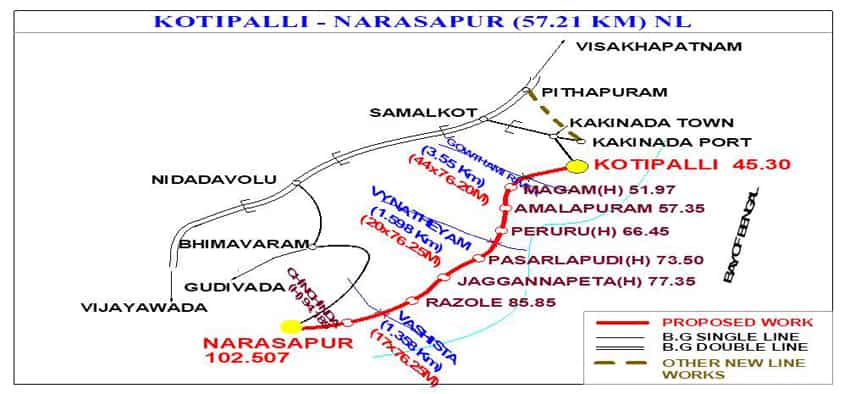 The details of places passing this new line and their importance are given below:
1) AMALAPURAM: This place is Revenue Mandal head quarter and important commercial center in the Konaseema area with a population of 1,50,000 from where coconut, paddy traffic, aqua products traffic moves to Chennai, Kolkata and Northern places of India. Important educational institutions offering courses on Engineering, Medical, Professional, Management and other faculties are established at this place having high passenger traffic potential.
2) PASARLAPUDI: This place is famous for the pilgrimage center of Appannapalli, Bala Balaji Devasthanam.  About 2 to 3 thousands of pilgrims visit the temple daily. Number of oil wells are situated at this place.   
3) JAGGANNAPETA: Jaggannapeta is a center place for villages like Ambajipeta (famous coconut export center), Tatipaka (ONGC mini refinery and gas collection center are situated here),  Mogalikuduru (Mandal headquarters),  Geddada (big village), Palagummi, Podalada and Kadali etc., and having good passenger traffic potential.
4) RAZOLE: This is another Mandal headquarters and commercial center.  Traffic like coconut, paddy and other agricultural products are exported to other states. This town is surrounded by important villages and number of educational institutions situated in this town. This town is very nearer to ANTHARVEDI, a famous pilgrim center with a huge attraction of tourists.
Get Latest Business News, Stock Market Updates and Videos; Check your tax outgo through Income Tax Calculator and save money through our Personal Finance coverage. Check Business Breaking News Live on Zee Business Twitter and Facebook. Subscribe on YouTube.
Updated: Tue, Jan 08, 2019
07:11 pm
ZeeBiz WebDesk