Omicron updates: Civil Aviation Minister issues action plan for better crowd management at airports
India recorded 6,822 new coronavirus cases in the last 24 hours, as per the data provided by the Ministry of Health and Family Welfare (MoHFW) on Tuesday. According to the available data, the total number of Omicron cases in the country has reached 23.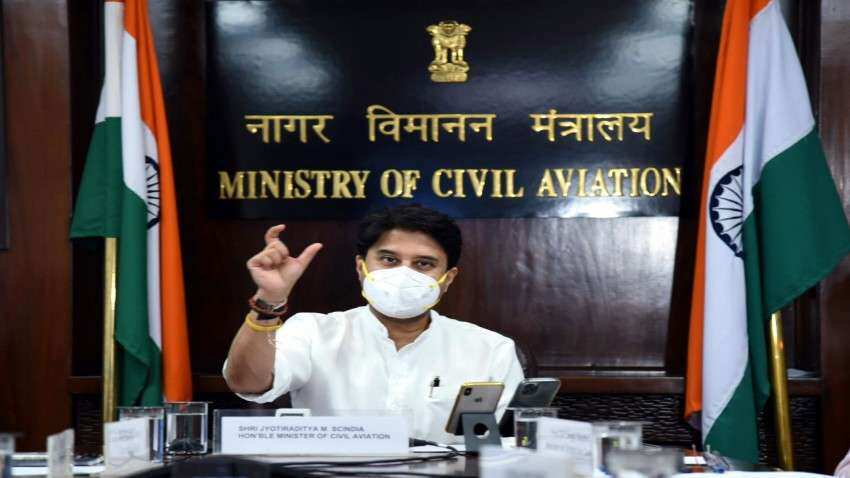 Union Civil Aviation Minister Jyotiraditya Scindia. Image source: PIB
India recorded 6,822 new coronavirus cases in the last 24 hours, as per the data from the Ministry of Health and Family Welfare (MoHFW). Though the active case load was lowest in 558 days, Omicron, a new variant of SARS-CoV-2, has caught the attention of the government as the World Health Organisation (WHO) has termed it as a variant of concern. According to the available data, the total number of Omicron cases in the country has reached 23.
See Zee Business Live TV Streaming Below:
According to Manindra Agarwal, IIT scientist involved in the mathematical projection of trajectory of COVID-19, the third wave of coronavirus could hit the peak by February with cases likely to be reaching up to 1-1.5 lakh a day due to Omicron. However, it will be milder than the second wave, he told PTI.
"With the new variant, our current forecast is that the country could see the third wave by February but it will be milder than the second wave. So far, we have seen that the severity of Omicron is not like the one seen in the Delta variant," PTI said in a report quoting Agarwal.
Here are the major developments related to Omicron across India on Tuesday:
6.00 PM: According to a PTI report, Civil Aviation Minister Jyotiraditya Scindia has issued an action plan for better crowd management at airports across the country which includes expanding RT-PCR test services and ramping up forex counters.
The minister further said that he has put in place "an action plan with eight compliances on immigration queues, expanding RT-PCR service providers, ramping up help desks and forex counters, along with seamless floor management".
The action plan assumes significance as passengers have been complaining on social media of crowding and chaos at major international airports in the country since December 1, when a new set of travel rules were imposed amid concerns over the Omicron variant of the coronavirus.
Took stock of the preparedness, testing capacities, and the situation on the ground with regard to crowd management at both private and @AAI_Official airports. Have put an action plan with 8 compliances on immigration queues, expanding RT-PCR service providers ...1/2 pic.twitter.com/vqhCgedZEO

— Jyotiraditya M. Scindia (@JM_Scindia) December 7, 2021
The new travel rules say that all passengers coming from "at-risk" countries have to compulsorily undergo RT-PCR tests and two per cent of passengers arriving from other countries would also have to take the test on a random basis.
Passengers will have to wait for the test results before leaving the airport or taking a connecting flight, according to the guidelines.
Countries in Europe, including the UK, and South Africa, Brazil, Botswana, China, Zimbabwe, Mauritius, New Zealand, Hong Kong, Singapore and Israel have been placed in the "at-risk" category by the Union Health Ministry.
4.50 PM: India is better prepared to face the Omicron wave, if it comes, but people should always wear double face masks as these continue to be the best protection against any variant and take vaccines while regulatory authorities should authorise emergency use of two oral drugs for treatment of Covid-19, a health systems expert told news agency IANS.
Dr Krishna Reddy Nallamalla said while it has become clearly evident that Omicron is more infectious than Delta variant, the ongoing debate is by how much. Preprint research publication from South Africa has convincing evidence that it evades immunity acquired after natural infection.
"Everyone has kept their fingers crossed as to its virulence. Initial reports that the cases are generally mild may be giving a false hope as Covid illness generally worsens during 2nd to 3rd week after the onset of infection as the immune system becomes hyperactive in response to the multiplying virus. Secondly, dominantly younger African population with stronger innate immunity may not develop severe illness. We have to closely watch its behaviour in elderly and population with other comorbidities," says Dr Reddy, President (South Asia), InOrder, a nonprofit institute working to strengthen systems to secure health
Most of the vaccines, in general, have demonstrated their effectiveness against new variants including Delta in preventing hospitalisations and deaths. However, their effectiveness seems to be waning rapidly over time (6 to 9 months after 2nd dose), necessitating booster doses to those at high risk and to all adults if sufficient vaccine supplies are available, the IANS report said.
Whether Omicron evades immunity from existing vaccines is yet to be ascertained as the percentage of people who have been fully vaccinated is still low in Africa.
A hint from the CEO of Moderna (that makes mRNA-based vaccines) that they may need to develop a new vaccine to tackle Omicron is a pointer that it may evade immunity from vaccines as well. "However, we have to await data on breakthrough infections in fully vaccinated people," said Dr Reddy who is also regional director (South Asia) of global health nonprofit, ACCESS Health International
The leading cardiologist pointed out that parents are the most worried as schools and colleges have just begun to open after nearly two years of studying from home. Government is awaiting expert committee recommendations on vaccinating children and booster doses to adults.
"We were fortunate that the earlier variants did not impact children and young people as they have done with elderly. It is still not clear if Omicron behaves in the same way or differently. Until new evidence comes out, it is prudent to keep children at home and follow Covid appropriate behaviour."
He believes that India has responded in a balanced way. The country did the right thing by not shutting down its borders but taking standard measures of screening, testing, quarantine, and isolation of incoming people.
3.30 PM: Ladakh has reported nine fresh cases of COVID-19, taking the infection tally to 21,723, officials told to PTI on Tuesday.
All the nine fresh cases were reported in Leh, they said.
The active cases in the union territory has gone down to 270 -- 249 in Leh and 21 in Kargil district -- with 34 people recovering from the infection.
Ladakh has registered 215 deaths due to the coronavirus -- 157 in Leh district and 58 in Kargil -- since the outbreak of the pandemic.
Thirty-four patients recovered from the infection and were discharged from hospital from Leh. The total number of recovered patients rose to 21,238, they said.
A total of 845 samples in Ladakh were found negative, they said.
2.15 PM: As per a PTI report, the city-based doctor, who had tested positive for Omicron variant of COVID-19 and reportedly recovered, has once again tested positive for the virus.
The doctor was among the first two persons to be detected with Omicron in the country. The other was a South African national, who was quarantined and later flew to Dubai. "It is true that the doctor who was infected with Omicron variant has once again tested positive for COVID-19," a Bruhat Bengaluru Mahanagara Palike official told PTI. Requesting anonymity, the official said the doctor is under isolation, but he is asymptomatic. Meanwhile, police have registered a case against the SA national, who is a Gujarati by origin, for flying without informing the authorities in violation of the quarantine norms. The management and staff of a five-star hotel here have also been booked for allowing the infected person leave without informing the health officials. They have been booked under various sections of the IPC and the Karnataka Epidemic Diseases Act, 2020, police sources said.
1.00 PM: As per a PTI report, amid concerns about the spread of Omicron variant of coronavirus, Karnataka Chief Minister Basavaraj Bommai on Tuesday said the government is taking measures to set up more genomic sequencing labs in the state.
During the second wave of COVID, the state government had said six genome sequencing labs were being set up at Bengaluru, Mysuru, Shivamogga, Hubballi, Mangaluru and Vijayapura.
"We have taken measures to set up genomic sequencing labs, it requires expert facilities and lab equipment. Instructions have been given to the Health Secretary in this regard," Bommai said in response to a question on increasing the number of genomic sequencing labs in the state.
Speaking to reporters here, he said, "We are taking all the required measures to set up more such labs."
Two cases of the Omicron infections were detected in the state last week, one is a South African national who has left the country after testing negative, while the other is a local person, a Doctor with no travel history.
Further, noting that there are labs in every district to do COVID tests, the Chief Minister said in the case of genomic sequencing, it requires expert facility, and all cases are not set for genomic sequencing, now because of Omicron variant, whenever there is suspicion, we are sending samples for such a test."
For higher reference samples are also being sent to National Centre for Biological Sciences (NCBS), he said, adding there are no issues as the genomic sequencing reports are coming much quicker than earlier.
As of now, labs at NCBS and NIMHANS are the only two laboratories in Karnataka that have been approved by Indian SARS-CoV-2 Genomics Consortium (INSACOG) to conduct genomic sequencing.
10.22 AM: News agency ANI tweeted ,"Gujarat | Till now no case of #Omicron reported here. 85 passengers from high-risk countries have arrived here & as per SoP, they're instructed to be in-home quarantine. On the 8th day, their RT-PCR test will also be done: Sudhir Patel, Dy Municipal Commissioner, Vadodara (06.12)" 
Gujarat | Till now no case of #Omicron reported here. 85 passengers from high-risk countries have arrived here & as per SoP, they're instructed to be in-home quarantine. On the 8th day, their RT-PCR test will also be done: Sudhir Patel, Dy Municipal Commissioner, Vadodara (06.12) pic.twitter.com/09ql9EZDUE

— ANI (@ANI) December 7, 2021
9.46 AM: As per PTI, the COVID-19 tally of Andaman and Nicobar Islands rose to 7,690 on Tuesday as two more people tested positive for the infection, a health bulletin said.
The new cases were detected during contact tracing, it said.
The Union territory now has three active cases, while 7,558 people have recovered from the disease so far, including three on Monday; and 129 patients have succumbed to the infection to date, as per PTI.
The administration has tested over 6.38 lakh samples for COVID-19 so far, and inoculated over 2.97 lakh people, of whom 2.64 lakh have been fully vaccinated. 
9.40 AM: Even as five suspected cases of the Omicron Covid variant have been identified in Goa, Chief Minister Pramod Sawant has asked the media not to create panic, while also urging 1.20 lakh residents of the state who have not taken the second jab, to step up and get themselves fully inoculated.
"Do not create a panic situation in the state by referring to them as Omicron suspects. I am continuously following up on the situation," Sawant told to IANS.
Five sailors, including Russian and Georgian nationals, have tested positive for Covid with Omicron-like symptoms.
They were onboard a cargo ship which had embarked from South Africa and is currently in Goa`s Mormugao Port Trust, since November 18.
Four of the five sailors are quarantined at a government designated facility, while one is in isolation on the vessel anchored at the port.
Their samples have been sent to a Pune facility for genome sequencing test.
Sawant also urged the 1.20 lakh Goans, who have skipped the second Covid vaccination dose to get themselves inoculated.
"No doubt we want to take precautions, but we should not create panic situations. 1.20 lakh Goans have not taken the second dose. They should take that. We want to declare Goa as a 100 per cent vaccinated state by December 19. This is our target, people should help us achieve that. Take the second dose before (Prime Minister) Narendra Modi arrives in Goa," he added.
Modi is scheduled to arrive in Goa on December 19 to inaugurate several projects.
9.30 AM: There have been 10,004 recoveries in the last 24 hours increasing the total recoveries to 3,40,79,612. India's active caseload stands at 95,014 which is the lowest in 554 days. The active cases account for less than 1 per cent of the total cases.
9.25 AM: On the vaccination frontier, the country has administered 128.76 crore vaccine doses so far under Nationwide Vaccination Drive. The recovery rate currently stands at 98.35 per cent, which is the highest since March 2020. Union Health Minister Mansukh Mandaviya said that 85 per cent of the population of India has been inoculated with the first dose of COVID-19 vaccine.
Another Day, Another Milestone 

8⃣5⃣% of the eligible population inoculated with the first dose of #COVID19 vaccine.

With PM @NarendraModi ji's mantra of 'Sabka Prayas', India is marching ahead strongly in the fight against COVID-19. pic.twitter.com/oa2yPMog4o

— Dr Mansukh Mandaviya (@mansukhmandviya) December 6, 2021
The World Health Organization (WHO) has classified a new variant of SARS-CoV-2. It has been named as Omicron. The Technical Advisory Group on SARS-CoV-2 Virus Evolution (TAG-VE) is an independent group of experts that periodically monitors and evaluates the evolution of SARS-CoV-2 and assesses if specific mutations and combinations of mutations alter the behaviour of the virus, WHO has informed.
The B.1.1.529 variant was first reported to WHO from South Africa on 24th November 2021. The epidemiological situation in SouthAfrica has been characterized by three distinct peaks in reported cases, the latest of which was predominantly the Delta variant.
It has to be noted that India's COVID-19 tally had crossed the 20-lakh mark on August 7, 2020, 30 lakhs on August 23, 40 lakhs on September 5 and 50 lakhs on September 16. It went past 60 lakhs on September 28, 70 lakhs on October 11, crossed 80 lakhs on October 29, 90 lakhs on November 20 and surpassed the one-crore mark on December 19. India crossed the grim milestone of two crore on May 4 and three crores on June 2.
Get Latest Business News, Stock Market Updates and Videos; Check your tax outgo through Income Tax Calculator and save money through our Personal Finance coverage. Check Business Breaking News Live on Zee Business Twitter and Facebook. Subscribe on YouTube.
Updated: Tue, Dec 07, 2021
10:11 pm
New Delhi , ZeeBiz WebDesk