Indian Railways prepares for Kumbh Mela 2019: From Skywalk, CCTV to extra ticket counter, check out the plan
To supplement the Railways infrastructure facilities for the pilgrims, 41 works costing more than Rs 700 are being done.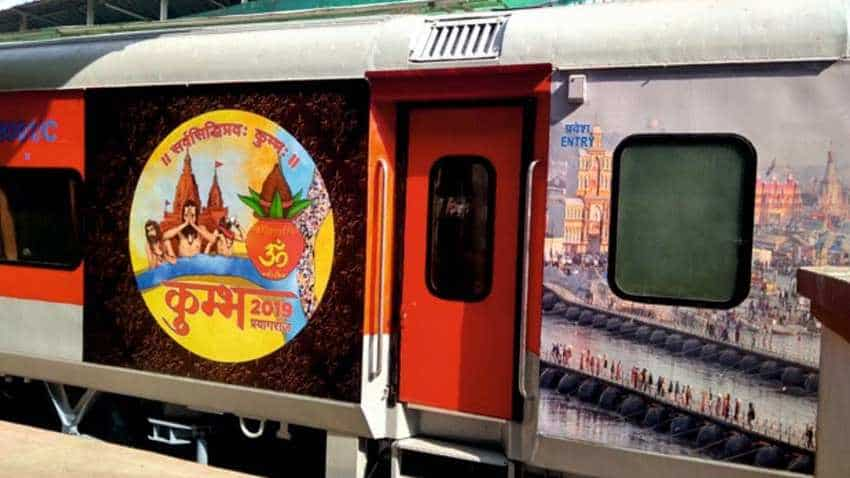 Six tourist special trains will come to Prayagraj from different railway Zones of the country with pilgrims/tourists coming to participate in the Kumbh Mela.
Updated: Wed, Dec 12, 2018
06:31 pm
ZeeBiz WebDesk
Kumbh Mela 2019 will be held early next year and the Indian Railways has already prepared itself to handle the mela rush. To ensure the comfort, safety and security of the pilgrims and tourists coming to Prayagraj to participate in the Kumbh Mela 2019, the Railways has taken a number of special steps. From CCTV to Skywalk, special trains to extra ticket counters, the public transporter is leaving no stone unturned to make people's journey comfortable. Below is a detailed description:
Infrastructural Augmentation:
1. To supplement the Railways infrastructure facilities for the pilgrims, 41 works costing more than Rs 700 are being done. Out of these, 29 works have already been completed and the rest are in an advanced stage and will be completed shortly.
2. Four big enclosures to house about 10,000 pilgrims have been constructed at Allahabad Jn. Railway Station. These enclosures will have vending stalls, water booths, ticket counters, LCD TVs, PA System, CCTVs and separate toilets blocks for Ladies and Gents. Similar passenger enclosures are also built at other stations.
3. Skywalk connecting to main FOBs at Allahabad Jn. has been completed. This will help to ease out pressure on any one of the two main FOBs by enabling the passengers to move to the other FOB seamlessly in case of a build-up of crowd on any one of the two main FOBs.
4. New Platform no. 6 (Formerly PF No.11) with washable apron has been constructed.
5. Main FOB at Allahabad Jn. connecting all tracks widened by 6 metre (100%) to 12 meters.
6. A new FOB at Allahabad station on Delhi-End has been constructed.
7. Subedarganj is being developed as terminal station in two phases with a provision of new platform, new FOB and extension of existing Platform and FOB. All works of phase-I will be completed by 30th December.
8 Allahabad Chheoki – Construction of approach road of 1.24 Km and drain of 1.15 Km already completed.
9. Allahabad Chheoki – Platform surface widened; PF sheds (21 bays); Hydrant Pipeline; Toilets for Ladies/Gents/Divyang etc. since completed.
10. Development of Prayag Ghat Station as a new Coaching Terminal in Prayagraj District with 5 new Platforms; 2 Washing Lines and new Station Building with Basement + 2 stories has been done and scheduled to be commissioned by the 20th of December.
11. Prayag Station – A new FOB; PF sheds 17 nos. and development of circulating area on Second Entry is in advanced stage of completion and is scheduled to be completed by the 20th December.
12. Construction of 4 New Road Over Bridges (across Railway Lines) has been completed and the same have been opened for public in the district of Prayagraj (3) and Phoolpur (1).
Special Trains:
13. 800 special trains are proposed to be run during the Kumbh Mela from various stations of the Prayagraj District for the pilgrims coming to the Kumbh Mela. These trains will be in addition to the regular trains that are run by NCR.
14. Six tourist special trains will come to Prayagraj from different railway Zones of the country with pilgrims/tourists coming to participate in the Kumbh Mela.
15. Railways has planned to operate 4 to 5 Special Trains for transporting 5000 'Pravasi Bhartiyas' from Prayagraj to New Delhi, who will come to participate in the 'Pravasi Bhartiya Divas' at Varanasi and will come to Prayagraj from Varanasi to participate in Kumbh Mela.
Grant of Permission for Advance Booking of UTS tickets:
16. As a special case, it has been decided by the Ministry of Railways to allow 15 days' advance booking of unreserved railway tickets from 11 stations lying in the Prayagraj region. The stations from which this advance booking of unreserved tickets will be allowed are: Allahabad Junction, Allahabad City, Naini, Subedarganj, Prayag, Prayag Ghat, Daraganj, Phaphamau, Jhunsi, Vindhyachal, Allahabad Chheoki and back.
Technology
17. 'Rail Kumbh Seva Mobile App' : North Central Railway, Prayagraj, has launched a mobile application titled 'Rail Kumbh Seva Mobile App'. This app will help in providing critical and valuable information to the devotees, tourists and other passengers who will be visiting the city of Prayagraj during the mela period. The app is intended to place all this information on the fingertips of the users making it convenient for them to access this information at any time and place. The passengers using this app will not only know their current location but will also be able to navigate to all the railway stations, mela zone, important hotels, bus stands etc within Prayagraj city. It will also provide valuable information about the passenger amenities that are available at the stations, i.e Parking lots, refreshment rooms, waiting rooms, book stall, food plaza, ATMs, Train enquiry etc.
18. In addition to the above, it will provide valuable information regarding all the 'mela special' trains that will be run during the mela period from all the station of Prayagraj (NCR, NR, NER). It will have a link to book both the Unreserved and Reserved tickets and a link to the app developed by the Civil Administration of Prayagraj.
19. Hand Held Terminals are being provided to the ticket checking staff of the Kumbh Mela. These terminals will be used to dispense railway tickets to passengers by railway staff in the actual Kumbh Mela area.
Watch This Zee Business Tweet Video
नए RBI गवर्नर #ShaktikantaDas की नियुक्ति पर बोले नीति आयोग के CEO अमिताभ कांत, RBI गवर्नर के तौर पर शक्तिकांता दास काफी सफल साबित होंगे।#NewRBIGovernor @NITIAayog @amitabhk87 @davemansi145 @AnilSinghviZEE @SwatiKJain pic.twitter.com/n1AqqrlhcD

— Zee Business (@ZeeBusiness) December 12, 2018
Extra Ticket Counters:
20. 100 extra Unreserved Ticket Counters are being opened up at the stations of Prayagraj to ensure that all passengers have easy access to ticketing facilities.
Security:
21. Extra Manpower: When compared to the last Kumbh Mela, personnel of RPF, Commercial and GRP are being brought in much greater numbers to manage the rush of pilgrims.
22. CCTV: coverage has been provided at all stations of Prayagraj and in the passenger's enclosures for real-time monitoring of the security status at all times.
Get Latest Business News, Stock Market Updates and Videos; Check your tax outgo through Income Tax Calculator and save money through our Personal Finance coverage. Check Business Breaking News Live on Zee Business Twitter and Facebook. Subscribe on YouTube.