In Pictures: PM Narendra Modi at the G20 Summit; meets Trump, May, Xi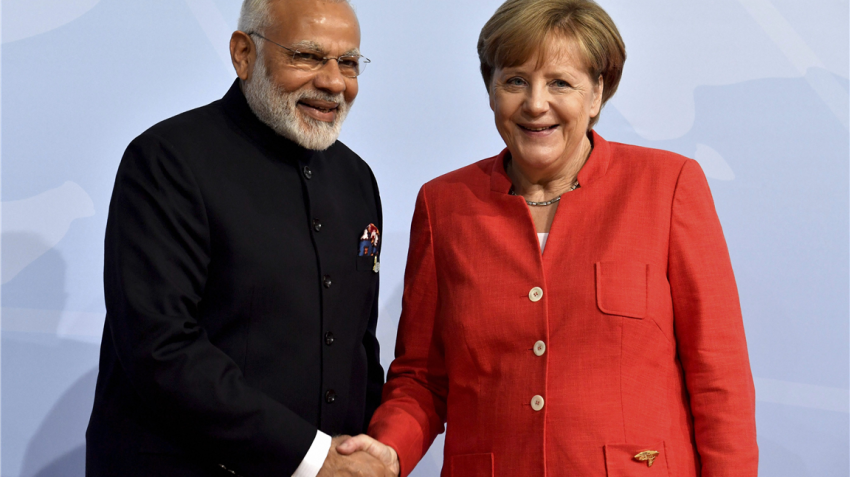 Hamburg : German Chancellor Angela Merkel greets Argentinia''s India''s Prime Minister Narendra Modi at the start of the G-20 meeting in Hamburg, northern Germany, on Friday, July 7, 2017. Pic: AP/PTI
Updated: Fri, Jul 07, 2017
06:18 pm
Mumbai, ZeeBiz WebDesk
The G20 Summit which began on Friday July 7, 2017 in Hamburg, Germany, saw intense activity as world leaders met to discuss issues like terrorism, climate change, economy and others. Prime Minister Narendra Modi began his agenda by meeting the BRICS leaders. BRICS is an association of Brazil, Russia, India, China and South Africa. 
Fighting terrorism, climate change and global trade are expected to be the key areas of discussion at the two-day Summit, whose theme is 'Shaping an Inter-connected World'. 
PM Modi welcomed the action plan of the G20 on Counter Terrorism and presented India's 11 point action agenda for the same. 
PM welcomed plan of action in #G20 on Counter Terrorism and presented 11 point action agenda for it pic.twitter.com/Ig6maKcX1y

— Gopal Baglay (@MEAIndia) July 7, 2017
PM Modi reached Germany after finishing his two-day state visit to Israel where India signed seven agreements with the country on various issues including agriculture and defence. 
PM Modi will participate in the leaders' retreat and the sessions on Global Growth and Trade and on Sustainable Development, Climate and Energy. 
Modi is to hold meetings with leaders of countries like Canada, Japan, and the UK on the sidelines of the Summit.
"The prime minister is visiting Hamburg from July 6-8 for the G-20 Summit. His pre-planned bilateral meetings on the sidelines of the Summit are with Argentina, Canada, Italy, Japan, Mexico, ROK (Republic of Korea), the UK and Vietnam," External Affairs Ministry spokesperson Gopal Baglay said on Thursday. 
Pictures: 
And some more pics of PM @narendramodi at G20 with other world leaders pic.twitter.com/cs1U2OqRBX

— Gopal Baglay (@MEAIndia) July 7, 2017
PM @narendramodi interacts with G20 leaders before start of plenary session pic.twitter.com/Vb818xWuEf

— Gopal Baglay (@MEAIndia) July 7, 2017
Together with the G20 Family ! PM @narendramodi at the family photo with G20 leaders pic.twitter.com/kzlxZguGCp

— Gopal Baglay (@MEAIndia) July 7, 2017
PM leads the way on one of the most grave issues of our times, is leadspeaker on theme of terrorism at Leaders Retreat pic.twitter.com/1uTlfcGOMF

— Gopal Baglay (@MEAIndia) July 7, 2017
PM @narendramodi at the family photo of G20 leaders moments ago pic.twitter.com/erZ3DkHk4r

— Gopal Baglay (@MEAIndia) July 7, 2017
At d BRICS leaders' informal gathering @ Hamburg hosted by China, PM @narendramodi and President Xi had a conversation on a range of issues pic.twitter.com/ervZw46PH0

— Gopal Baglay (@MEAIndia) July 7, 2017
A warm welcome by a gracious host. Chancellor Merkel receives PM @narendramodi at the beginning of G20 Summit pic.twitter.com/PcVX7O8iFz

— Gopal Baglay (@MEAIndia) July 7, 2017
Beginning with BRICS. PM @narendramodi speaks at BRICS grouping meeting on sidelines of G20 pic.twitter.com/SdAFRaaPRG

— Gopal Baglay (@MEAIndia) July 7, 2017