GST Council Meeting Highlights: TV, Computer screens, Movie tickets get cheaper; No change in cement, AC rates - Details here
GST council meeting today: The Goods and Services Tax (GST) council met today for the 31st time.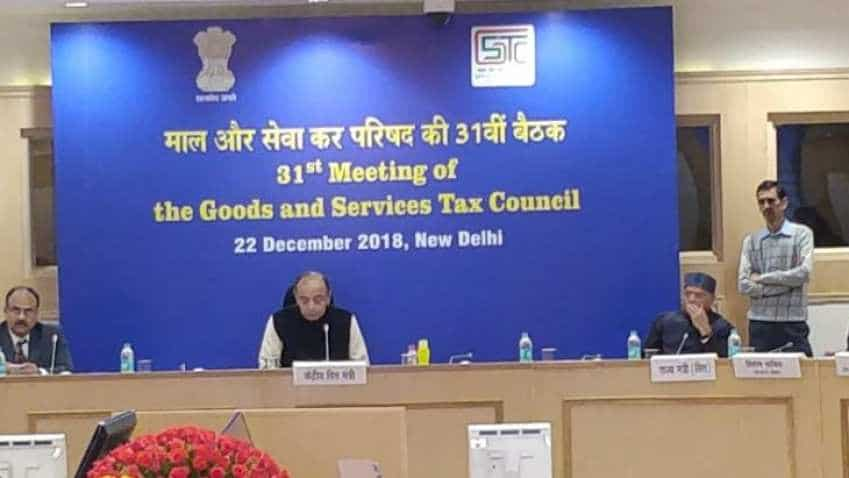 GST council meeting today: The Goods and Services Tax (GST) council is meeting today for the 31st time. Source: PTI
Updated: Sat, Dec 22, 2018
06:42 pm
ZeeBiz WebDesk
GST council meeting today: The Goods and Services Tax (GST) council met today for the 31st time. The meeting was chaired by Finance Minister, Arun Jaitley, which also include dother members of the council. Coming out of the meeting, V Narayanasamy, Puducherry Chief Minister was quoted as saying by news agency ANI today, "33 items have come down from 18% to 12% and 5% as they are common man's consumption goods." "The original demand by Congress that all goods should come down to 18% & below except luxury items has been agreed by the Government. Except 34 items all other will come down to 18% & below."  READ | Full list of item with new GST slab
31 GST Council Meeting Updates: 
- GST rate on third party insurance premium of goods carrying vehicles shall be reduced from 18% to 12%," said an official statement.
- GST Act Amendment
"The GST Council in its 31st meeting held today at New Delhi gave in principle approval to the following amendments in the GST Acts:
Creation of a Centralised Appellate Authority for Advance Ruling (AAAR) to deal withcases of conflicting decisions by two or more State Appellate Advance Ruling Authorities on the same issue.
Amendment of section 50 of the CGST Act to provide that interest should be charged only on the net tax liability of the taxpayer, after taking into account the admissible input tax credit, i.e. interest would be leviable only on the amount payable through the electronic cash ledger.
 
The above recommendations of the Council will be made effective only after the necessary amendments in the GST Acts are carried out."
- GST council meet today press release:
"The GST Council in its 31st meeting held today at New Delhi decided to refer the following issues to Committees / GoM indicated against them:
Extending the Composition scheme to small service providers. The rate of tax and threshold limit to be proposed - Law Committee and Fitment Committee.
Tax rate on lotteries – Committee of States.
Taxation of residential property in real estate sector – Law Committee and Fitment Committee.
Threshold limit of exemption under GST regime – GoM on MSMEs.
GST council in its next meeting would take a view on the above issues in its next meeting.
- Jaitley said that the 31st GST Council meeting has approved proposal to form a 7-Member Group of Ministers to study the revenue trend, including analysing the reasons for structural patterns affecting the revenue collection in some of the states. The study would include the underlying reasons for deviation from the revenue collection targets vis a vis original assumptions discussed during the design of GST system, its implementation and related structural issues. 
- Finance minister Arun Jaitley said that today's GST rate reduction will have an overall impact on revenue of Rs 5500 crore.
- New GST rates to be effective from 1st January 2019
- GST on religious air travel reduced to 12 per cent slab; Computer monitors, power banks removed from 28% slab
- Next GST councing meeting to take place in January.
- 12% GST on movie tickets below Rs 100
- 33 items have come down from 18% to 12% & 5% as they are common man's consumption goods.
- Jaitley: GST rate on cement: No change. Jaitley said there was no discussion on CST rate for cement in the council team. GST rates have been reduced on 32-inch TV. Jaitley said, a reduction in GST rates on Cement would cost Rs 13,000 crore.
- Jaitley: A committee to be formed to look into revenue loss of states. No discussion on the reduction of GST rates on cement
- Jaitley: GST collection lower than expectations. Most of the goods used by the common man now below 28 per cent slab except cement and automobile goods
- Jaitley: 28% slab now only applicable on luxury items
- Addressing media, finance minister Arun Jaitley said 28% slab rate is only applicable on 34 items now. These are luxury items.
- According to a BTVI report, Congress ruled states opposed pruning of 28% rate slab at the GST council meeting. Officials from MP, Rajasthan, Chhattisgarh oppose major rate cut. Officials from the Congress-ruled states told the Council that their leadership saw rate cuts as a political move ahead of the General Elections. 
- The BTVI report says that GST rate on frozen vegetables have been cut to zero. The GST rate on footwear has been cut to 12%. Exported Gold ornaments will not attract any GST. 
- The GST on Auto parts has been reduced from 28% to 18%, according to Zee Business TV report. 
It was earlier expected that commodities such as cement, computer screens, power banks, UPS, tyres, digital cameras, washing machines and water heaters are likely to become more pocket-friendly. Currently, these products are under the 28% tax slab and it is an expectation that they might come under the 18% slab.
Initially, when GST had just been imposed, on July 1, 2017, there were 226 goods in the 28 per cent slab. In the meeting held in July, the GST council had further pruned the 28 per cent slab, as it cut rates on paints and varnishes, and on daily-use items like perfumes, cosmetics, toiletries, hair dryers, shavers, mixer grinder, vacuum cleaners, lithium-ion batteries, and cut rates to 18 per cent. Jaitley, in a blog post, had said the 28% category is being phased out and the bracket currently covers the most luxurious items, the ones you don't require daily.
क्या थर्ड पार्टी इंश्योरेंस होगा सस्ता?
क्या सीमेंट, टायर पर घटेगा #GST?
किन-किन चीज़ों पर आज हो सकती है #GSTCouncil में चर्चा जानिए हमारे संवाददाता प्रकाश प्रियदर्शी से।@AnilSinghviZEE @amitdutta09 @BrajeshKMZee @SwatiKJain @priyadarshi108 #ThirdpartyInsurance pic.twitter.com/eR3fn6LusQ

— Zee Business (@ZeeBusiness) December 22, 2018
He also said that the tax on other sinful items such as cement, air-conditioners, large screen televisions and a handful of others could also be reduced as revenues rise. "Thus within a record period of thirteen months, the GST Council has almost phased out the 28% category.
It is only a matter of time that the final obituary of the 'Congress Legacy Tax' is written. Only the luxury-sin tax would remain," Jaitley said in a Facebook post. The former year has observed a rate reduction in 384 commodities and hasn't increased, even once.
Get Latest Business News, Stock Market Updates and Videos; Check your tax outgo through Income Tax Calculator and save money through our Personal Finance coverage. Check Business Breaking News Live on Zee Business Twitter and Facebook. Subscribe on YouTube.