FAST MONEY: Eicher Motors, Torrent Power among 10 intraday tips for Thursday's trade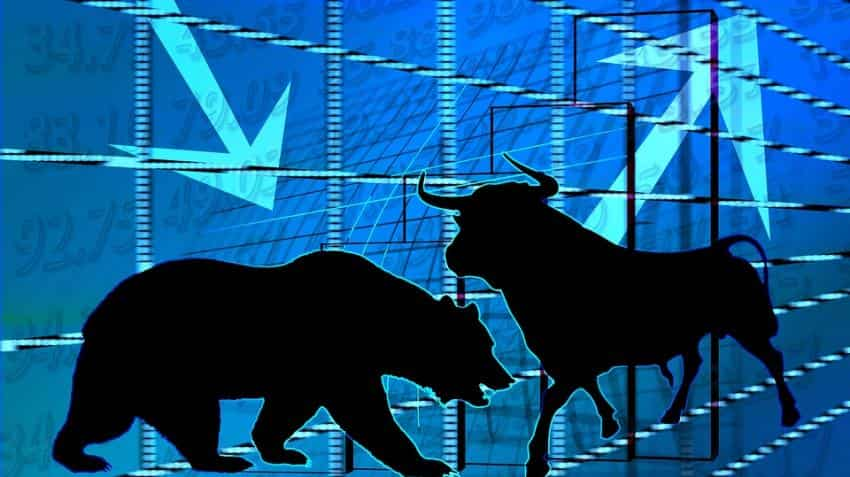 Sensex today: Buy Kaveri Seed with a target price of Rs 488. Image source: Reuters
Sensex today: The benchmark indices are expected to open lower on Thursday tracking negative trend in Asian markets, which slipped amid mounting investor concerns that growing trade tensions would hurt the global economy. Back home, the World Bank on Wednesday projected country's GDP growth at 7.3 per cent for the next financial year and accelerate further to 7.5 per cent in 2019-20. The World Banks biannual publication, India Development Update: Indias Growth Story, expects the economy to clock a growth rate of 6.7 per cent in the current fiscal ending March 31. The report, however, observed that a growth of over 8 per cent will require "continued reform and a widening of their scope" aimed at resolving issues related to credit and investment, and enhancing competitiveness of exports.
"The Indian economy is likely to recover from the impact of demonetisation and the GST, and growth should revert slowly to a level consistent with its proximate factors -- that is, to about 7.5 per cent a year," the report said.
Among Asian markets, MSCI's broadest index of Asia-Pacific shares outside Japan dropped 0.45 per cent. The Asian markets took their cues from Wall Street shares, which fell for the third straight session overnight after US President Donald Trump sought to impose fresh tariffs on China, intensifying fears of a trade war. Boeing Co, seen as particularly vulnerable to retaliation from US trade partners, fell 2.5 per cent, leading the losers on the Dow.
Hong Kong's Hang Seng dropped 0.75 per cent, Australian stocks fell 0.4 per cent and South Korea's KOSPI lost 0.45 per cent. Japan's Nikkei was down 0.85 per cent but still up roughly 0.6 per cent on the week.
Below are the key trading ideas for Thursday's trade: 
1) (SELL) KAVERI SEED 
Target: Rs 488
Stoploss: Rs 507 
CMP: Rs 498
Selling expected after five-day long recovery
Strong resistance near 50-DEMA (497.31)
2) (SELL) EICHER MOTORS 
Target: Rs 28,700
Stoploss: Rs 29,000 
CMP: Rs 28846
Profit-booking expected after 10-day long rally 
The stock fell below from top level in previous session 
3) (SELL) INDIABULLS HOUSING FIANCE 
Target: Rs 1200
Stoploss: Rs 1240 
CMP: Rs 1226
The stock trading in range for last six days; weak pullback 
Crossing 100-DEMA looks difficult 
4) (SELL) SREI INFRA 
Target: Rs 79
Stoploss: Rs 83 
CMP: Rs 82
The stock remained weak amid market recovery
Selling witnessed in futures trade
5) (SELL) TORRENT PHARMA 
Target: Rs 1170
Stoploss: Rs 1310
CMP: Rs 1296
Selling continued for last three days
Selling in futures trade; the stock fell below 50-WEMA, 100-WEMA
6) (SELL) TORRENT POWER 
Target: Rs 244
Stoploss: Rs 252 
CMP: Rs 250.95
The stock trading below all averages on one-hour chart
Selling with heavy volumes since March 8
7) (BUY) GNFC 
Target: Rs 440
Stoploss: Rs 422 
CMP: Rs 426.05
Cabinet approved urea subsidy policy for next 3 years
DBT approved for fertiliser subsidy
8) (BUY) RCF
Target: Rs 78.5
Stoploss: Rs 76 
CMP: Rs 76.40
Cabinet approved urea subsidy policy for next 3 years
Fertiliser stocks to perform well
9) (BUY) AB CAPITAL 
Target: Rs 156 
Stoploss: Rs 150 
CMP: Rs 151.55
RBI approval on ARC business
RBI's certificate of registration on ARC business
10) (BUY) Welspun Ent 
Target: Rs 160
Stoploss: Rs 152 
CMP: Rs 153.2
Lowest bidding in Tamilnadu for NHDP project
Bidding for Rs 1,540 crore 
(Stocks mentioned here are for informational purpose. Consult your financial advisor before investing.) 
Updated: Thu, Mar 15, 2018
08:48 am
ZeeBiz WebDesk