Farmers getting hooked on eNAM to reap benefits
Most farmers right now are bidding online, largely through  authorised  commission agents working in regulated wholesale mandis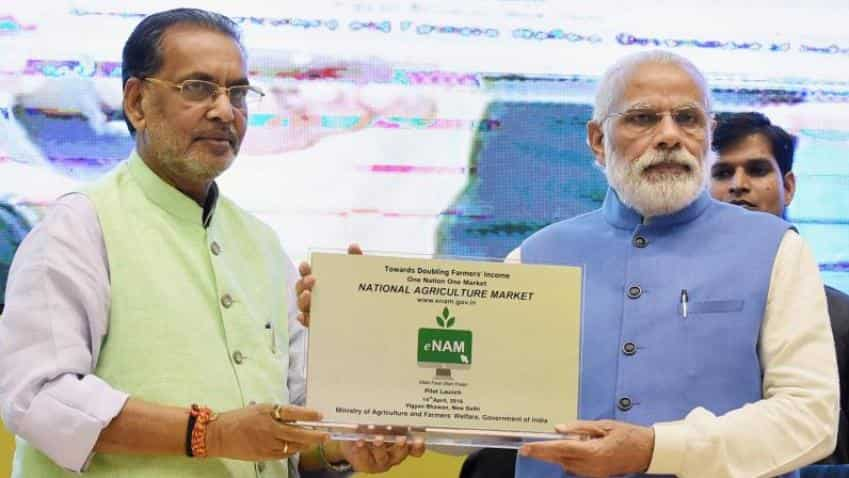 As awareness increases, farmers will be more confident of bidding online on their own, a mandi official said. Image source: PTI
More farmers are turning to the eNAM platform for online auction of agri-produce and reaping the benefits of better price discovery and timely payment, according to mandi officials.
Though most farmers right now are bidding online, largely through authorised commission agents (called adtiyas) working in regulated wholesale mandis, but they have made a modest beginning, the officials said.
As awareness increases, farmers will be more confident of bidding online on their own, for which several initiatives have been rolled out, they added.
At present, online auction is being conducted in 470-odd wholesale mandis in 14 states which have come on board to be part of the electronic National Agriculture Market (eNAM) launched in April 2016. The target is to connect total 585 regulated mandis by the end of this fiscal.
"We have completely shifted to an online auction in the Suryapet mandi in Telangana. More farmers are participating because they are not only getting better price but the payment is made immediately," Suryapet wholesale mandi Secretary Yellaiah told PTI.
Before eNAM, it was difficult to conduct physical auction during the peak season due to huge arrival in the absence of weighting, assaying and quality testing facilities, he said.
"Earlier, farmers used to bring the produce for auctioning and would wait till it was sold and payment done. At times, the entire process used to take 2-3 days and poor farmer had to bear additional expense of staying in a hotel," he said, and added now the situation has improved thanks to eNAM.
Now, auction in nine commodities like paddy, pulses and jowar in the Suryapet mandi is done via online by one stroke. The crops are weighed immediately and the stock is lifted on the same day and the payments are cleared online, he said.
"Farmers are very happy with the eNAM as they are able to return home after selling their produce on the same day. They are getting better price for their produce," Yellaiah added.
In Telangana, farmers are bidding online taking help of the authorised commission agents, whose service the state government feels cannot be terminated all of a sudden until farmers are educated and confident of doing on their own.
The objective of the eNAM is to empower farmers to trade online independently without middlemen and get better price.
Not only in Telangana, farmers in Dausa district of Rajasthan, which shifted to online auction in February 2017, are benefitting from the eNAM service.
Bandikui agriculture mandi secretary Subash Mahawar said, "Now, bids are quoted only after assaying and testing of the crops done at the mandi yard."
Here too most farmers are taking the help of commission agents to trade on the online platform. The agents are mostly using the eNAM mobile App for this purpose, he added.
Mahawar said there is a "positive response" and the mandi is holding awareness camps to educate and motivate them to trade online. At Bandikui mandi, entire bajra is being traded online.
 
A similar views were aired by officials from other mandis which have rolled out the eNAM.
A senior Agriculture Ministry official said, "We still have a long distance to cover. However, the response so far is positive. We have intensified the awareness campaign. As awareness increases, farmers will be confident to participate independently."
The government has decided to link 109 more mandis on the (eNam) by next month, the official added.
Online trading on eNAM can be done through website, trading platform and mobile App available in several regional langauges. More features are being added to help farmers be informed decision on trading.
So far, 72.12 lakh farmers, 53,130 commission agents and over 1 lakh traders are registered on the eNAM platform from 14 states.
The 14 states include Andhra Pradesh, Chhattisgarh, Gujarat, Haryana, Himachal Pradesh, Jharkhand, Madhya Pradesh, Maharashtra, Odisha, Rajasthan, Tamil Nadu, Telangana, Uttar Pradesh and Uttarkhand.
In the first phase, the government wants to ensure all wholesale agri mandis adopt online auction and gradually will allow trading between mandis in a state and eventually between mandis outside states, thereby setting up a single national agriculture market for the benefit of farmers.
Updated: Sun, Jan 28, 2018
12:24 pm
PTI