Essential Commodities Act amendment will help in the creation of free market: Ram Vilas Paswan
Ram Vilas Paswan, Union Minister of Consumer Affairs, Food & Public Distribution, talks about changes in Essential Commodities Act, 'One Nation, One Ration Card', etc.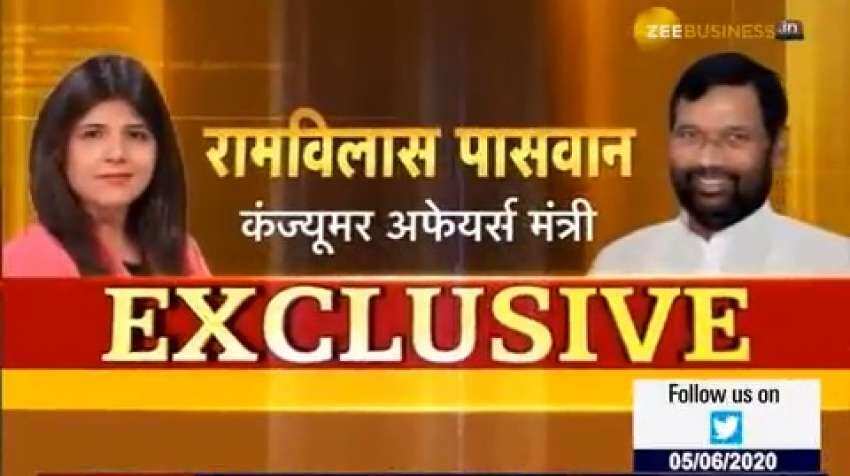 Union Minister Ram Vilas Paswan sugarcane arrears among others during an exclusive interview with Swati Khandelwal, Zee Business.
Ram Vilas Paswan, Union Minister of Consumer Affairs, Food & Public Distribution, talks about changes in Essential Commodities Act, 'One Nation, One Ration Card' and sugarcane arrears among others during an exclusive interview with Swati Khandelwal, Zee Business. Edited Excerpts: 
The Essential Commodities Act (ECA) was amended in the recent past. What is your view on it and how the interest of the consumers will be protected with it?
We always look after the interest of both, the consumer and the producer/farmer, while making a law. But, I look after the consumer department and that's why it is natural that I will have more interest towards the consumers. We are reporting it daily and as per yesterday's report, 804 lakh metric tonnes of food grains are stocked at the Godowns of the Food Corporation of India (FCI) of which 269.38 lakh metric tonnes is rice, while 534.77 lakh metric tonnes is wheat. A lot of the food grains are available in the Godowns, while a large part hasn't reached to Godowns and are lying with the farmers. This means there is no shortage of food grains in India at present. Although, we need 55 lakh tonnes of food grains every month. Today, we are producing 10 times more wheat then what was produced in 1955. At times, three months period, turns critical, especially for potato, tomato, and onion, as there is a problem of transportation during monsoon. This creates a situation in which onion that is available at Rs 5/kg in Nashik goes up to Rs 50 to Rs 60 in Delhi. So given these things and fear of the farmers – they fear that the government may slap any new law on their produce, which is listed under the Essential Commodity Act (ECA) – we have removed the obstacles by bringing them out of the ECA. It will help in the creation of a free-market. But the government has a weapon in its arsenal, under which they can be recalled under the act when it feels that there is a scarcity, or there is a shortage of it is being hoarded. 
You said that the government will take steps against hoarding. So, let us know when the steps will be taken?
It always stays with the government as it was done immediately in the case of sanitizer and masks when the virus hit India and regulated its cost. ECA was slapped on them and it is under the jurisdiction of the government. 
See Zee Business Live TV streaming below:
Tell us something about the scheme 'One Nation, One Ration Card' and how and by when it will be rolled out and have you witnessed some problems in its implementation due to COVID-19? 
We have been working for 'One Nation, One Ration Card' for the last two years. However, we want to add nutritious ingredients to it – this is the first time when I am talking about it with someone. The project has been started on a pilot basis in 15 districts and three-four more districts will be added to it, soon. Currently, rice and wheat were provided under the scheme and 1 kg/person has been added to it under Prime Minister Anna Kalyaan Yojna. Besides, food grains for two-months have been provided even to people who don't have their names in the ration cards, anywhere across India. The government has been providing wheat at Rs 2/kg and rice at Rs 3/kg to 81 crore beneficiaries in India. However, Prime Minister Narendra Modi has directed us to provide some nutritious products to these poor people following which we started the discussion with NITI Aayog and have been working on it for the last two years. We wished to add maximum districts to it under the pilot project. But it is at an early stage and Industries will not like to participate in it till it doesn't feel that it will benefit them.
A Cabinet note has been prepared in this regard and is being discussed with the Finance Ministry. 'One Nation, One Ration Card' is a historic decision. It has been taken to ensure availability of food grains to migrant labours from different states, like Bihar and Uttar Pradesh, who move out to other states for work but don't have a ration card to reap the benefit of the facility due to the absence of the biometric facility. 
Does the government have any plan to help the sugarcane/sugar sector by providing any support in terms of working capital as the financial health of the companies is falling when arrears are going up?
Two factors play its role in the case of sugar and they are (i) FRP, which is decided by the central government and (ii) SAP, which is decided by the state governments that raise it accordingly. However, we monitor it regularly. But, sugarcane production has increased a lot these days due to which in the last 5 years we have had to make some or other kind of arrangements like export incentives as well as financial support to them. We have faced criticism on many occasions for providing financial support to the mill owners. The financial help is provided to help the mill owners to pay the pending dues of the farmers. However, payment of arrears of the farmers is the responsibility of the state governments. It reserves the right to ensure that the dues are paid within 15 days and if it doesn't happen that they will have to pay the interest on the amount. It can also confiscate the factory or cancel its license. A due of Rs 81,667 crore was pending for 2018-19 of which Rs 80,968 has been paid and now Rs 680 crore is lying pending. However, due to Rs 66,759 was created in this sugar season of which Rs 48,709 crore has been paid. The government has taken several steps to liquidate what is outstanding. I have earlier said, we have assisted to sugar mills to compensate for sugarcane at Rs 13.88 per quintal. And maximum support at 13.5% rate has been provided for maintenance of the buffer stock. Export subsidies are provided to encourage sugar export. At the same time, the state governments are directed from time-to-time to pay the dues of the farmers. 
WATCH full interview below:
देश में कैसी है अनाज की स्थिति?
क्या है सरकार की 'पौष्टिक अनाज' योजना?
एसेंशियल कमोडिटी एक्ट में क्या बदला?
देखिए कंज्यूमर अफेयर्स मंत्री रामविलास पासवान के साथ एक्सक्लूसिव बातचीत

देखिए पूरा इंटरव्यू: https://t.co/gebURdTYea@SwatiKJain @irvpaswan @jagograhakjago @fooddeptgoi pic.twitter.com/jEujWiO8cz

— Zee Business (@ZeeBusiness) June 5, 2020
Is the government planning any package to help the sugar mills to pay the cane arrears that they are supposed to pay?
The lockdown, which stopped movement of people, has reduced the purchasing capacity of people and left millions unemployed, had an impact on the sugar industry but I feel that things will get back on track, soon and the sugar industry will stand once again.
Get Latest Business News, Stock Market Updates and Videos; Check your tax outgo through Income Tax Calculator and save money through our Personal Finance coverage. Check Business Breaking News Live on Zee Business Twitter and Facebook. Subscribe on YouTube.
Written By:
Jitesh Kumar Jha
Updated: Sat, Jun 06, 2020
05:52 pm
New Delhi, ZeeBiz WebDesk