Employees provident fund interest rates may be kept unchanged at 8.65%
 EPF is among most beneficial and popular investment scheme organised by the government for salaried people in India.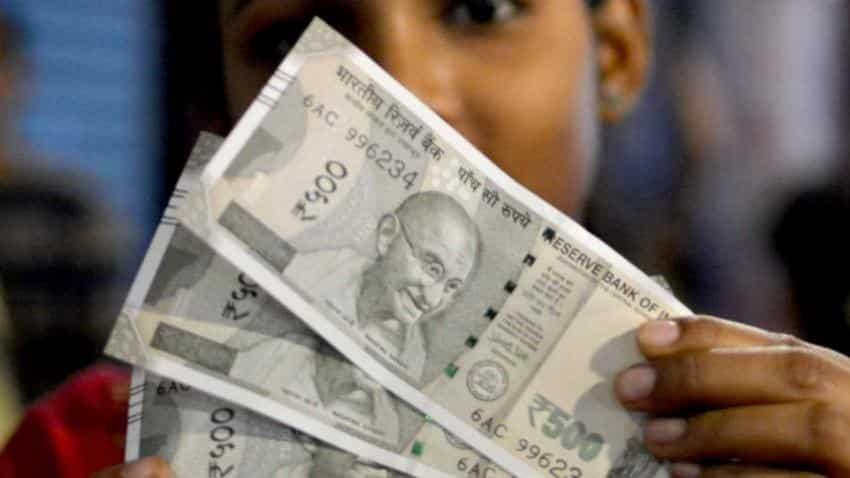 Representational image of Rs 500 denomination currency note. Image Source: IANS
Employee provident fund (EPF) is likely to see lower interest rates in 2018, as the Central government choose to keep this indicator unchanged.
 
According to Indian Express report, the government is working on keeping the interest rate on provident fund unchanged at last year's level by dipping into shares held by the Employees Provident Fund Organisation (EPFO) for the extra 0.15% payout.
 
Citing sources, the report said the EPFO would sell shares worth Rs 2,000 crore to book an estimated extra income of Rs 850 crore due to the buoyancy in share prices on the back of a spurt in the bourses. This additional gain of Rs 850 crore would be ploughed in as total earnings to determine the PF rate.
 
The Central Board of Trustees of EPFO would reportedly be meeting next month for finalising the PF rate and the procedures of the share sale.
 
Currently, EPFO invests in equities through stock exchanges. So far, it has invested ETFs run by  SBI Mutual Fund, UTI Mutual Fund and the central public sector enterprises ETF run by Reliance Mutual Fund.
 
During fiscal FY17, the EPFO lowered the interest rate on EPF deposits to 8.65%% from the previous 8.8% in FY16.
 
EPF is among the most beneficial and popular investment scheme organised by the government for the salaried people in India.
 
EPFO offers many online services through its portal for EPF members, and thereby, the services are delivered transparently, efficiently and comfortably to everyone.
 
Wage limit of these mandatory EPF has not been changed since September 2014 - where Rs 15,000 ceiling was decided from previous Rs 6,500 by the government.
 
Currently, the government pays 1.16% of the wages to each subscriber who are earning less than Rs 15,000 per month towards EPS. While employees contribute 12% of the basic pay towards EPF.
 
At the same time, employer contributes 8.33% towards EPS for pay up to Rs 15,000 and 3.67% of the pay to EPF. They also contribute 0.5% towards Employee Deposit Linked Insurance Scheme (EDLI), 0.65% as EPF administrative charges and 0.01% as EDLI handling fee.
 
Earlier Ministry of Labour and Employment during Public Accounts Committee 2015 - 16 report highlighted that revision of wages for mandatory coverage is a process, which involves tripartite consultation among Employer, Employee and the government, and it also involves concurrence of Ministry of Finance as it is a policy decision having budgetary impact.
 
With the contribution of 1.16% towards EPFO subscribers total basic wages, the government bears an annual burden to the tune of Rs 6,750 crore.
 
In November 2017, Union Minister of Labour & Employment Santosh Kumar Gangwar had approved a proposal for centralised payment system for EPFO using National Payments Corporation of India (NPCI) platform, which would not only reduce transaction charges but also bring more convenience.
 
By end of November, there were reports stating that EPFO may cut rate of return on provident fund deposits for 2017-18 due to lower income on bonds and its plan to credit ETF investments directly into the account of subscribers.
 
Also, the EPFO may be looking at raising the wage ceiling for mandatory coverage of formal sector workers to Rs 21,000 in 2018 from Rs 15,000 per month.
 
It may be noted that there are around 6 crore subscribers to the savings scheme.
 
Updated: Mon, Jan 22, 2018
11:19 am
Mumbai, ZeeBiz WebDesk