Economic Survey: India to clock 6.75% GDP in FY18
Here are key takeaways from the economic survey of the year gone by.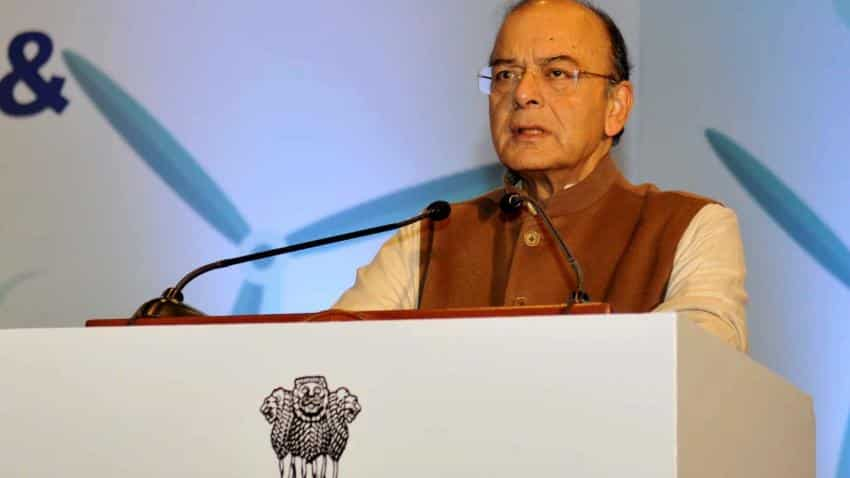 Union Finance Minister Arun Jaitley addresses at the launch of the National Corporate Social Responsibility (CSR) Data Portal and Corporate Data Portal. Image Source: IANS
Updated: Tue, Jan 30, 2018
04:35 pm
Mumbai, ZeeBiz WebDesk
The Economic Survey FY18, tabled in Lok Sabha today, projected that the country's gross domestic product (GDP) will grow by 6.75% this fiscal. This was significantly lower than the previous fiscal's estimates that positioned the economy to grow at 7.1%.
"A series of major reforms undertaken over the past year will allow real GDP growth to reach 6.75 % this fiscal and will rise to 7.0 to 7.5 % in 2018-19, thereby re-instating India as the world's fastest growing major economy," the survey said.
#EconomicSurvey2018 #ModiBooster2018 . Read all highlights on @ZeeBusiness pic.twitter.com/sZnqrEe3kT

— Zee Business (@ZeeBusiness) January 29, 2018
President Ram Nath Kovind in his speech said the government saved Rs 57,000 crore through Direct Benefit Transfer Scheme.
He added that the savings stemmed from transfer of subsidies directly to the bank accounts. Government will also be working to provide houses to the poor by 2022, President Kovind added stating that inflation rate, current account deficit, fiscal deficit decreased in the last three and half years.
Finance Minister Arun Jaitley tabled the Economic Survey 2017-18 in the Lok Sabha soon after President Pram Nath Kovind's address to the joint sitting of both Houses of Parliament.
Speaker Sumitra Mahajan then directed the FM to table a copy of the Hindi and and English versions of the Economic Survey 2017-18.
Prime Minister Narendra Modi, Union Ministers, Deputy Speaker M Thambidurai, opposition leaders Mallikarjun Kharge were among others present in the House.
Thereafter, the Speaker adjourned the House for the day. The House will again meet on February 1 when the FM will present the General Budget for 2018-19.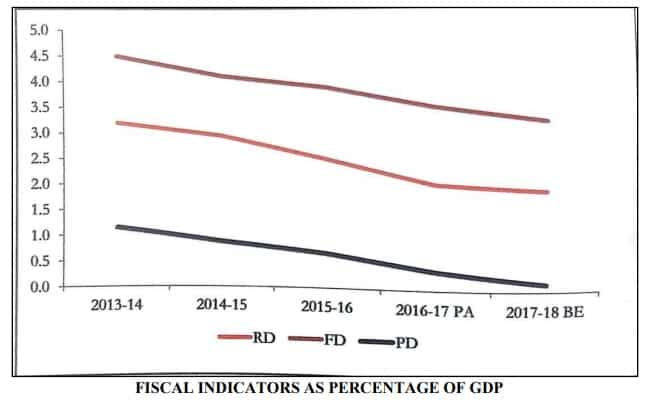 The key highlights of the survey are:
GVA:
The survey points out that as per the quarterly estimates; there was a reversal of the declining trend of GDP growth in the second quarter of 2017-18, led by the industry sector. The Gross Value Added (GVA) at constant basic prices is expected to grow at the rate of 6.1 per cent in 2017-18 as compared to 6.6 per cent in 2016-17. 
GST:
The survey underlines that due to the launch of transformational Goods and Services Tax (GST) reform on July 1, 2017, resolution of the long-festering Twin Balance Sheet (TBS) problem by sending the major stressed companies for resolution under the new Indian Bankruptcy Code, implementing a major recapitalization package to strengthen the public sector banks, further liberalization of FDI and the export uplift from the global recovery, the economy began to accelerate in the second half of the year and can clock 6.75% growth this year. 
CAD:
India's balance of payments situation, which has been benign and comfortable since 2013-14, continued to be so in the first half of 2017-18, despite some rise in the Current Account Deficit (CAD) in the first quarter, with a relatively lower CAD in the second quarter. India's CAD stood at US$7.2 billion (1.2% of GDP) in Q2 of 2017-18, narrowing sharply from $ 15.0 billion (2.5% of GDP) in the preceding quarter. 
Taxpayers:
Goods and Services Tax (GST) has given a new perceptive of the Indian economy and new data has emerged. There has been a fifty % increase in the number of indirect taxpayers. There has also been a large increase in voluntary registrations, especially by small enterprises that buy from large enterprises wanting to avail themselves of input tax credits.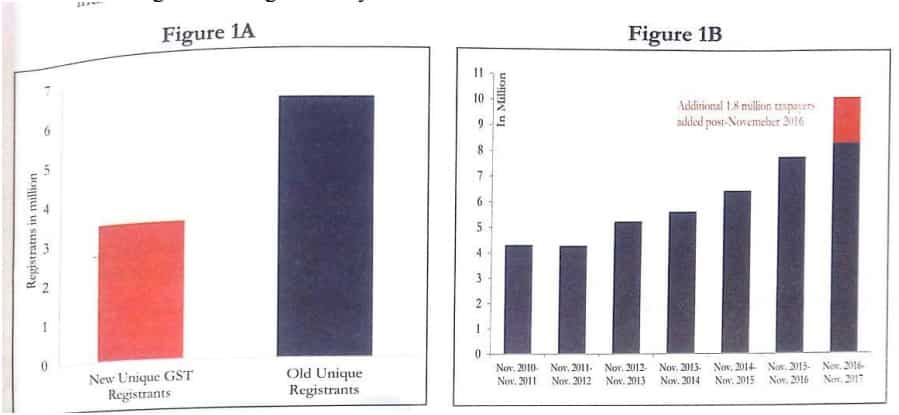 Gender Disparity:
The Survey encouragingly notes that gender outcomes exhibit a convergence pattern, improving with wealth to a greater extent in India than in similar countries so that even where it is lagging, it can expect to catch up over time. The Survey, however, cautions that on several other indicators, notably employment, use of reversible contraception, and son preference, India has some distance to traverse because development has not proved to be an antidote. 
Employment:
According to the Survey, the Indian logistics industry worth around US$ 160 Billion has grown at a compound annual growth rate (CAGR) of 7.8 per cent during last five years. Logistics sector provides employment to more than 22 million people. The Global Ranking of the World Bank's 2016 Logistics Performance Index shows that India jumped to 35th rank in 2016 from 54th rank in 2014 in terms of overall logistics performance. India has improved its rank in all the six components of logistics performance index. 
Demonetisation:
After demonetisation in early November 2016, the Reserve Bank had scaled up its liquidity absorption operations using a mix of both conventional and unconventional instruments. In tandem with the re-monetisation process, from November 17, 2017, as a favourable base effect set in, the Y-o-Y growth of both Currency in Circulation and M0 turned sharply positive and higher than their respective growth rates in the previous year. 
Air India:
The agenda for the next year consequently remains full: stabilizing the GST, completing the TBS actions, privatizing Air India, and staving off threats to macro-economic stability. Recently, on 10th January 2018, Union Cabinet approved amendments in FDI policy allowing 100 per cent FDI under automatic route for Single Brand Retail Trading. Foreign airlines also have been allowed to invest up to 49 per cent in Air India, the survey added. 
Get Latest Business News, Stock Market Updates and Videos; Check your tax outgo through Income Tax Calculator and save money through our Personal Finance coverage. Check Business Breaking News Live on Zee Business Twitter and Facebook. Subscribe on YouTube.