Defence Minister Rajnath Singh announces fresh 'positive indigenisation list' to boost domestic defence manufacturing, launches debit card for offline transaction by naval personnel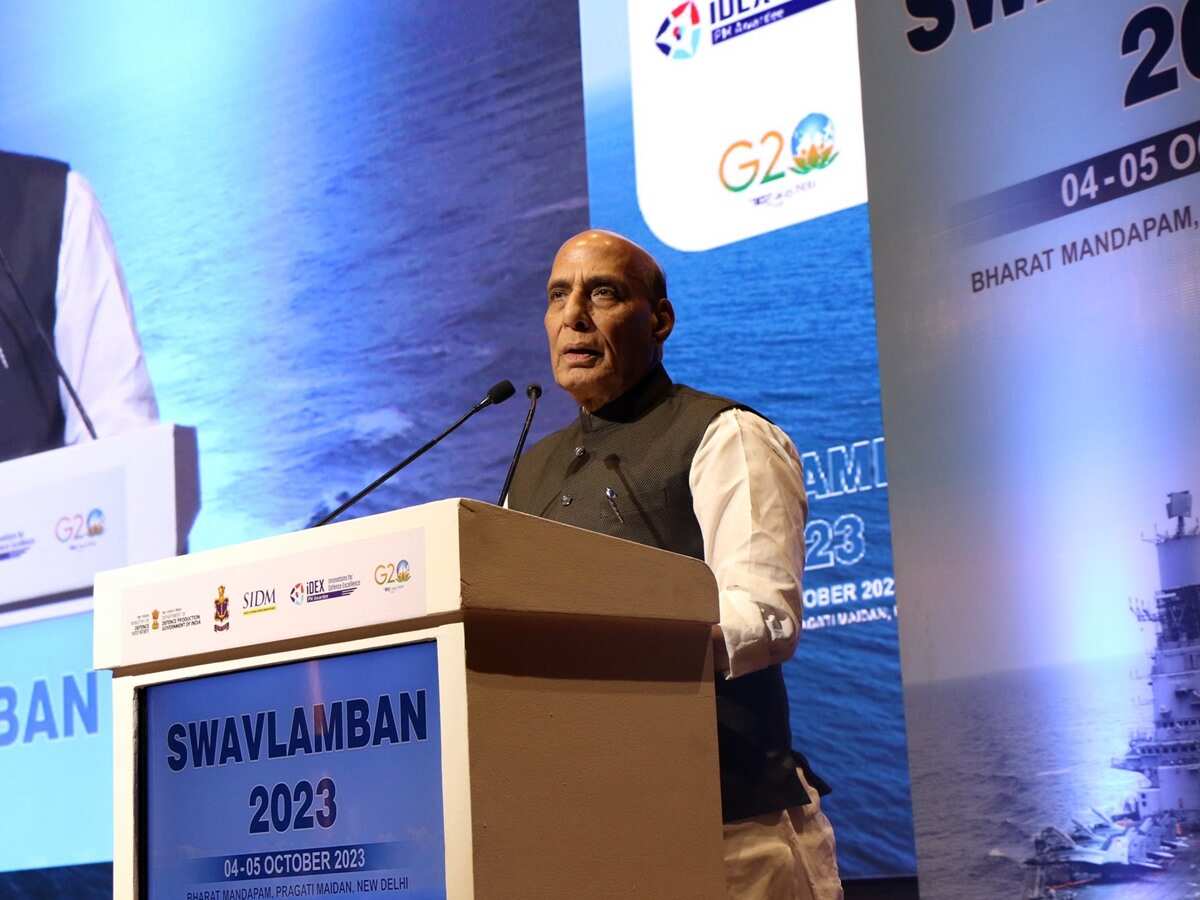 Defence Minister also released the Indian Navy' updated "Indigenisation Roadmap -- Swavlamban 2.0'. (Image Courtesy: Twitter/RajnathSingh)
Defence Minister Rajnath Singh on Wednesday released a fresh list of 98 military hardware including complex systems, sensors, weapons and ammunition that will only be only be procured from domestic industry after a ban on their import kicks in under a staggered time-line. He also unveiled a unique dual-chip debit card — SBI NAVeCash Card — which will allow naval personnel at high seas to carry out offline transactions.
What is the SBI NAVeCash Card?
The 'SBI NAVeCash Card' is a dual-chip debit card which will allow offline transaction by personnel in high seas.
Jointly developed by the Indian Navy and the State Bank of India, the 'SBI NAVeCash Card' can be used in online mode as a regular debit card, as well as in offline mode while at sea with no direct connectivity with banks.
The card was unveiled by the Defence minister at the 'Swavlamban 2.0' seminar organised by the Indian Navy.
The defence ministry said that the one-of-its-kind dual-chip debit card has been developed and tested onboard various Indian naval ships and is now ready for launch pan-Navy. 
"The card is a positive step towards the Prime Minister's dream of Digital India with cashless financial transactions as it obviates the usage of cash onboard ships even in high seas," the statement said.
Fifth Positive Indigenisation List Announced By Defence Minister
Apart from making the announcement of the fifth positive indigenisation list at the 'Swavlamban 2.0' seminar organised by the Indian Navy, the Defence Minister also released the Indian Navy' updated "Indigenisation Roadmap -- Swavlamban 2.0'.
The key items on the indigenisation list include futuristic infantry combat vehicle, remotely piloted airborne vehicles (up to 25 km range with payload of 2 kg for Army), shipborne unmanned aerial system, medium upgrade low endurance class tactical drone, next generation low-level light radar for Army and electro optic fire control system for naval platforms.
The list also comprised armour plates for cabin nose section for Mi-17 helicopter, multifunction aviation ground equipment for Air Force, gravity rollers for Mi-17 V5 helicopter and flares of P-8I and MiG 29-K aircraft.
The new "positive indigenisation list" is in continuation of the first four such lists, which contained a total of 411 military items.
Separately, the Department of Defence Production notified four positive indigenisation lists consisting of 4,666 items, including line replacement units, sub-systems, spares and components for Defence Public Sector Undertakings (DPSUs), according to the defence ministry.
Seventy-five technologies having applications in various military hardware including underwater swarm drones, autonomous weaponised boat swarms and fire fighting systems were displayed at the seminar.
"Highly complex systems, sensors, weapons and ammunition have been included in the list. All these items will be procured from indigenous sources as per provisions given in Defence Acquisition Procedure (DAP) 2020 in a staggered timeline," the defence ministry said in a statement.
Attended the plenary session of 'Swavlamban 2.0' in New Delhi.
⁰The 5th Positive Indigenisation List, comprising 98 items which includes Highly complex systems, sensors, weapons & ammunition was released today. It is in line with our vision for 'Atmanirbharta in Defence'.… pic.twitter.com/CMHSctBeK8

— Rajnath Singh (@rajnathsingh) October 4, 2023
Updated: Wed, Oct 04, 2023
10:20 pm
ZeeBiz WebDesk