Budget 2022: Big takeaway for general insurance companies! Government allows surety bonds as substitute for bank guarantees
Budget 2022: Surety bonds could now be used for government procurements which augurs well for the insurance sector and infrastructure sector, Zee Business' Anurag Shah reported. The announcement was made by Finance Minister Nirmala Sitharaman in her Union Budget 2022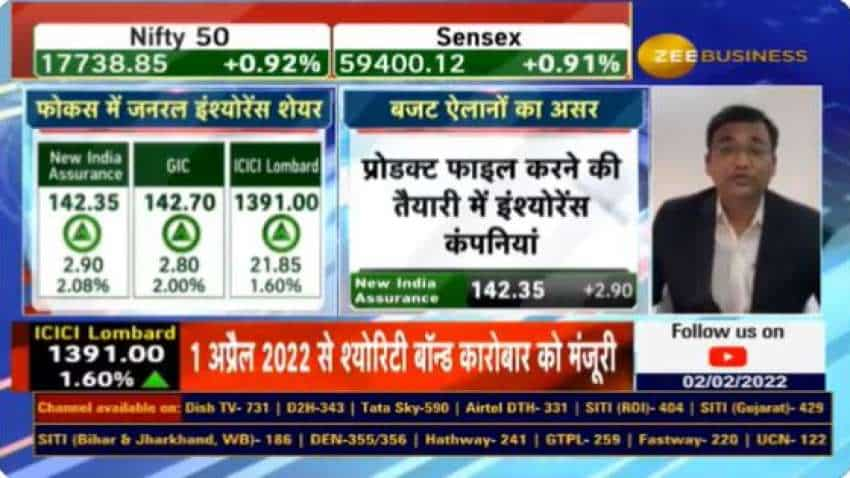 Surety bonds will be an alternative to bank guarantees
Budget 2022: Surety bonds could now be used for government procurements which augurs well for the insurance sector and infrastructure sector, Zee Business' Anurag Shah reported. The announcement was made by Finance Minister Nirmala Sitharaman in her Union Budget 2022.
Surety bonds will be an alternative to bank guarantees.
See Zee Business Live TV Streaming Below:
In the Union Budget 2022, one more allotment has been increased for National Highways Autority of India (NHAI). The budget allocated to it for the FY23 is Rs 135,000 cr, he said.
Over the past few years, the infrastructure companies were facing huge problems in getting bank guarantees or had to pay a high primiu to get them, he said in his report. That created a lot of issues related to the liquidity.
The budget announcements have put sureties as an alternative to the bank gaurntees. Now the infrastructure companies will be able to give sureties in the form of cover from the insurance companies, he further said. The Insurance Regulatory and Development Authority of India (IRDAI) has already made rules on this and this will be implemented from 1 April 2022.
This will create new avenues for non-life insurers where they will be able to issue surety bonds to the infrastructure companies.
To reduce indirect cost for suppliers and work-contractors, the use of surety bonds as a substitute for bank guarantee will be made acceptable in government procurements. Business such as gold imports may also find this useful. IRDAI has given the framework for issue of surety bonds by insurance companies," the Budget 2022 document says.
However, the insurance regulator has put some conditions on this. One is that 10 per cent of the overall premium or Rs 500 cr of premium can be taken now.
This will open a big avenue for the insurance companies where they will be able to do surety business, Shah said.
In July 2020, Union Transport Minister Nitin Gadkari had said that a bank guarantee of up to Rs 2.5 lakh cr is needed in the infrastructure sector. The decision has been taken in view of this, Shah further said.
More and more companies can now address their liquidity issues with the introduction of surety bonds.
Shah said that in his conversations with the inurance companies, he was told that the companies will be preparing new products and filing them. The products are expected to come after 1 April 2022.
However, the nsurance companies have said that such infrastructure projects would require huge surety amounts and they would need reinsurance support.
Shares of The New India Assurance Companies were trading at Rs 140.30 on the NSE, up by ).6 per cent from the last closing price on Monday. Meanwhile, General Insurance Companies'shares were trading at Rs 142.50 around the time of breaking of this news and were up almost 2 per cent.
Watch Zee Business Tweet Video Below:
जनरल इंश्योरेंस कंपनियों के लिए बड़ी खबर
#NewIndiaAssurance #GIC पर होगा असर
बैंक गारंटी का विकल्प होंगे श्योरिटी बॉन्ड
#Insurance कंपनियां श्योरिटी बॉन्ड जारी करेंगी,गाइडलाइंस जारी

जानिए अनुराग शाह से#GrowthBoosterZee #BudgetOnZee @anuragshah_ pic.twitter.com/AVYtPf8NxG

— Zee Business (@ZeeBusiness) February 2, 2022
Private insurer ICIC Lombard General Insurance Company shares were trading up 1.5 per cent at Rs 1390.35 around this time.
Updated: Wed, Feb 02, 2022
05:29 pm
New Delhi, ZeeBiz WebDesk