Bandaru Dattatreya to pitch for raising EPFO's investment in stocks
Dattatreya said the National Career Service (NCS) Project with the aim to bring job seekers, employers and training providers on a common platform.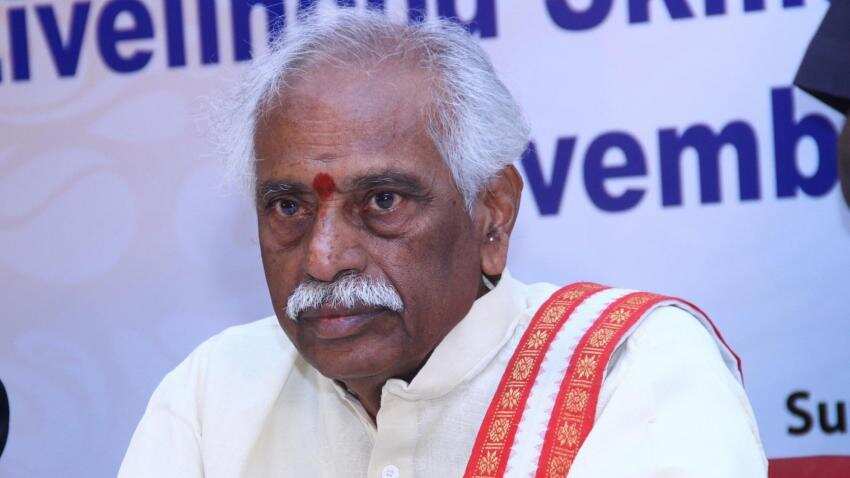 Dattatreya said the Ministry has initiated a process of reforming the archaic labour laws. Photo: IANS
Updated: Tue, May 24, 2016
11:39 pm
New Delhi, PTI
Unfazed by unions' opposition and negative returns on stock market investments, Labour Minister Bandaru Dattatreya on Tuesday hinted at increasing EPFO's investment in exchange traded funds for this fiscal from 5% currently.
However, he did not specify the quantum of increase in investments this year by the Employees' Provident Fund Organisation (EPFO) from 5% of its investible deposits parked last fiscal in exchange traded funds (EPFs).
"At present it is 5% in Exchange Traded Funds (ETFs). In long terms it is profitable. In this context we want to see it. We will hold the CBT (central board of trustees) meeting (where this proposal will be discussed). But I am confident that it will go beyond five%," he said at a press conference on initiatives taken by Labour Ministry in the last two years of NDA regime.
The CBT is the apex decision making body of the EPFO, which is headed by the Labour Minister. Trade unions have already lodged their protest against parking EPFO's funds in stock market and submitted their dissent note on the issue in earlier meetings of the CBT.
Asked about the unions' opposition, the minister said, "We will listen to the CBT members. They will speak on it (whether to increase it or not). But the final decision will be of the Labour Ministry. I am the chairman of CBT. In capacity of Chairman I will take a decision."
The EPFO invested Rs 6,788 crore in ETFs so far since August last year and has got a return or yield of 1.68% on these investment, Labour Secretary Shankar Aggarwal said. As per the earlier estimates of the EPFO, it earned a negative return of 9.54% on its Rs 5,920 crore investment in ETFs from August 6, 2015 to February 29, 2016.
The market value of investments of Rs 5,920 crore in the ETFs in 2015-16 was Rs 5,355 crore as on February 29, 2016, as per an analysis of equity investment by the EPFO.
Speaking about the initiatives, Dattatreya said during the last two years the government has amended the Bonus Act increasing the eligibility limit from Rs 10,000 to Rs 21,000 and benefit ceiling from Rs 3,500 to Rs 7,000. Minimum Pension of Rs 1000 per month, which is benefiting over 20 lakh pensioners, has also been done, he added.
"Our government has announced interest at 8.8% to EPF subscribers for the year 2015-16 which is the highest rate of interest for any saving instrument in the country.  On March 29, 2016 in a historic decision decided to credit interest to 9.23 Crore inoperative accounts of EPFO which was stopped by the UPA government in February, 2011," the Minister noted.
When questioned about delay in labour reforms, he said unions have been strongly opposing government's initiatives to make labour laws and practices more conducive for the workers. He was of the view that trade unions are politicising issues and have been a deterrent to government's move of overhaul the archaic labour laws in the country.
He said government faces the twin challenge of providing jobs for around 10 million youths every year as well as providing better living and working standards for almost 450 million unorganised workers in the country, who represent a lions share of 90% of India's workforce.
Dattatreya said the Ministry has initiated a process of reforming the archaic labour laws to create a conducive, cordial and harmonious environment in the country.
"Towards this we are simplifying the 43 Labour Laws into 4 Labour Codes which aims to amalgamate and rationalise the provisions of these 43 Labour Laws -- Labour Code on Wages, Industrial Relations, Social Security & Welfare and Safety & Working?Conditions," he added.
He further said Code on Wages and Industrial Relations is expected to be place before Parliament in the upcoming Monsoon Session, while the other two will go for tripartite consultations. 
Besides, the launching of the Shram Suvidha Portal has facilitated in bringing transparency and accountability leading to better enforcement of the Labour Laws, he said.
Transparent Labour Inspection Scheme has reduced the discretionary powers of Inspectors and brought transparency in the inspection system. Filing of?Single Unified Annual Return for 8 Labour Acts has facilitated in easing compliance.
Also, government has proposed to amend the Child Labour (Prohibition and Regulation) Act, 1986 with the objective of complete prohibition on employment of children below 14 years. 
Dattatreya said the National Career Service (NCS) Project with the aim to bring job seekers, employers and training providers on a common platform. So far, NCS portal registered over 3.5 crore candidates and 9 lakh establishments that have a Labour Identification Number. It has 80,000 job advertisements too, Dattatreya said.
In 2013-14, 2.76 lakh jobs were created, while in 2014-15 fiscal 5.21 lakh jobs were added, which itself speaks about the government's seriousness, the Minister added.