Atal Bihari Vajpayee: The prime minister who lived the future of Indian Economy - A tribute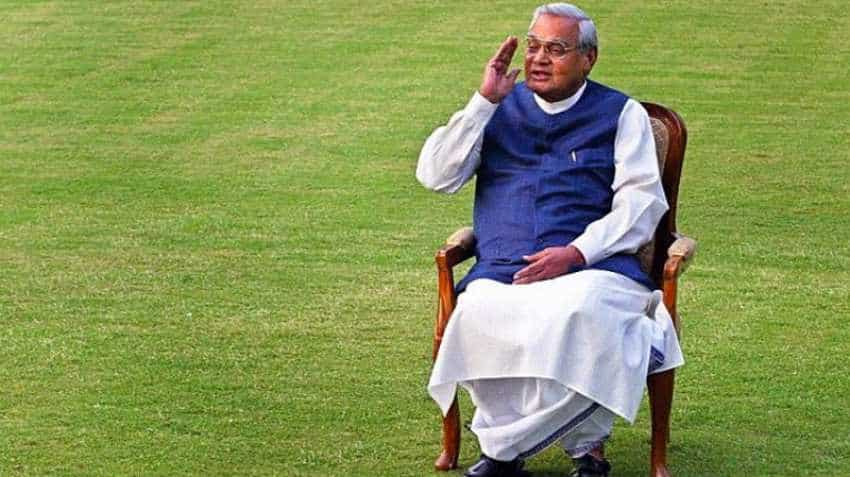 Vajpayee government had formed a task force, which submitted a report in 2003 saying the state and central taxes should be merged into a GST regime, Union minister Arun Jaitley had said in July last year. PTI
Updated: Fri, Aug 17, 2018
09:14 am
ZeeBiz WebDesk
Leaders come and go. A few just remain there, forever. In the pantheon of all-time great Indian politicians since Independence, Late Atal Bihari Vajpayee sits "Right" on the top with other greats like former prime ministers Jawaharlal Nehru and Indira Gandhi. But it is not just politics, which helped him form the first full-time non-Congress government at the Centre, that makes him great. 
Politics has a fleeting presence on people's psyche. People remember politicians only as long as they remain in power. But those who bring a change in their economic lives are never forgotten. This is why India would never forget prime ministers like Nehru for starting the Industrial revolution in the country, Indira for her 'garibi hatao' efforts, or even Manmohan Singh for liberalising the Indian Economy. 
Beyond his captivating mastery with the prose, Vajpayee had many such life-changing economic contributions to people during his tenure as the prime minister. 
The origin of a number of initiatives that are defining our economic lives today is linked to the Vajpayee era. Although, not all of them materialised during his tenure. It would be apt to say that Vajpayee lived the future of Indian Economy.      
Economy watchers today are obsessed with GDP numbers. It goes to Vajpayee's credit, and several distinguished economists concur, that his government's policies helped India achieve a sustained GDP growth rate of over 8 per cent per annum between 2003-2007. 
Most of the visible development in the country today can be seen on the road, yes literally. While massive road infrastructure projects - many completed and many in the process of completion - define India on the go today, credit goes to the Vajpayee government for envisioning, perhaps, the idea of a "one nation, one road" that was executed as the Golden Quadrilateral project connecting the four great metropolitan cities of India - Delhi, Mumbai, Chennai and Kolkata. This is the longest highway project in India, number fifth in the world. Not just this, Vajpayee government had taken up the ambitious scheme of connecting all villages by all-weather roads through Pradhan Mantri Gram Sadak Yojana. 
Thanks to the telecom revolution, economic and physical lives are more connected today than ever before. Credit goes to Vajpayee government's policy innovations to trigger India's telecom revolution. 
When Vajpayee came to power, India's telecom sector was in a total mess. Teledensity was quite low and the companies were in tears. Expensive call rates didn't encourage an increase in teledensity. Mobile phones were a luxury for the rich. Soon, it all changed. 
Vajpayee regime came up with the New Telecom Policy 1999 that replaced the annual license fees operators had to pay the government with a revenue sharing model. This allowed loss-making telecom companies to invest in infrastructure and lower tariffs. The Vajpayee government was also instrumental in founding the BSNL in 2000 to compete with private operators. TDSAT (telecom disputes settlement and appellate tribunal) was set up in 2000 to reconstitute TRAI and take away the latter's judicial powers. TDSAT now resolves disputes in telecom sector and it can be challenged only in the Supreme Court. 
When the Modi government made a midnight celebration of Goods and Services Tax (GST) rollout in the Parliament last year, few had remembered that the origin of the concept "one nation, one tax" is also linked to the Vajpayee regime. 
Vajpayee government had formed a task force, which submitted a report in 2003 saying the state and central taxes should be merged into a GST regime, Union minister Arun Jaitley had said in July last year. The Congress government, which succeeded Vajpayee, went on to pursue the idea but couldn't implement. 
For citizens today, life is almost impossible without Aadhaar even as the Supreme Court is still hearing a batch of petitions against the unique number. The idea of Aadhaar first came up during the Kargil war, when Vajpayee was in power. The Unique Identification Authority of India (UIDAI) says that a report suggesting to issue identity cards to citizens in border areas was then submitted to the government. The proposal was accepted by a group of ministers led by LK Advani. However, later, the external affairs minister had proposed to issue a national identity for all.
The idea to link rivers came up during Vajpayee years. It is now taking baby steps to become a reality. There are many other defining economic features of today linked to the Vajpayee era. India today is truly shining as far as the economy is concerned, at a time when many nations of the world are finding it hard to scale up. 
Some may find it troubling that Vajpayee celebrated "Shining India" way back in 2004. But then, he lived the future!
Get Latest Business News, Stock Market Updates and Videos; Check your tax outgo through Income Tax Calculator and save money through our Personal Finance coverage. Check Business Breaking News Live on Zee Business Twitter and Facebook. Subscribe on YouTube.