Modi in Iran: It would be a shame for India to miss all the action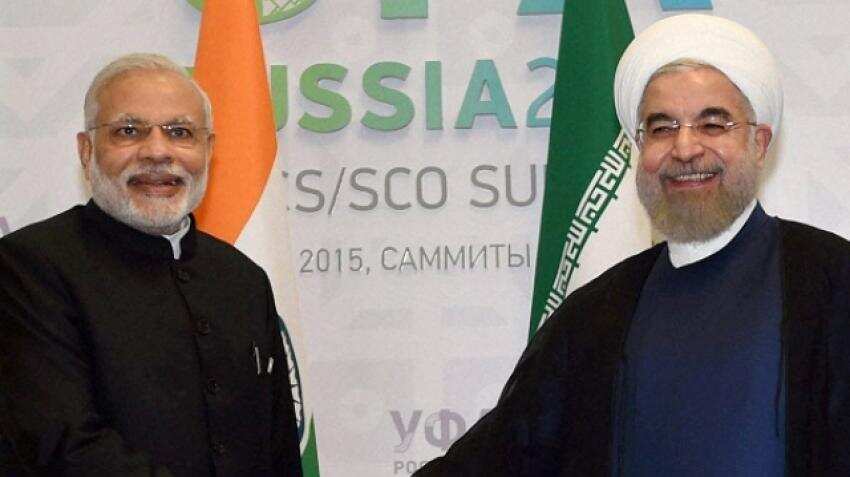 PM Narendra Modi is all set to embark on his first journey to Iran. Image Source: PTI
It was a V.I.P. ticket I had picked up for the over five-hour bus journey from Isfahan to Tehran, including small eats and unlimited water for below $10. The bus glided smoothly on impeccable roads for the 450km drive. Typically a Benz or Volvo, these buses are not fully packed, yet they are quite popular, leaving every few minutes.
Passengers appear to be slowly getting used to seeing alien faces in their midst. With typical Iranian politeness, they are all attention and helpfulness – you just have to ask.
It need not have been an experience with just this bus.  Five days earlier, I had had virtually the same experience on the flight from Tehran to Yazd, just as it had been a few days earlier, on another 325km–three-hour bus journey from Yazd to Isfahan.
If one phrase can sum up the current sentiment on the ground, it would be 'dignified resignation':  the lifting of nuclear-related sanctions has not led to a real flow of investments and funds into Iran, which has complied fully with its part of the bargain.  While the nuclear-related sanctions have been lifted, the United States' trade embargoes remain in place.  The world banking system, so deeply dependent on the United States, is fearful of the U.S. Treasury's sanctions enforcer – the Office of Foreign Assets Control—which has extracted an estimated $14 billion from banks by levelling allegations of trading—in violation of the sanctions–since 2009.
Even non-federal, state-level banking regulators have flexed their muscles: New York State's Department of Financial Services extracted a civil penalty of $340 million from Standard Chartered Bank for allegedly transacting an estimated $250 billion with Iran,using the American banking system. That year, The Economist would go on to cite similar 'settlement' extractions as evidence of its charge that the U.S. legal system is an "extortion racket".
In the U.K., Bank Mellat, an Iranian bank whose assets had been frozen by Her Majesty's Treasury, fought a long and hard battle all the way to the Supreme Court, which ruled resoundingly in favour of the bank, holding that the freeze was illegal and wrongful. Legal proceedings over the bank's consequent claim for damages are now underway.
With foreign banks fearful of U.S. regulators, and Iranian banks still being hassled outside Iran, access to finance—the lifeblood of economic growth—remains stymied.  Large deals announced by global corporates, including U.S. and British interests since the lifting of the nuclear sanctions, remain on paper.
It is against this backdrop that Prime Minister Narendra Modi is visiting a republic proud of its ancient history.  Iran ranks 118th in the World Bank's "Ease of Doing Business" survey of 2015 – ahead of India's ranking of 130. While the bus network connecting Iran's cities and towns is very popular, perhaps mindfully not wanting to become too dependent on its domestic oil production, Iran is investing heavily in railways.  Its internal 10,000-km long rail network is planned to double in length over the next 10 years. In February 2016, a train link was established by Tehran with China, with a train that actually traversed 10,500 km from eastern China—through Kazakhstan, Kyrghystan, Uzbekistan, and Turkmenistan—before pulling into Tehran at the end of a 14-day journey. China's state-owned banks are opening up their purse strings to enable Chinese firms to trade with Iran and reap the benefits.
Modi would need to step up India's competitive pace in tapping the legacy of a deep strategic relationship with Tehran.  Indian contractors would stand to gain from helping Iran build its intended rail network.
Iran is investing in bolstering her institutions in the financial sector.  The overhang of historical antipathy over Iran's financial sector from the United States and the U.K. presents an opportunity for India to move in:  India could help Iran strengthen her regulatory and self-regulatory agencies in the securities markets and the banking sector. Being part of the global Financial Action Task Force, a legacy of the antipathy towards Iran could occupy India's financial sector regulatory thinking unless a clear sovereign choice is expressed by the leader of the Indian republic.
There are "softer" avenues too, to build up serious business interests for the two nations.  Bollywood's soft power captivates Iranians as much as it does them and others elsewhere in the world:  the quality of Iranian cinema is world-class.
The sentiment on the ground in cafes and bazaars is not yet one of emotional unrest.  The mood reflects disappointment at the pace of progress since compliance with the nuclear deal, but Iranians are mindful that Rome was not built in a day.  Both Iran and the United States have their internal constituencies that cannot easily move on from the past.  They have to be politically catered to in order that, for example, Boeing may deliver aircraft to Iran. But India has no such baggage and, therefore, strategic thinking in collaborating with Iran is key.  France, Germany, and even South Korea have made big splash inroads and it would be a shame for India to miss the action. Modi would do well to explore re-opening the visa-on-arrival benefit the two countries shared before each of the proud republics did away with it in what looks like a petty squabble.
Keeping me company on the trip within Iran was the book Patriot of Persia by Christophe Bellaigue, an amazingly objective account of the political life of Muhammad Mossadegh, the non-republican, politically-elected leader of Iran's parliament in the late 1940s. It is a great read of history, particularly after reading Going to Tehran —and a blog by the same name–by authors Flynt and Hillary Mann Leverett.  Even today, Mossadegh inspires as much "what if" speculation about how Iran would have been under him as we have speculation as to how India would have been under Sardar Patel. Mossadegh's ouster by hoodlums hired by British and US intelligence operatives, and his own weak handling of the situation by espousing libertarian values when his government was being burnt by anarchists, led to his downfall although the Iranian army had, in fact, initially overcome the coup.
Modi, himself a nationalistic and patriotic Indian who invokes Sardar Patel, is no Mossadegh when it comes to protecting his interests. He would do well to firmly drive India's strategic interests for the mutual benefit of both India and Iran.
This article was originally published by Gateway House. To see the original piece, click here. 
Get Latest Business News, Stock Market Updates and Videos; Check your tax outgo through Income Tax Calculator and save money through our Personal Finance coverage. Check Business Breaking News Live on Zee Business Twitter and Facebook. Subscribe on YouTube.
Written By:
Gateway House
Updated: Sun, May 22, 2016
10:56 am
Mumbai, ZeeBiz WebDesk