IGNOU Date Sheet June 2022 released: Check exam timings
The exam will be conducted in two shifts. While the first shift will start at 10 am and end at 1 PM, the second shift will be held from 2 pm to 5 pm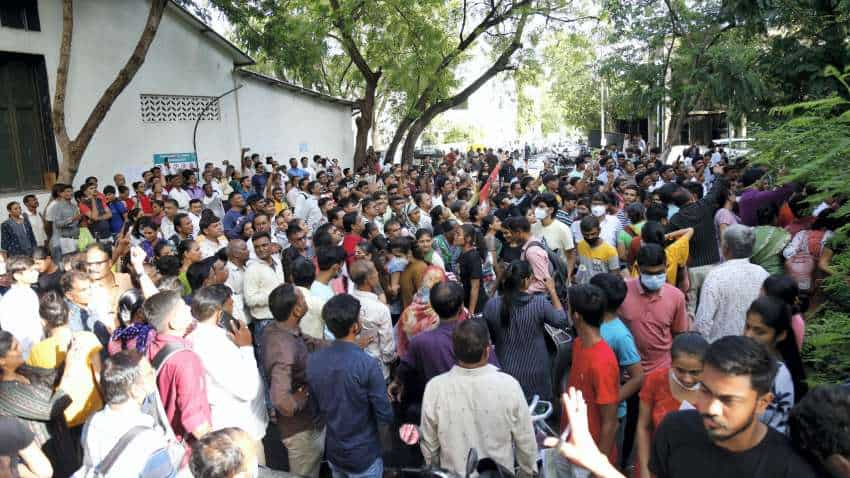 The exams will start on July 22 and conclude on September 5. (Photo credit: PTI)
IGNOU date sheet 2022 June session: The Indira Gandhi National Open University (IGNOU) has released the IGNOU Date Sheet June 2022 for the term-end exam at its official website www.ignou.ac.in.
The exams will start on July 22 and conclude on September 5.  
The exam will be conducted in two shifts. While the first shift will start at 10 am and end at 1 PM, the second shift will be held from 2 pm to 5 pm.  
Hall Tickets for the eligible students will be available on the university website soon. 
Students may note that there can be a possibility of a last-minute change of examination Centre due to the Covid-19 situation or any other reason. In such a condition, the university has said that it will take appropriate remedial measures. Candidates are suggested to remain in touch with their respective regional centers for updates.
IGNOU date sheet 2022 June session
| | | |
| --- | --- | --- |
| DATE & DAY | MORNING( 10;00 AM TO 1;00 PM) | EVENING (2;00 PM TO 5;00 PM) |
| 22/07/2022 FRI  | MAW001/ DECE01/ BNS041/ BPYC131/ BSOE144/  | MTT033/ MMPC014/ MIO005/ BECE002/ BHIC134/ |
| 23/07/2022 SAT | ECO08/ BCOE108/ MFP04/ DECE02/ BNS042/ MAW002/ BMTE141 / BMTC131/ | CHE06/ BPY012/ MTT031/ BSOC134/ BHDE141/ |
| 25/07/2022 MON  | ECO09/ MAW003/ DECE03/ MS495/ BESC131  | MTT032/ BEGC134/ BHDE143/ |
| 26/07/2022 TUE | MAW004/ BGDG172/ BEGG172/ BPAG172/ BPCG172 / BPYG172/ | BPSE212/ BPAG174/ BEGG174/ BPCG174/  |
| 27/07/2022 WED  | MER004/ TS06/ MTE08/ BECC132/ BEGG171 | CHE04/ ESO14/ MMPC007/ MIO002/ BPAG173/ BPCG173/ BHDG173/ BSOG173/ BEGG173/ |
| 28/07/2022 THU  | FST01/ BMTC132/ BPAS186/ BPCS188/ BEGS186/ BCOS186/  | MMPC013/ MIO004/ BPAC134/ BESC132 |
| 29/07/2022 FRI  | MCO01/ MHD07/ MPSE03/ MSOE03/ MEC007/ MLIE101/ MGPE009/ MFN007/ MSWE010/ MES101/ MES111/ MES131/ MES041/ MAE001/ MWG007/ MWG010/ MTT016/ MJM026/ MS07/ MED007/ MLI007/ MSEI023/ MIP107/ MEVE002/ MEDS005/ BCS051/ MPYE006/ MWR002/ RBC005/ RGGE103/ AED01/ BEG006/ BES017/ BFEE103/ BHC015/ BHME103/ BNS031/ BNS115/ BPOI005/ BPOI105/BWEE004/ DCE05/ CIT002/ MGY001/ MIR012/ MSW031 / MVE004/ BNRI104/ BPVI034/ BRL010/ES344/ BPVI044/ BPVI023/ BHIC131/ BCOC133/ BGYCT133/ BTMC134/ BECC104/ BHIC103/ BPSC103/ BECE146/ | MEG07/ MPCE011/ MPCE021/ MPCE031/ MPA007/ MPA017/ MANE002/ MRDE101/ MCFT007/ MSW014/ MDE416/ MTM07/ MTTM07/ MEVE14/ MDV105/ MGSE002/ MMT006/ MSTE002/ MSD017/ MBP007/ MCS22/ RANE102/RPCE105/ AEC01/ BAB102/ / BSW042/ BSWE001/ MEV025/ TS07/ BSMA002/ OSEI044/ BSSI015/BHT006/ ECO07/ BES142 / BPAC107/ BSOC107/ BANC108/ BBCCT115/ BEGC108/ BHDC108/ BPSC133/ BGYCT137/ BSOE142/  |
| 30/07/2022 SAT  | MED002/ MPYE015/ MS23/ MS43/ MS53/ MS63/ MS494/ MFP05/ MES046/ MEDSE015/ MHA013/ ACC01/ BWEF002/ BPVI028/ BPVI038/ MDC001/  | MCS043/ TS01/ MVP004/ MCS214/ BLIE228/ ECO03/ PHE14/ MNM011/ BTH001/ MER008 / BSM012 / MRW001/ BHDAE182/ BEGAE182/ BPSE146 |
| 01/08/2022 MON | MPSE013 / MSWE003/ MPYE014/ MS22/ MS42/ MS52/ MS62/ MS425/ MES045/ MHA010/ MCO021/ BNS106/ BPY007/ BWEE012/ BESE046/ CHE05/ CNCC01/ BAPI007/ BLI011/ BPSC131/ BGYCT131/ BCOE144/ BGGET141/ | MEG16/ MTTM115/MTTM15/MTM15/ MMTE007/ MEDS044/ MCS042/ MCS213/ MCFT006/ APM01/ BBHF/ BHDF101/ BPVI006/ BPVI015/ BLIE226/ BMAF001/ BSKF001/ FAS01/ FBG01/ FEG02/ FGT01/ FKD01/ FML01/ FMT01/ FOR01/ FPB01/ FTG01/ FTM01/ FUD01/ BSM008/ BSOC108/ BANC110/ BEGC109/ BBCCT117/ BHDC109/ BPCC134/ BPSE141/ |
| 02/08/2022 TUE  | MS26/ MS46/ MS56/ MS66/ MGPE08/ MHA019/ BLII012/ ATR01/ JMC02/MSK006/BWA001/ MDC002/ BPAC131/ BZYCT131/ BGYET141/ BTMG171/ BPAE141/  | MCSE003/ MSW010/ MCS220/ CHE10/ BSW122/ BPC002/ BSM010/ MNM012/ BCOC135/ BPCC107/ BPAC108/ BSOC109/ BEGC110/ BHDC110/ BMTC133/ |
| 03/08/2022 WED  | MPYE016/ MS24/ MS44/ MS54/ MS64/ MED008/ MES047/ MHA014/ BNS107/ BPYE002/ MTE12/ BLII013/ BHMCT103/ BHDC102/ BEGC102/ BBCCT103/ BSOC132/ BGGET142/ BSOE146 / | MCS051/ TS02/ MCS215/ BLIE229/ LSE05/ BPVI007/ BPVI016/BSMA003/ EPS11/BSW124/ BANC133/ BCOC136/ BCHCT135/ BTMC135/ BECC106/ BHIC107/ BPSC109/ BPCC108/  |
| 04/08/2022 THU | MGP004/ MS29/ MS422/ MS58/ MS611/ MFP01/ MES048/ MTE06/ MPYE007/MER001/ MSK004/ MDC003/ BLII014/ BANC101/ BECC101/ BHIC101/ BPSC101/ BPCC101/ BEGC101/ BHDC101/ BHIE145/  | MCS052/ TS03/ MCS218/ BSW123/ ECO14/ LSE09/ LSE12/ MMPC004/ MNM013/ BSM014 / BECC133/ BCOLA138/ BGGCT133/ BTMC136/ BPAC109/ BSOC110/ BBCS183/ |
| 05/08/2022 FRI  | MPSE012/MEDSE046/ MSWE007/ MPYE013/ MS21/ MS41/ MS51/ MS61/ MS424/ MFP03/ MEDS011/ MHA009/ MES034/ BFLI001/ BWEE008/ DNHE03/ MME005/ BNRI107/ BPVI037/ CTE04/ CTE05/ BESE066/ CTE104/ CTE105/ BPVI027/ BPHE106/ PHE06/ SSB003/ BPHCT131/ BHIC104/ BPSC104/ BPCC103/ BPAC103/ BSOC103/ BEGC104/ BBYET141/ BPCG176/ | MEG15/ MTM14/ MTTM14/ MGSE020/ MMTE006/ MCS041/ MCS212/ MMPC003/ Group-2(EHD02/BHDE108/BEGE102/ /EHI02 / BPAE102/ ERD01/ BRDE101/ MTE02/ BPY003/ BULE002/ BPC004/ )/ BSM013 / BSWE003/ BHY001/ MVP003/ MEVE13/ BSW125/ BLI222/ BHDLA137/ BEGLA137/ BBCCT111/ BSOE148/  |
| 06/08/2022 SAT | MS25/ MS45/ MS55/ MS65/ MGPE007/ MHA018/ MDC004/ BNS108/ JMC01/ MTE10/ BPCE011/ BPCE013/ BPCE018/ BPCE019/ BPCE021/ BPCC104/ BPAC104/ BSOC104/ BSKC131/ BTMG172/ BMTE144/ | MCS053/ MCS219/ BPVI008/ BPVI017/ BPY008/ PHE10/ TS04/ ECO02/ BSM009/ MNM014/ BBCCT119/ BCOC137/BGYCT135/ BHIC108/ BSOC133/ BHDE144/ BLI223/ |
| 08/08/2022 | MCO03/ MHD09/ MHD13/ MHD17/ MHD21/ MPSE04/ MSOE04/ MEC008/ MEC108 / MLIE102/ MGPE014/ MFN008/ MSW032 MES102/ MAE002/ MPY002/ MTT017/ MJM027/ MS08/ MSEI025/ MIP108/ MEVE003/ BCS052/ MES112/ MES132/ MES042/ MEDS006/ BJM002/ BLE002/ BLE012/ BLE032/ BLE036/ BAL002/ BAQ002/ BEDS002/ BEE002/ BES008/ BFE102/ BFLI002/ BHC012/ BHM102/ BHT002/ BHT012/ BHT017/ BJLI002/ BNS012/ BNS101/BNS201/ BPOI007/ BPR002/ CPI102/ DCE02/ DTG002/ MACP001/ MACP002/ MAM002/ MCMM002/ MCMM102/ CIT003/ MIR022/ MNR002/ MTT002/ OEE002/ OEY002/ OLPI001/ BAPI003/ MTT005/ CDM02/ OAPI011/ OVA001/ ES345/ NES102/ BLPI003/ MVEI013/ BCOA001/ BHDLA136/ BEGLA136/ BSOG176 / BPHET141 | MEG08/ MPCE012 / MPCE022/ MPCE032/ MPA018/ MANE003/ MRDE002/ MCFTE001/ MCFTE002/ MCFTE003/ MSW015/ MDE417/ MTM08/ MTTM08/ MEVE15/ MDV108/ MGSE003/ MMT008/ MCS023/ Group-4 /( EHD06/BHDE106/BEGE105/EPS07/EHI04/ EEC14/ BECE214/ EPA04/ BPAE104/ MTE09/ BPY006/ BSWE06/ BULE004/)/ BGL002/ BHY002/ BLI221/ BPEL011/ DHHM02/ MEV022/ BKL002/ BSW041/ OUL003/ ONR003/ BHT007/ ORUL002/ BSM004/ BES143/ BSW126/ BPHCT137/ BPAC133// |
| 10/08/2022 WED  | MCO04/ MPSE05/ MEC109/ MLIE103/ MGP005/ MFN009/ MSW007/ MES103/ MES113/ MES043/ MES133/ MAE003/ MTT018/ MJM028/ MS09/ MSEI026/ MEVE004/ MHD10/ MHD14/ MHD18/ MHD22/ MEDS008/ BCS053/ MHA004/ MWR003/ CTE02/ CTE102/ BNRI105/ BPVI035/ BPC005/ BRL012/ MVEI014/ PHE07/ ES334/ BPVI045/ BPVI024/ BAPI006/ BPCC131/ BCOC134/ BGGCT131/ BTMS185/ BPCE145/ | MEG09/ MHI08/ MPCE013/ MPCE023/ MPCE033/ MANE004/ MRDE003/ MPA006/ MPA016/ MSW016/ MDE419/ MTM09/ MTTM09/ MEVE16/ MDV110/ MGSE004/ MMT009/ MCS24/ MMPC001/ ACS01/ BES144/ RPCE106/ MNM015/ MRW002/ RSOE005/ BPSE144/ BBCCT109/ BZYCT137/ BSKC134/ BLI224/  |
| 12/08/2022 FRI  | MCO05/ MPSE06/ MECE001/ MLIE104/ MGPE012/ MFN010/ MSW008/ MES104/ MES114/ MES134/ MES044/ MPYE008/ MTT019/ MJM029/ MS10/ MED004/ MSEI027/ MHD11/ MHD15/ MHD19/ MHD23/ BCS054/ BLE003/ BLE013/ BLE033/ BLE037/ BAQ003/ BEE003/ BEG004/ BES009/ BFEE101/ BFLI003/ BHC013/ BHME101/ BJLI003/ BNS013/ BPR003/ CDM01/ CPI103/ DCE03/ DTG003/ MACP003/ MACP004/ MAM003/ MCMM003/ MCMM103/ MIR023/ MNRE015/ MTT003/ OEY003/ OLPI002/ OVA002/ NES103/ OAPI012/ BRL013/ ES335/ BLP004/ MVE005/ BPHE104/ PHE04/ PHE05/ BHIC132/ BZYET143/ BPAE144/ | MEG10/ MANE005/ MRDE004/ MTM10/ MTTM10/ MEVE17/ MDV111/ MGSE006/ MMTE001/ MVP001/ MCS031/MHI09/ MCS224/ BHY003/ Group-3 ( EHD3/ BEGE103/ BEGE108/ EHI03/ EEC10/ EEC13/ EPS03/ EPS08/ EPA03/ ESO13/ MTE07/ BPY005/ BSWE05/ BULE03/ BPC06)/ BES126/ BEDS003/ BGL003/ BPEL012/ DHHM03/ MEV023/ MHY042/ BPVI001/ BPVI018/ BUDC134/ BHIE142/ |
| 13/08/2022 SAT  | MCO06/ MECE003/ MLIE105/ MGPE015/ MPSE007/ MSO002/ MSW009/ MAE004/ MPYE009/ MTT020/ MJM030/ MS11/ MHD12/ MHD16/ MHD20/ MHD24/ MES115/ BCS055/ AMT01/ BPVI025/ CFN01/ CNCC02/ SSB001/ MDC005/ MJY001/ BPAC132/ BPAE142/ | MEG11/ MTM11/ MTTM11/ MDV115/ MGSE007/ MMTE002/ MEVE18/ MCS032/MHI10/ BES127/ CTE03/ CTE103/ BES145/ MMPC008/ BSMA005 / BANS184/ BECS184/ BPAS184/ BPCS186/ BSOS184/ BHDS184)/ BPCS184/ BCOS184/ BBCS185/  |
| 16/08/2022 TUE | MCO07/ MPSE008/ MECE004/ MLIE106/ MGPE016/ MSW017/ MPYE010/ MTT021/ MJM031/ MS91/ BCS062/ MES031/ CHE09/ BES010/ ECO06/ECO13/ EPS12/ CFN02/ MDCE006/ BEVAE181/ BHIE144/ | MEG12/ MEVE19/ MEDS041/ MGSE009/ MMTE003/ MCS033/ MMPC002/ MCS225/ BSW127/ AWRE01/ BEGA102/ BRPA101/ BEDS005/ MVPI001/ BES128/ BPSC134/ BEGE145/ |
| 17/08/2022 WED  | MPSE009/ MGPE006/ MWG008/ MWG011/ MSWE001/ MPYE011/ MS95/ MEDS009/ MHA006/ MES032/ AOM01 /PCO1/BNRI106/ BPVI036/ MAM004/ MNRE016/ BRL007/ ES361/ ES362/ES363/ ES364/ BPV046/ BPVI026/ MVE006/ BES012/ BPY004/ CFN03/ SSB002/ MJY002/ MVA020/ BPSC132/ BANC104/ BSOS185/ BEGS185/ BCOS185/ BCHCT133// BPCS187/ | MEG13/ MTM12/ MTTM12/ MEDS042/ MGSE010/ MMTE004/ MCS034/ ANC01/ MEVE11/ BES129/ MMPC009/ BTMC137/ BECC110/ BHIC109/ BPAC110/ BEGC133/ |
| 18/08/2022 TH | MPSE11/ MSWE002/ MPYE012/ MS92/ MS93/ MS94/ MS96/ MS97/ MEDS010/ MHA008/ MES033/ RPE001/ AMK01/ BES020/ BHME106/ BNS105/ BNS205/ BWEE007/ DNHE02/ LMT01/ MME004/ NES104/ BESE065/ BRL015/ BGL001/ BLE014/BFLI004/ OAPI013/ MVA023/ BHDC103/ BEGC103/ BBCCT105/ BANC102/ BEGC132/ BBYET143/ BEGE142 / | MEG14/ MTM13/ MTTM13/ MGSE013/ MMTE005/ MEDS043/ MCS035/ MRD101/ MCS211/ AOR01/ BEGF101/ BLI225/ BPVI005/ BPVI014/ FEG01/ FHD02/ BSM007/ MVP002/ MEVE12/ BESE131/ BESE132/ BESE135/ BHIC133/ BPHCT135/ BTMC138/ BECC109/ BHDE142/  |
| 20/08/2022 SAT  | MS27/ MS57/ MS68/ MGPE010/ AST01/ JMC03/ MER002/ BNS109/ BWA002/ BRL011/ MJY003/ BSOC131/ BBYCT133/ BHDC104/ BSOE141/ | MCSE004/ MCS221/ MMPC005/ MTE04/ MTE05/ / BSW121/ MEV19 / BHDC133/ BSKC101 / BGYET147/ |
| 22/08/2022 MON | MS28/ MS423/ MS612/ MFP02/ MGPE011/ MHA020/ BPHE101/ BPHE102/ ECO01/ JMC04/ PHE01/ PHE02/ MSK007/ BWA003/ BPCC132/ BCHET147/ BCHET141/ BPCE146/ | MCSE011/ MTE14/ MTE03/ MCS226/ MEV18/ TS05/ BHDLA138/ BEGLA138/ |
| 23/08/2022 TUE | MGPE013/ BNS110/ LSE10/LSE13/ MJY004/ BHDC132/ BPHET143/ BPSE143/ BBCCT107/  | Group-1( EHD01/BGSE001/BHDE101/EHD05/BEGE101/ EHI01/ BHIE107/ EHI07/ EEC11/EPA01/ /MTE01/BPY001/ BULE001/ BSWE04/ BPC001/) / MCS014/ BSM011/ MMPC010/ MEV17/ BUDC133/ BSKC133/  |
| 24/08/2022 WED | ESO12/ MER003/ MPS003/ MSK008/ BWA004/ LSE01/ BGGCT132/ BUDC132/ BZYET141/ BPSE145/ | PHE13/ ECO10/ MGS043/ MMPC006/ MCS227/ BPYC133/ BSKC132/ BUDE142/ BSKE142/ |
| 25/08/2022 THU | PHE16/ BNS111/ BEGC131/ BPHCT133/ BEGE141/ | MCS21/ BPY002/ MSW011/ BSMA004/ BPY010/ MIO001/ MUD001/ RGY101/ BESC133/ BSKC102 / BPSC107/ BUDE141/ BSKE141/ |
| 26/08/2022 FRI | MHD01/ MPSE01/ MSOE01/ MEC105/ MEC205/ MLII103/ MFN005/ MSW004 / MES015/ MPYE004/ MWG005/ MTT014/ MJM024/ MS05/ MED005/ MLI005/ MES008/ MSEI021/ MIP105/ MEV005/ BCS041/ IBO5/ LSE03/ BAPI004/ MWR001/ RBC003/ RGGE102/ BJM001/ BLE001/ BLE011/ BLE031/ BLE035/ BAL001/ BAQ001/ BEDS001/ BEE001/ BES002/ BFE101/ / BHC011/ BHM101/ BHT001/ BHT011/ BHT016/ BJLI001/ BNS011/ BNS040/ BNS117/ BPOI006/ BPR001/ CLT101/ CPI101/ DCE01/ DTG001/ MAM001/ MCMM001/ MIR021/ MNR001/ MTT001/ MVE003/ OEE001/ OEY001/ BNRI103/ BPVI033/ OLP001/ MCMM101/ NES101/ ODN001/ OMU001/ OMU005/OTH001/ BRL003/ ES342/ BPVI043/ BLPI002/ BPVI022/ MVEI012/ MME303/ BECC131/ BCHCT131/BTMC133/ BECC103/ BHIC102/ BPSC102/ BPCC102/ BPAC102/ BSOC102/ BCOG172/ BECE145/  | MEG05/ MHI03/ MPC005/ MPA005/ MPA015/ MANI003/ RDD06/ MCFT005/ MSW013/ MDE418/ MDE518/ MTM05/MTTM05/ MEV15/ MDV106/ MGS005/ MMT007/ MST005/ MLE015/ MSD015/ MBP005/ MCS015/MCS207/ Group-5( BHDE107/EEG06/ BEGE106/EPS15/ EHI05/ BECE15/ EPA05/ ESO15/ MTE11/ BPY009/ BULE005/ BECE016/ BPCE14/ BPCE15/ BPCE17/)/ RES104/ MEV021/ BKL001/ DHHM01/ BPVI004/ BPVI013/ OSE043/ BSM006/ BES125/ BANC107/ / BEGC107/ BHDC107/ BZYCT135/ BSOE145/ BESC134/ |
| 27/08/2022 SAT  | MHD01/ MPSE01/ MSOE01/ MEC105/ MEC205/ MLII103/ MFN005/ MSW004 / MES015/ MPYE004/ MWG005/ MTT014/ MJM024/ MS05/ MED005/ MLI005/ MES008/ MSEI021/ MIP105/ MEV005/ BCS041/ IBO5/ LSE03/ BAPI004/ MWR001/ RBC003/ RGGE102/ BJM001/ BLE001/ BLE011/ BLE031/ BLE035/ BAL001/ BAQ001/ BEDS001/ BEE001/ BES002/ BFE101/ / BHC011/ BHM101/ BHT001/ BHT011/ BHT016/ BJLI001/ BNS011/ BNS040/ BNS117/ BPOI006/ BPR001/ CLT101/ CPI101/ DCE01/ DTG001/ MAM001/ MCMM001/ MIR021/ MNR001/ MTT001/ MVE003/ OEE001/ OEY001/ BNRI103/ BPVI033/ OLP001/ MCMM101/ NES101/ ODN001/ OMU001/ OMU005/OTH001/ BRL003/ ES342/ BPVI043/ BLPI002/ BPVI022/ MVEI012/ MME303/ BECC131/ BCHCT131/BTMC133/ BECC103/ BHIC102/ BPSC102/ BPCC102/ BP | MEG05/ MHI03/ MPC005/ MPA005/ MPA015/ MANI003/ RDD06/ MCFT005/ MSW013/ MDE418/ MDE518/ MTM05/MTTM05/ MEV15/ MDV106/ MGS005/ MMT007/ MST005/ MLE015/ MSD015/ MBP005/ MCS015/MCS207/ Group-5( BHDE107/EEG06/ BEGE106/EPS15/ EHI05/ BECE15/ EPA05/ ESO15/ MTE11/ BPY009/ BULE005/ BECE016/ BPCE14/ BPCE15/ BPCE17/)/ RES104/ MEV021/ BKL001/ DHHM01/ BPVI004/ BPVI013/ OSE043/ BSM006/ BES125/ BANC107/ / BEGC107/ BHDC107/ BZYCT135/ BSOE145/ BESC134/ |
| 29/08/2022 MON  | MHD03/MPS02/ MEC002/ MLII101/ MGP002/ MFN002/ MSW002/ MES012/ MAE005/MPYE001/ MFC002/ MWG002/ MTT011/ MJM002/ MJM021/ MS02/ PGDT02/ MLI002/ MES005/ MES082/ MIP102/ MEV002/ MEDS002/ BCS012/ IBO2/ / BAP002/ RLE005/ BPOI003/ BPOI103/ BRL001/ ES332/ BGP2/BCS091/BYG002/ BFDI072/ AFWE01/ BHDA101/ BLIE227/ BANC132/ BANE146/ | MEG02/ MSK02/ MHI02/ MPC002/ MPA002/ MPA012/ MANI002/ MRD102/ MCFT002/ MDE412/ MTM02/MTTM02/ MEV12/ MDV102/ MGS002/ MMT002/ MST002/ MCH002/ MPC052/ MEDS052/ MLE012/ MSD012/ MBP002 / MCS012/ MCS202/ MER005 / MUD003/ RGY102/ BSM001/ BEV002/ MME011/ MIS22/ CNS-AH002/ MGS042/ LSE06/ BES122/ BHIE143/ BLIE227/ BANC105/ BECC105/ BEGC105/ BHDC105/ BPAC105/ BSOC105/ BPCC105/ BCOC138/ BCHCT137 |
| 30/08/2022 TUE | PHE11/ BEGLA135/ BHDLA135/ BSKLA135/ BUDLA135/ BMYLA135/ BODLA135/ BGULA135/ BPBLA135/ BPAE143/ BLIE227/ | ECO11/ MIO003/ MMPC012/ BHDC134/ BLIE227/ MUD004/  |
| 01/09/2022 THU | MHD04/ MSO003/ MEC103/ MEC003/ MLI102/ MGP003/ MFN003/ MSW005/ MES013/ MAEE001/ MESE061 / MPYE002/ MFC003/ MWG003/ MTT012/ MJM003/ MJM022/ MS03/ PGDT03/ MED003/MED009/ MLI003/ MES006/ MES083/ MIP103/ MEV003/ BCS031/ IBO3/ LSE02/ RBC002/RGG102/ RJM102/ BAPI001/ BES018/ BFEE104/ BHME104/ BNS032/ BNS103/ BNS203/ BPOI001/ BPOI101/ BWEE005/ MGY002/ MIR013/ MVE002/ BFDI073/ BPVI042/ BLP001/ MME302/ BPVI021/ BNRI102/ BPVI032/ BRL008/ BSM005/ES333/ BGP3/ BCS092/ BLIE227/ BCOC131/ BCOE143/ BTMC131/ BBCCT101/ BPYC132/ BTME143/ BPCG175/ | MEG03/ MSK03/ MHI04/ MPC003/ MPA003/MPA013/MAN001/ MRD103/ MCFT003/ MDE413/MTM03/ MTTM03/ MEV13/ MDV103/ MGS003/ MMT004/ MST003/ MCH003/ MPC053/ MEDS053/ MLE013/ MSD013/ MBP003/ MCS013/ MCS203/ RES102/ RAN102/ RPC102/ RLI012/ Group-6 ( EHD04/BEGE104/ /BEGE107/EPS06/EPS09/EEC07/BECE107/ EHI06/EPA06/ESO16/ MTE13/ BPY011/ BULE006/)/ BAB103/ BPVI003/ BPVI012/ OULE002/ BSW043/ OSEI042/ BMS002/ BES123/ BLIE227/ RGYE112/ BECC108/ BHIC105/ BPSC105/ BPCC110/ BSOC106/ BBYCT135/ BPCC133/ BANC109/ |
| 02/09/2022 FRI | MHD05/ MPSE02 / MSOE02/ MEC006/ MEC106/ MLII104/ MFN006/ MSW006/ MES016/ MPYE005/ MTT015/ MJM025/ MS06 MED006/ MLI006/ MSEI022/ MIP106/ MEVE001/ BCS042/ IBO6/ MWG006/ MWG009/ MEDS003/ MHA001/ ASP01/ CTE01/ CTE101/ CIT001/ MTT004/ BES004/ CLT102/ CLT103/ CLT104/ ES343/ BCS094/ BRL004/ BAPI005/ BUDC131/ BEGE143/ BLIE227/ | MEG06/ MHI06/ MPC006/ MANE001/ RDD07/ MDE415/ MTM06/ MTTM06/ MEV16/ MDV109/ MGSE001/ MMT003/ MSTE001/ MLE016 MSD016/ MBP006/ MCS208/ MER007 / BSM003/ BSSI014/ CHE01/CHE02/ MIS24/ BES141/ BLIE227/ BANS183/ BEGS183/ BHDS183/ BPCS185// BPCS183/ BCOS183/ BBCCT113/ |
| 03/09/2022 SAT | MHD06/ MPS004/ MSO004/ MEC004/ MLII102/ MFN004 / MSW003/ MES014/ MAEE002/ MESE062/ MPYE003/ MFC004/ MWG004/ MTT013/ MJM023/ MS04/ PGDT04/ MLI004/ MES007/ MES084/ MIP104/ MEV004/ BCS040/ BYG001/ AHE01/ BAPI002/ BES019/ BHME105/ BNS104/ BNS204/ BPOI002/ BPOI102/ BWEE006/ DNHE01/ MGY003/ MIR014/ BJLI004/ OVA003/ BRL002/ES341/ BCS093/ MSE024/BFD074/ BES001/ IBO4/ BLIE227/ BSOC101/ BANC131/ BCOC132/ BBYCT131/ BTMC132/ BECC102/ BPAC101/ BCOE142/ BCHET149/ BTME144/ BANE145/  | MEG04/ MSK05/ MHI05/ MPC004/ MPA004/ MPA014/ MAN002/ MRD004/ MCFT004/ MSW012/ MDE414/ MTM04/MTTM04/ MEV14/ MDV004/ MGS004/ MMT005/ MST004/ MCH004/ MPC054/ MEDS054/ MLE014/ MSD014/ MBP004/ MCS206/ RES103/ RAN103/ RLI013/ BAB104/ BMS003/ ORU001/ OULE005/ BSW044/ BSWE002/ OUL002/ BSM002/ BSL002/ CHR12/ PHE15/ BEV003/ MME012/ ONR002/ BSSI013/ BPC003/ MIS23/ ECO05/BES124/ MER006 / BLIE227/ BHIC106/ / BPCC106/ BPAC106/ BANC106/ BEGC106/ BHDC106/ BANC134/ BGGCT135/ BHIE141 / |
| 05/09/2022 MON  | MHD02/ MPS01/MSO001/MEC101/ MEC001/ MLI101/ MGP001/ MFN001/ MSW001/ MES011/ MPY001/ MFC001/ MWG001/ MTT010/ MJM001/ MJM020/ MS01/ PGDT01/ MED001/ MLI001/MES004/ MES081/ / MIP101/ MEV001/ BCS011/ IBO1/ MEDS001/ BLE004/ BEDS004/ BEG005/ BES016/ BFEE102/ BHC014/ BHME102/ BNS014/ BNS102/ BNS202/ BPOI004/ BPOI104/ BPR005/ / DCE04/ DTG004/ MCMM004/ MCMM104/ MIR011/ MEV024/ MVE001/ /BNRI101/ BPVI031/ BAP001/ BRL006/ ES331/ BPVI041/MVEI011/ BFDI071/ MME301/ ECO12/BGP01/ BLIE227/ RBC001/RGG101/ LSE07/ BHMCT101/ BANC103/ BCOE141/ BTME141 /  | MEG01/ MSK01/ MHI01/ MPC001/MPA001/ MPA011/ MANI001/ MCFT001/ MDE411/ MTM01/MTTM01/ MEV11/ MDV101/ MGS001/ MMT001/ MST001/ MCH001/ MPC051/ MEDS051/ MLE011/ MSD011/ MBP001/ MCS011/MCS201/ / BAB101/ MHYI044/ BPVI002/ BPVI011/ CNSHC001/ OSEI041/ OULE001/ OUL001/ MIS21/ CNS-AH001/MGS041/ BMS001/ BSL001/ CHR11/ BSMA001/BEV001/ ONR001/ BPYE001/ BSHF101/ BSSI011/ BES121/ BLIE227/ RES101/ RAN101/ RPC101/ RLI011/ RSO101/ BHIC110/ BPSC110/ BPCC109/ BECC107/ / BECC134/ BBYCT137/ BPSE142/ |
Updated: Wed, Jul 20, 2022
01:15 pm
New Delhi, ZeeBiz WebDesk