Work from Home likely to revive demand: Anuj Jain, ED, Kansai Nerolac
Anuj Jain, ED, Kansai Nerolac, talks about Q4FY21 numbers, Demand situation, price hikes, the impact of shutting down by few auto companies to product launches among others during a candid chat with Zee Business Executive Editor Swati Khandelwal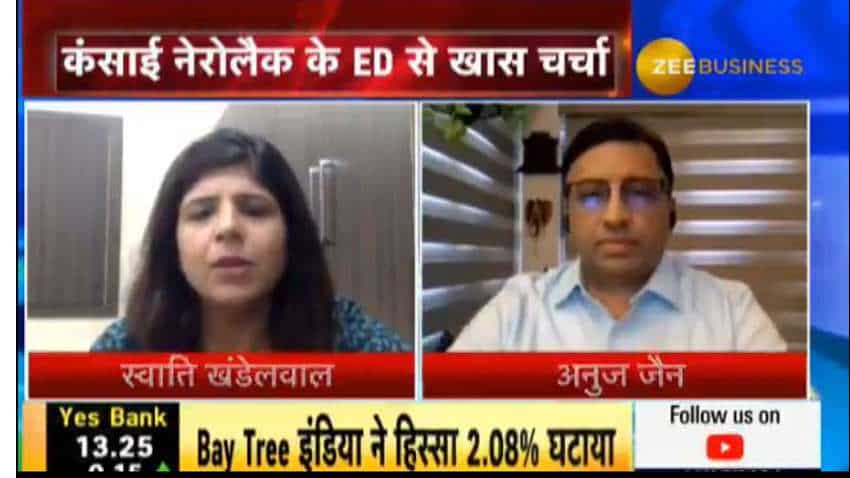 "There is a 34.7% growth in sales in the fourth quarter and EBITDA has grown to 69.2%. Last year, the lockdown started on 20 March, so there is a base effect there," Anuj Jain
Written By:
Jitesh Kumar Jha
Updated: Wed, May 12, 2021
02:18 pm
New Delhi, ZeeBiz WebDesk
Anuj Jain, ED, Kansai Nerolac, talks about Q4FY21 numbers, Demand situation, price hikes, the impact of shutting down by few auto companies to product launches among others during a candid chat with Zee Business Executive Editor Swati Khandelwal. Edited Excerpts:
Q: Your Q4FY21 numbers are good. How will you summarize the results of the quarter?
A: There is a 34.7% growth in sales in the fourth quarter and EBITDA has grown to 69.2%. Last year, the lockdown started on 20 March, so there is a base effect there. But if we will have a look at the sentiment and trend of the market then last year, when the lockdown started, the sales fell a lot in the first quarter but after that, it continued to increase in every quarter To an extent, those who postponed their painting earlier have decided to continue with painting due to which some improvement was seen in the second quarter, the third quarter was better than that and the fourth quarter improved a lot.
Unfortunately, when the second wave hit in April, as the number of cases went up, however, the numbers were doing well in the first 15-20 days of April and we were quite bullish about the business but a situation came creating a mini-lockdown. So, the business started reducing since April 20, 2021, otherwise, a good business was seen in the last three quarters of the last financial year. And, as, you have said that many people are living at homes, so, the interiors of the house are quite close to their heart and when they spend more time at home then they think about its renovation and beautifying it and paint is a good part to decorate the house. So, we are seeing a trend in which there is a change in behaviour of the customers as they are concentrating towards beautifying their houses by using paints. 
See Zee Business Live TV Streaming Below:
Q: You said that the demand turned subdued in the month of April and even in May the situation seems to same as there are lockdowns in many states. Is it having any impact on the business, if yes, what can be the quantum if the lockdown stays for an entire month?
A: It will be difficult to say anything about the impact that it will have on the business. But will be able to say anything if you will be able to say about by when this second wave will reduce. So, it is difficult to say now as most of the offices are shut, factories are operational but shops are closed, the selling centres are closed. Thus it is difficult to say anything but moving ahead with a positive hope that the normalcy may return by the second quarter. The way vaccine drive is going on if the normalcy returns then the business will return. But as of now, the business is not quite well. 
See Ful Interview Here:
Q: Have you taken any price hikes in the last quarter, if yes, what was the quantum? Also, tell us about your outlook on the price hike?
A: There is a quite inflationary trend and in the last quarter, we saw that the prices of the raw materials were increasing a lot. So in March we took a price hike in decorative and have also approached to the industrial customers because we have a different segment in industrial and we have taken price increase in some segments and in the auto segment, we have a discussion with our customers, which takes some time. But the way prices have increased, we have taken a price increase in March and April. Going ahead, we will have to take some price hike in the pipeline because the way the prices of raw materials have increased, it demands a price increase. 
Q: You have talked about the industrial and auto sector, where demand is low at present but the raw material prices are shooting up. Are you in talks with your customers to pass on this cost to the customers, if yes, what can be the quantum and have you had any decision on it?
A: As I said, discussions are going on. Basically, if you have a look at the last few months then there are multiple reasons like crude prices have gone up, prices for crude derivatives have also gone up, FOREX is volatile, the supply chain is affected due to some force measures and their issues related to availability. These are the reasons due to which the price has increased a lot. Three months ago, the situations were different and every month we have seen that the prices have moved up in a different manner. In automotive, it is very difficult to move to your customer again and again, if there is a price change every week, to talk about the price change. So, the situation is a bit difficult, due to which we have to wait. But inflation is quite high and I can inform you that we took a two to two-and-a-half per cent price increase in decorative in March. And the way the situation is going on, we are waiting for some time to see if there is any change in the force measure and demand reduces in the market, prices stabilize and comes down, then its impact may change. But we have taken a price increase of around two to two-and-a-half per cent and the rest of the price increase is on the card. 
Q: We were talking about the auto companies and of course, some companies have taken a shut down. Has it had any impact on the order pipeline that you have? Also, what trend is going on specifically in relation to the automotive business? 
A: Yes, because we are directly connected and if there are shutdowns at their end and their demand will go down then it will have an impact on our sales. I will just say and that is a positive hope, as when a similar situation arose last year then there was a very pessimistic view across corporate and sectors but when we moved out from the situation and maximum of corporate and industries were able to get out of it and recover. It was the first quarter due to which no one was able to even think. If you have a look at the last year, then the sale has reached near the last year. Following the kind of recovery that was seen, we are carrying a hopeful scenario that if the second wave is tamed at the earliest and normalcy returns from the second quarter then the demand that has been affected will be covered in the coming quarters. 
Q: Is there any change in the market share in any segments in the last quarter? Also, update us about the kind of products on which you are working? 
A: We have introduced many innovative trends, like in the current situation we have introduced digital trends in which we have launched an app for the customers in which they can choose the shades, the way walls will look and how your home will look after being painted. You can reach out to us directly through the call centre or the app. For our dealers, we have launched an App, named SAATHI, where the dealers can connect directly with the company and place orders there themselves, so, there is no physical touch. For our team, on the basis of machine learning, we have provided all the information to them. Similarly, we have also introduced an app for the painters. So, we are trying to connect our customers through digital trend.
On the product side, we have launched an innovative product Beauty Gold washable with proposition clean and safe. Because today, our positioning is Nerolac Colours that clear, which is basically paint plus, i.e. the paint that beautifies you also provide other benefits at the same time. The benefits are related to your safety and its functionality. So, we have introduced this product and many similar products are in pipeline and we have introduced a product, Suraksha Dust Resist. In today's situation, the functionality of the product, Paint, i.e. we focus on how it can provide functionality or safety along with beautifying your walls. Few products have been introduced and some are in pipeline. 
Get Latest Business News, Stock Market Updates and Videos; Check your tax outgo through Income Tax Calculator and save money through our Personal Finance coverage. Check Business Breaking News Live on Zee Business Twitter and Facebook. Subscribe on YouTube.