Will IndiGo gain from Jet Airways crisis? Detailed analysis and experts' take
Experts and analysts have been very optimistic on Indigo, for its good performance in passenger load factor, PAX, cash reserves, low debt, on-time performance and much more. In fact, Indigo was definitely seen as the real winner in Jet Airways debt crisis.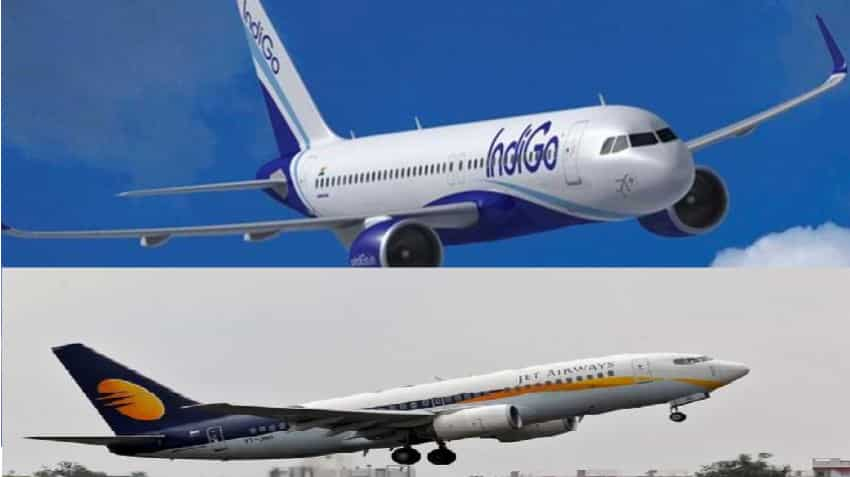 Experts and analysts have been very optimistic on Indigo, for its good performance in passenger load factor, PAX, cash reserves, low debt, on-time performance and much more. Photo: Reuters
When private carrier Jet Airways hit the bumpy runway, every attention was also shifted to another airline and this was none other than the leader Interglobe Aviation (Indigo). The fact that Jet Airways is at center-stage of aviation, gives a key to Indigo for increasing its presence in this industry. Experts and analysts have been very optimistic on Indigo, for its good performance in passenger load factor, PAX, cash reserves, low debt, on-time performance and much more. In fact, Indigo was definitely seen as the real winner in Jet Airways debt crisis, however, looks like a wild wind has also blown towards Indigo as well. The real problem is, Indigo has too many planes to take in air, but not enough pilots to fly. In past few weeks, Indigo has carried heavy cancellation of flights, and many have even reported that the airline will continue to do this practice by April 2019 end. This gives a breather to Jet Airways, as Indigo may not come hard on its market share, but pilot conundrum is surely a problem which needs quick recovery for Indigo. 
Let's understand how Indigo is better placed to win, when Jet Airways is in crises.
Crisis in Jet Airways is that, the airline does not have enough cash to survive, forget even paying its own debt. The airline has defaulted on loans taken from a consortium of banks led by largest lender State Bank of India (SBI). The airline had to cut down its manpower and pay scale for various employees since August 2018. Now lenders and Jet Airways board have decided on a resolution plan, where the former will convert debts into equities for a consideration price of Re 1 under RBI Act. This would mean, Jet's largest shareholder would be lenders and not Naresh Goyal and Etihad Airways which hold about 51% and 24% stake respectively. 
The resolution will be discussed among Jet Airways promoters, Etihad directors and consortium of lenders on February 21. Hence, it would be keenly watched who will be the new owner of Jet Airways, or will Goyal infuse some cash or will Etihad decide to buy more stakes. All are questions which need some answers for the future of Jet Airways. 
In this ongoing process, experts have placed Indigo in clear gainer in aviation industry. 
Swarnendu Bhushan - Research analyst at Motilal Oswal said, "With a ~44% domestic market share, INDIGO is expected to grow its capacity by 30% in FY19. Competitors are also expected to follow suit at a higher pace because of scheduled aircraft deliveries. Rapid industry-wide capacity addition would heighten competitive intensity in the industry and put pressure on yields in the near term."
Gagan Dixit and Rachael Alva analysts at Elara Capital said, "We expect higher share of A321Neos on fleet addition for international routes during FY20 that bodes well for domestic market as industry's supply addition would slow down."
The duo reiterated Buy rating with a TP of INR 1,471 on margins recovery from increase in airfares, drop in crude and reduction in capacity by Jet Airways. We maintain our FY21E EV/EBITDAR multiple at 8.0x, in line with global LCC peers.
In future fleets, Indigo is seen to benefit the most compared to peers.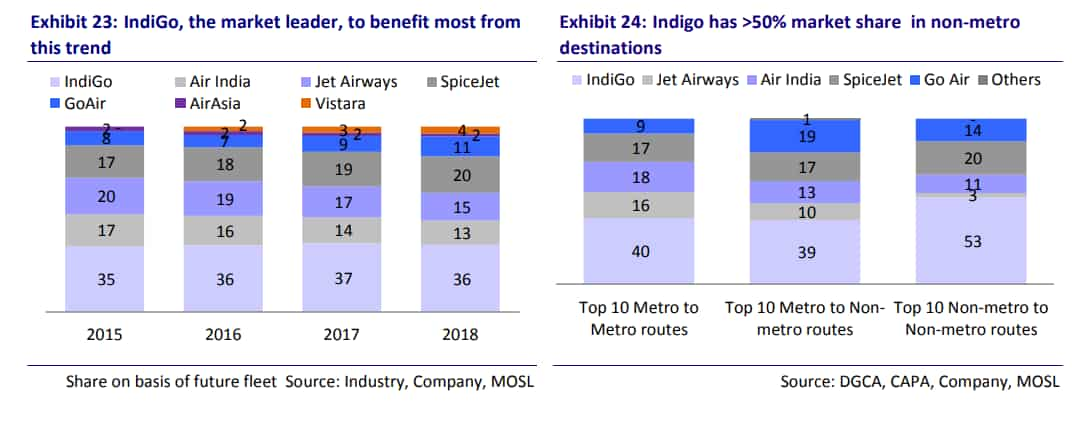 The low-cost carrier already has over 50% of market share in non-metro areas, which reflects the commendable performance of Indigo compared to Jet Airways, SpiceJet, GoAir and others. 
In Ambit Capitals' view, if Jet Airways and peers cut back on fleet/routes and market share - it will be a major boost for Indigo's stock. 
In longer term, Ambit says, "we expect high-teen passenger demand (partly driven by discounts) to continue in India and remain positive on Interglobe which is well-positioned to benefit from inability of peers to take its head-on over a longer period due to weaker balance sheets and higher cost structure. This gives us confidence in Indigo's ability to create opportunity in adversity."
Past six trend: Jet Airways vs Indigo
In past six months, Indigo and Jet Airways both have witnessed similar trends in their passenger load factor. However, the impact in Jet is much higher compared to Indigos.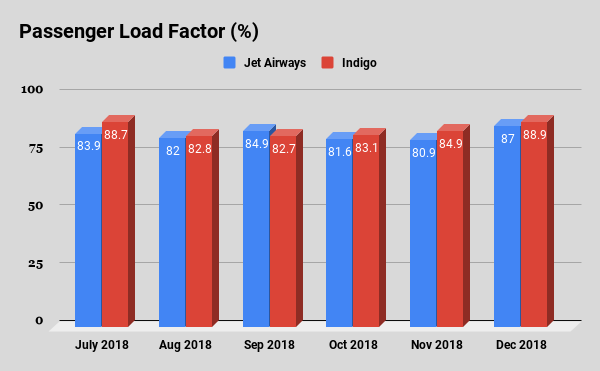 In case of on-time performance, Indigo has been better placed than Jet Airways.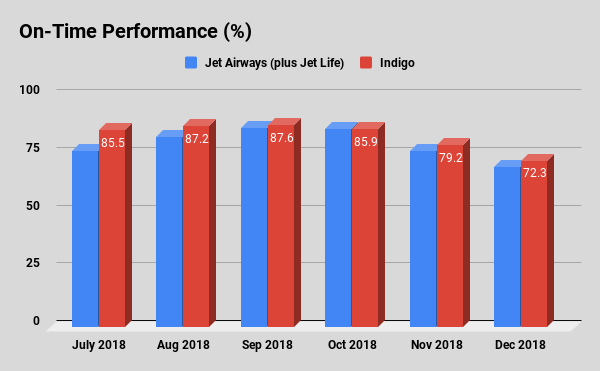 While Jet Airways market share slipped from 13.6% in July 2018, to 12.2% by end of December 2018. It was only in September 2018, where Jet saw rise of 14.2% in market share, since then has seen downward trend. In case of Indigo, the airline has stayed between 41% to over 43%. In Q3FY19, Indigo gained market share, while Jet lost few.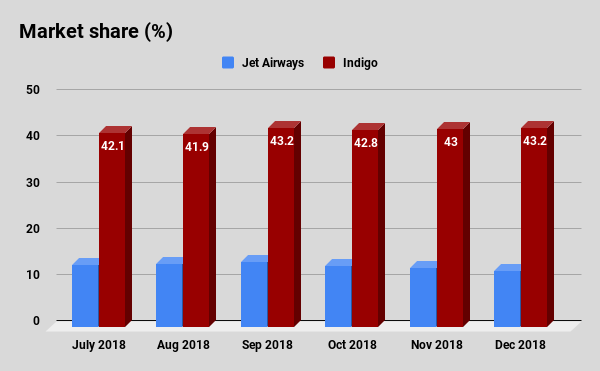 In terms of carrying passengers, Indigo has done a stellar performance by staying at 54.79% in December 2018 higher from 50.06% in November 2018. On the other hand, Jet has seen jump to 15.48% in December 2018 which was a gradual rise from 14.87% in November 2018.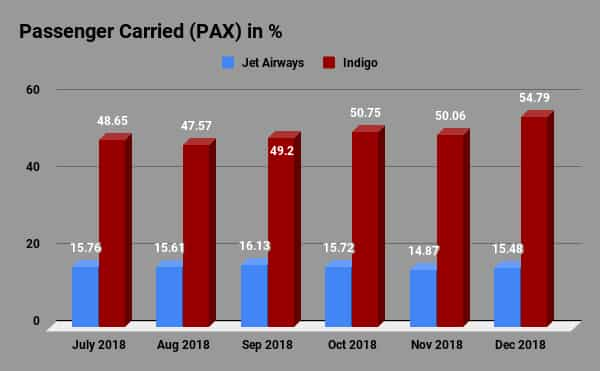 Jal Irani and Vijayant Gupta analysts at Edelweiss Securities said, "With international expansion taking off, we expect IndiGo to maintain 25% growth in FY20 despite a slowdown in domestic industry growth. As fuel costs decline while non fuel cost inflation remains benign due to operational efficiencies, we expect a 8.7x surge in earnings in FY20."
Well Indigo is seen good in long-term, but it has to suffer at the hands of new dilemma which is shortage of manpower. 
In last one and half months, Indigo has carried cancellation of some 1,200 flights due to several factors like heavy staff shortages, weather conditions in few areas like Delhi, Bengaluru, Indore, ongoing NOTAMS, Mumbai airport runway shutdown due to repair on alternate days and Bengaluru airport runway closure because of Aero India 2019. 
The major cause of concern for Indigo is now pilots shortage. Indigo has already stated that, they will cancel every day approx 30 flights up till March 2019. Cancellation process has begun from February 13. Indigo said, as stated earlier, the anticipated cancellations are 30 flights per day. The operations will be completely normalised by the start of the summer schedule from March 31. 
IndiGo's Chief Operating Officer (COO) Wolfgang Prock-Schauer stated that, the airline will induct 120 expats by June 2019 which will take the total number of expat pilots at IndiGo to 160. The current strength of the airline is about 3,100 including trainees, reported in LiveMint. 
At present, Indigo maintains a ratio of about 6.65% captains per aircraft, which Prock-Schauer reportedly believes is a good number. 
Over 1300 flights are daily operated by Indigo, on 52 domestic destinations and 15 international.
If Indigo continues to cancel flights, this would bring down its passenger load factor and on-time performance, PAX in short term. Hence, few marginal shifts most likely will be witnessed in market share. In past ten days, Indigo's share price has dropped by nearly 8%, due to manpower and flight cancellation issues. But in long-term is Indigo who gains! 
As on December 2018,  IndiGo had a total cash balance of Rs 14,136.1 crore comprising of Rs 4,618.3 crore of free cash and Rs 9,517.8 crore of restricted cash.Total debt was Rs 2,475.9 crore.The entire debt for IndiGo is aircraft related. Simply put, Indigo has way higher ability in repaying its debt and enough cash to more enhancement in operations ahead.
 
Get Latest Business News, Stock Market Updates and Videos; Check your tax outgo through Income Tax Calculator and save money through our Personal Finance coverage. Check Business Breaking News Live on Zee Business Twitter and Facebook. Subscribe on YouTube.
Updated: Tue, Feb 19, 2019
07:29 pm
Mumbai, ZeeBiz WebDesk