We will invite EoI for CONCOR after some time: Tuhin Kanta Pandey, Secretary, DIPAM
Tuhin Kanta Pandey, Secretary, Department of Investment and Public Asset Management (DIPAM), about EoI of Shipping Corporation of India, BEML, government's plans regarding disinvestment, OFS plans and divestment target during an exclusive interview with Swati Khandelwal, Zee Business.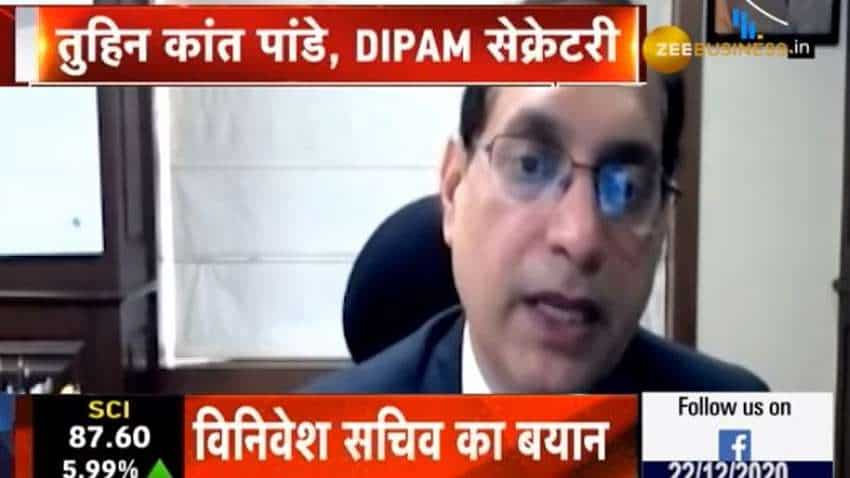 Check Edited Excerpts:
Written By:
Jitesh Kumar Jha
Updated: Thu, Dec 24, 2020
08:08 pm
ZeeBiz WebDesk
Tuhin Kanta Pandey, Secretary, Department of Investment and Public Asset Management (DIPAM), about EoI of Shipping Corporation of India, BEML, government's plans regarding disinvestment, OFS plans and divestment target during an exclusive interview with Swati Khandelwal, Zee Business. Edited Excerpts: 
Q: The dates for Expression of Interest (EoI) for divestment of the government's stakes in Shipping Corporation of India have been released. What kind of expectations do you have in this regard?
A: I hope that we will get a good response in this Expression of Interest, which is a global invite. 
Q: There are many aspects related to it like the way detailing has been prepared. Even the government promised several divestments at the beginning of the year. Update us on it? Also, do you expect that the divestment of Shipping Corporation will conclude this year itself or there is any possibility of any further push in it because COVID's environment is still there?
A: Those which are in the process of the divestment process, which is termed as strategic divestment in which we pass on the management and under it the process of privatization is also going on. Many of the transactions have been approved under it, such as a decision on the divestment of Air India was taken and we have received the Expression of Interest (EoI) in it and the process has moved forward. Similarly, we have also received the Expression of Interest (EoI) in the case of divestment of BPCL, in which the government wants to offload its equity. The process has started here as well. Expression of Interest has been issued in the Shipping Corporation of India and February 13, 2021, is the date for submission of bids and after that further process will continue. After the arrival of the EoI, it will go to the second stage. In the same manner, the expression of interest for some other transactions will be brought soon, like Neelachal Ispat Nigam Limited (NINL) that is based in Odisha and Bharat Earth Movers Limited (BEML), which was decided by the cabinet. And in this process, we will bring the expression of interest for CONCOR after some time. 
Q: On BEML you said that expression of interest will be bought soon. Can you provide a timeline for the same and can we see it before the end of the year?
A: We are trying to bring it this year and are making efforts in that direction. 
Q: This year calendar year or financial year?
A: I am talking about the calendar year. 
Q: Questions were raised on the way talks that are going on and companies are showing their interest that the government may not get good valuations and the government is very clear that it will not proceed until it doesn't get a right value for the asset. So, what is the situation on it at present and what kind of interest is coming in that direction? Give us an idea about it?
A: First, let me tell you that our process is quite structured and is available in the public domain. In that, it is processed in two stages (i) first we take it in form of Expression of Interest, where the qualified bidders, who qualify at a minimum level that includes net worth criteria, financial criteria and other conditions, are taken into consideration. After this, they have to face due diligence criteria and, in the process,, there is a data room, where we look the contracts, they can visit the sites and after this, a share purchase agreement and other documents are shared with them, after which a financial bidding process takes place. Financial bidding doesn't take place in the first stage but when all the preparations are done then they are provided with an RFP for the financial bidding. And, then other procedures, like reserve price fixation, decision making and the process of transfer happens. If it is a listed company, then an open offer is brought as per SEBI rules. So, there are different stages of the process and the valuation does not come at this point, it comes after financial bidding takes place. Reserve Valuation comes only after receiving the financial bids. Yes, it is true, as you said, that COVID has had an impact on it but it has come to an end and I can say that now we are on the back on track and the transactions of strategic divestment are going ahead. 
Q: You have spoken about CONCOR and its EoIs will be brought soon but there is a problem of land license fee. How much resolutions you have received in it and how soon the Cabinet note will be released? Will you release EoI only after getting the Cabinet note?
A: A clarification about the lease policy for land leasing is needed and the Railway Ministry is working on it. I hope that soon after the decision of the railway ministry, we will be able to bring an EoI on it. 
Q: At the start of the year, you had a divestment target of around Rs 2 lakh 10,000 crores, of course, it has been pushed back due to the COVID. Do you think that you will be able to reach 50% mark of the target that was fixed or tell us about what can be achieved by the end of the year? Also, will we see any more actions on the buyback or OFS front?
A:  Regarding the target, I have already clarified that the target of Rs 2.8 lakh crore was divided into two parts. Of which one was of Rs 1.4 lakh crore for the companies and Rs 90,000 crore for the Department of Financial Services (DFS) regarding disinvestment of the banks. As you were talking about the pre-COVID situation, then it is well known that the world economy has suffered so much and a lot of turmoil has been there even the banking sector because of which the government has taken several steps for the liquidity and other things. So, if we analyze things based on the old target, then it was a pre-COVID situation and the whole economy was impacted by the COVID. Now, we are seeing ways to move forward. So, I can say that we are moving forward because we have performed many transactions in the market. For instance, we said that we will bring initial public offerings (IPOs) and add gravity to it because it will be new in the stocks market. So, we brought an IPO of Mazagon Dock Shipbuilders, which was received well by the market. In the same league, the process of IRFC and RailTel is on and we are trying to bring them in this financial year. And, there have been some transactions related to minimum public shareholding, like HAL, where minimum public shareholding has been reached; same has happened in the case of Bharat Dynamics Limited and recently transactions have taken place in IRCTC, where minimum public shareholding norms have been reached. So, such market transactions have been completed. As far as strategic divestment process is concerned, it is process-driven and there was some interruption in that process due to COVID but it has been solved a bit and the transactions are going forward. So, we are trying to carry forward the transactions on which the cabinet decisions were made. 
Q: Going forward what actions can be seen in terms of buyback and OFS? You have said, a few days ago, that some decision will be taken on KIOCL?
A: Two buybacks have been completed, like the buyback of RITES and KIOCL. In the same manner, NMDC has also announced a buyback. There is a time in buyback and that time is running. So, the buyback of NMDC is announced and NTPC has also announced a buyback. Thus, different companies have announced their buyback. We have taken two decisions of which one is buybacks, where there is a possibility given the CapEx, the Capital Expansion Program, we have is also important for the economy. Finance Minister constantly reviews the CapEx program of CPSE to make sure that are they meeting their CapEx program or not because it is an important stimulus from the point of view of the economy if it is done properly. In view of all those requirements, if access cash is available, then we have asked them to give it in form of buyback so that the shareholders get an appropriate reward. We have taken a lot of decisions for investor interest, including the investors' concern related to the PSU stocks. Following the same, we have said that equity ETF will be paused and we will not move forward in it. In the case of OFS, we have said that in a selected way, we will not bring it repeatedly in one particular stock. We have also clarified the market about it. We will give importance to IPOs and NPS. We have also issued directions related to consistent dividend policy to CPSEs. We have asked them that the dividend stocks (companies) - because many investors look it from the dividend point of view – should also take care of their investors and provide regular good dividends to them. And, it is not so that the dividends should be paid on an annual basis but it can be offered on a quarterly or half-yearly basis. It should be provided on an interim basis and we have directed the same to them. 
Q: There are talks related to the OFS of SAIL. Is it correct?
A: I cannot say about where it will come and where not in this way because they are price-sensitive issues and a proper announcement about it will be made at a right time and in accordance to the rules. 
Q: Will we be able to see the divestment of BPCL by the end of this financial year or it may spill over to the first quarter of the next financial year?
A: It will be our endeavour to carry it forward but the process takes its time. So, it will take its own time, however, it has moved ahead but due diligence process is on. So, it is difficult for us to say that it will be done by March 31, 2021, or some particular date. We will try to make it happen properly. 
Q: Do you think that SCI, CONCOR and BEML can be completed by the end of this year?
A: In this case also, many things take it time, so saying that it will be done by this date will not be right. We are looking at this as a pipeline of our privatization or strategic disinvestment pipeline and how it culminates properly. So, it will be our endeavour and are succeeding in the endeavour. 
Get Latest Business News, Stock Market Updates and Videos; Check your tax outgo through Income Tax Calculator and save money through our Personal Finance coverage. Check Business Breaking News Live on Zee Business Twitter and Facebook. Subscribe on YouTube.