We will be investing Rs 100-125 crores in next fiscal, says Arvind Kapur, Rico Auto
Arvind Kapur, Chairman and Managing Director, Rico Auto, speaks about the impact of a production cut by OEMs, concern related to demand and revenue target from aftermarket segment among others during an interview with Zee Business.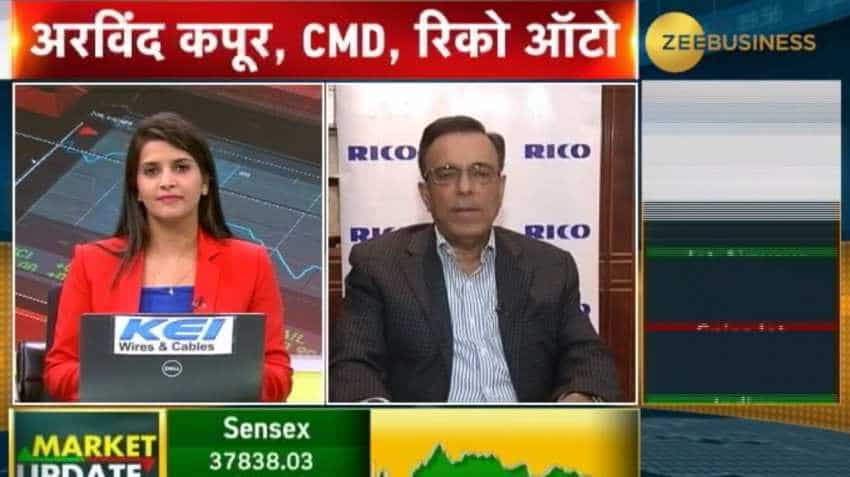 Arvind kapur said that demand in the automobile industry is cyclical in nature and currently it is down. Image source: Zee Business
Arvind Kapur, Chairman and Managing Director, Rico Auto, spoke about the impact of a production cut by OEMs, concern related to demand and revenue target from aftermarket segment among others during an interview with Pooja Tripathi, Zee Business. Edited Excerpts: 
Q: Several OEMs, in recent past, have announced their plans for a significant production cut. What is your view on the ongoing demand scenario in the auto sector?
A: Demand in the automobile industry is cyclical in nature and currently it is down. However, we have trust in the aspiration of Indians and demand will go up from June-July. So, we are very confident that the demand for two-wheelers, cars and commercial vehicles will go up from June onwards. 
Q: Any concern related to demands from clients like Maruti, Hero MotoCorp and Ford? 
A: Our list, to whom we are supplying, is very wide and our clientele includes BMW, Renault, Nissan, Bajaj Auto and Hero among others and we are okay with it. Apart from this, our export business is also doing good as overseas customers are demanding from us. When it comes to Hero than we are confident that it will start picking again in the next one or two months and we can see a better prospect in the auto industry. 
Q: Update us on the kind of response that Rico Auto has received from the aftermarket segment, where it forayed in August 2017? Also, talk about its contribution to your revenues and target for the next fiscal?
A: We started with a target of Rs10 crores and had a target of Rs25 crores in the second year. We are hopeful that we will achieve it by the end of this fiscal. We have kept an aggressive target of Rs100 crores for the third year or the next fiscal. 
Q: Do you have any plan to expand your distribution network, which stands around 62 at present?
A: Distribution depends on distributors and dealers and it will be increased. So, we will make efforts to take it to 100.
Q: Rico Auto also manufactures certain parts for electric vehicles (EVs). What are your view on the EV market and your strategy for the segment? 
A: See, the electric vehicle segment is in focus at present. In fact, the government and manufacturers, both, have a special focus on the electric vehicle segment. But, the segment is facing certain challenges and we will have to find a solution for it like 
•    Charging stations – it is one area where we need to work
•    Pricing – EVs are too costly and we will have to find ways to bring it down because we will not be able to find the buyers in India at least when EVs are priced between Rs15-25 lakhs. It will like a luxury vehicle. It can be sold only if they are priced between Rs6-7 lakhs. Interestingly, the battery is the biggest contributor to the cost and will have to find ways to get them down and I think it is going to be a challenge. But, everybody is working in that direction. Possibly, it may take 10-15 years by when the prices will be brought down, and we will be able to create an infrastructure to support the segment. 
Q: 10-15 years, it's a long time. Do you mean that EV market will such a long time to settle, if yes, then has the industry started a discussion on its prices with the government?
A: The government is compensating and offering subsidies under FAME (Faster Adoption and Manufacturing of Electric vehicle) 2. The government is cooperating and encouraging people. It is subsidizing them to create charging station etc. So, all this is happening, but it is a huge process. Imagine what will happen if you are asked to set up new petrol pumps across India 
Thus, it is as gigantic as it was done with petrol pumps earlier. I think it will take its time, but it will happen. However, it will take more than 10-15years to make these cars affordable. 
Q: I will like to understand your segmental revenue, .i.e., contribution of two and four wheelers in your revenue?
A: It is well distributed and the two-wheelers segment has a contribution of around 35 per cent to our revenues and the balance is completed by commercial vehicles and four vehicles like cars and passenger vehicles. So, that is how the distribution is. In the commercial vehicle, we also sell our products to off-road vehicles to like Caterpillar and others. Things are well distributed and the performance of any one of the market keeps driving us. We have 14 plants in India and they remain busy almost every time. 
Q: Nepal and Sri Lanka are an important export destination for Rico Auto. But, Nepal has imposed 45 per cent duty on imported auto components. Will it have an impact on the export earnings of the company?
A: We majorly supply to OEMs based in the US and Europe. It is US + other Americas, i.e. Brazil, Mexico and Canada. So, we supply to that part of America. We are supplying our products to all the countries in Europe including Germany and France. Apart from this, we also send our products to Turkey and other countries.  
What is happening? It is a globalised world with common platforms. So, if we supply components to Renault in France then they want us to supply it to Renault in Morocco and Renault in Turkey and China. SO, I supply to all these countries. Besides this, Japan and China are also a big market for us as we supply some components to these nations. 
Nepal is only for aftermarket and we have just started selling in Nepal. So, the impact will be minimal, of course, the components will get expensive but that is a minimal market for us. 
Q: Explain to us about your cost structure and metal's contribution to it as we have seen that there is a recovery in the metal prices. Will it have any impact on the margins of the company? 
A: We pass through the commodity prices including metals. In fact, we reduce our prices when there is any decline in commodity prices and vice versa happens when it goes up. Thus, it will not have a major impact on the margin of the company, but it has a small impact on the percentage of profit.
Q: Update us on your expansion plans? Also, provide details about your plans to enter the three-wheeler aftermarket components in April 2019?
A: This year, we have invested Rs160 crore from Rs200 crore, which was sanctioned from the board. The balance from this Rs200 crore will be used along with Rs40-50 crores that will come through redemption. In fact, we will be investing around Rs100-125 crores in the next fiscal. This investment includes expansion plans at Halol, Sanand, Pathredi and Bawal. 
So, these are the places including Chennai where we are expanding ourselves. We are putting more machines there and the expansion has been planned in accordance with the orders that we have from our customers. And as far as, the aftermarket is concerned, we will be supplying components for three-wheelers as well. And, every year we will try to enter into one additional segment of the market as we did by entering the two-wheeler segment and then to the four-wheeler segment. 
Watch this Zee Business video
Now, we are going to enter three-wheeler and then we will look forward to the commercial vehicles.
Get Latest Business News, Stock Market Updates and Videos; Check your tax outgo through Income Tax Calculator and save money through our Personal Finance coverage. Check Business Breaking News Live on Zee Business Twitter and Facebook. Subscribe on YouTube.