Turbulence in the Sky: SpiceJet flies into Rs.38 crore loss
Mumbai: Airline companies continue to fly into turbulence. SpiceJet on Tuesday reported a loss of Rs 38 crore on account of rising fuel prices, volatile currency and an arbitration reward.The Gurugram-based no-frills airline had posted a net profit of Rs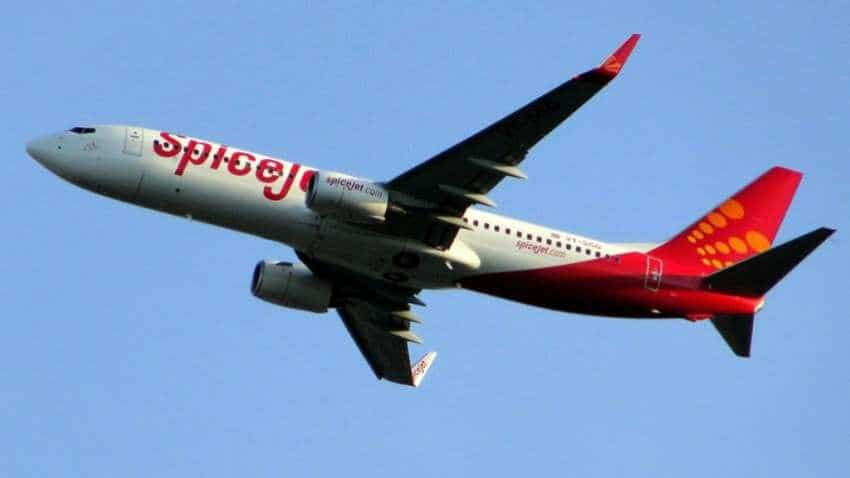 As per the regulatory filing, SpiceJet's net income rose 20% to Rs 2,277.80 crore in the reporting quarter, compared with Rs 1,886.30 crore in the year-ago period. Image: Flickr
Updated: Wed, Aug 15, 2018
08:59 am
New Delhi, ZeeBiz WebDesk
Mumbai: Airline companies continue to fly into turbulence. SpiceJet on Tuesday reported a loss of Rs 38 crore on account of rising fuel prices, volatile currency and an arbitration reward.The Gurugram-based no-frills airline had posted a net profit of Rs 175.2 crore a year ago. The development comes days after market leader IndiGo reported a 97% drop in profit while crisis-ridden Jet Airways deferred its first-quarter results announcement and is said to be making efforts to raise funding for its operations. The airlines have blamed the drop in profits to rising fuel prices coupled with "unsustainable" airfares and currency volatility.
As per the regulatory filing, SpiceJet's net income rose 20% to Rs 2,277.80 crore in the reporting quarter, compared with Rs 1,886.30 crore in the year-ago period. However, the fuel bill rose to Rs 812.40 crore during the quarter as against Rs 534.30 crore in the period year-ago. The company has provided Rs 63.5 crore for an arbitration award that cited interest payable of Rs 92.5 crore and interest receivable of Rs 29 crore, it said in a release. With this one-time provision, the airline has now fully provided for the maximum amount that may be payable under the arbitration award, it said. Capacity during the reporting quarter rose 14 %, while growth in yields grew 4%, the company said.
Ajay Singh, chairman and managing director, SpiceJet, said in a statement, "As we start inducting the new fuel-efficient B737 MAX and Bombardier Q400, we will be able to significantly reduce our overall costs even as we aggressively expand our network both in India and overseas. We are confident that our operating model is robust to deal with this current unfavourable macro-economic headwinds."
SpiceJet had last month informed the exchanges that an arbitration tribunal has rejected the Rs 1,323-crore damages claim from the airline and a bid to take control of the airline by its previous owner Kalanithi Maran and his company Kal Airways. While the tribunal asked Maran to pay Singh and the airline Rs 29 crore in penal interest, Singh was asked to refund Rs 579 crore plus interest to Maran. The case dates back to January 2015, when Ajay Singh, who owned the airline earlier, bought it back from Maran.
SpiceJet had then said there was no monetary impact from the verdict as most of the refund of Rs 370 crore already deposited in an escrow account created by the Delhi HC.