Titagarh Wagon will be long term debt-free by March 2021: Umesh Chowdhary, Titagarh Wagons
Umesh Chowdhary, VC & MD, Titagarh Wagons says work of restructuring and reforms in Railways is running at a pace, like a high-speed train.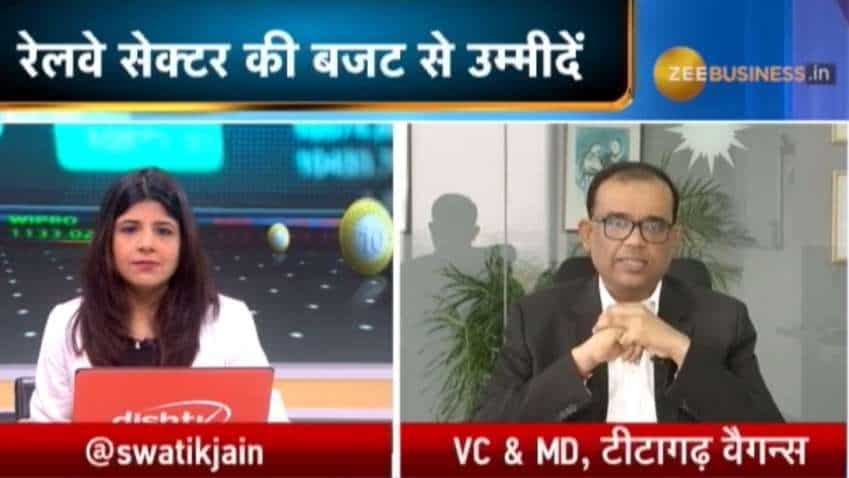 Our order book was announced with September quarter results. Our Indian order book stands around Rs 2.50 crore to Rs 3 crore, says Umesh Chowdhary, VC & MD, Titagarh Wagons.
Written By:
Jitesh Kumar Jha
Updated: Fri, Jan 10, 2020
04:22 pm
New Delhi, ZeeBiz WebDesk
Umesh Chowdhary, VC & MD, Titagarh Wagons, talks about his expectations from the budget, current order book, private trains and divestment of CONCOR among others during an interview with Zee Business's Swati Khandelwal. Edited Excerpts:
What are your expectations from the upcoming union budget for railway sector?
The work of restructuring and reforms in Railways is running at a pace, like a high-speed train. The government wants to run its agenda of reforms at the same pace due to which they - in the last 5-6 years - has invested a lot on the railway infrastructure. Now, they will have to make investments on rolling stocks to utilize the capacity that they have created through the previous investments. This investment can be made either by itself or through the private sector as per the PPP schemes, which can be done by bringing in user-friendly policies that are transparent and long-term policies. We have two things in our wish list and they are (i) It should increase its investments towards capacity utilisation for the capacity that they have created through huge investments and (ii) they, the government, have made announcements related to private passenger trains. Similarly, they also have various schemes for freight like AFTO, WISS and CTO among others and they should find ways to boost this segment as well to make sure that private sectors increase their investment on wagons. It will have a big impact on the overall economic growth as well as our sector. 
See Zee Business Live TV streaming below:
What is your current order book and how much order pipeline is visible in Q4FY20?
Our order book was announced with September quarter results. Our Indian order book stands around Rs2.50-3 crore. Besides, the tender of 6,500 wagons which were floated a month back will be finalized between January and February 2020. There is a slowdown in the railway's traffic loading but I think it is a temporary phenomenon and has been created due to the slump in economic growth. I don't think that the Railways will take a short-sighted view on it and will continue with their demand for wagons. So, no new orders have been booked but the tenders are open, which will be booked by the end of this quarter. 
Indian Railway is focusing on bringing in new private trains. So, what are your expectations from it and what role a player like you will play over there?
Players like us will play a vital role in it as our Italian subsidiary's technology and credentials have helped us to win the Pune Metro contract. Secondly, Titagarh has been manufacturing for EMU and MEMU railways in India for many years. We have the capabilities of building EMU and MEMU and technology to manufacture modern train sets. 
So, the private sector will have to buy trains to function then at such a time, we will provide them with the trains of European standard - Indian population has a wish to travel in trains of European standards - that too at Indian cost. Thus, a big opportunity is waiting to open as private sectors have the permission to run passenger trains across the world and soon, it will be given in India as well. I don't think that this is a business opportunity that can reflect in the books in this financial year or the next because this is a long-gestation business. But, it will provide a big business opportunity in the coming 3-4 years. 
What about the defence business order pipeline and what is your business outlook especially in Italy? What is the CapEx for the entire business in FY21?
We haven't received any new order in the segment in the recent past but hope that it, defence ordering, will pick up now but we haven't received too many orders from it related to our sector, as of now. Possibly, they would have passed orders related to sophisticated equipment but I am not aware of it. This why this segment has been sluggish on our part. When it comes to overseas orders than we have am order book of 250-300 million Euro and we are actively participating in several tenders. Interestingly, a completely new management team has joined us in Italy and the team is lead by a very experienced CEO. Due to environmental concerns, several things in Europe is shifting towards rail from the rail and this shift will provide enough growth opportunities into us. However, the Italian subsidiary will benefit us more in the Indian market because we can bring its technology, credentials and expertise to India and cater to the Indian market. 
As far as CapEx is concerned then our business hasn't been quite buoyant in the last 5-7 years. This is a reason that we were upgrading ourselves and the benefits of the CapEx that was used during this period is visible to us, now. Besides, we don't have very big CapEx at present in India. We are installing a metro coach plant, which means a lot has been done. So, our CapEx will not be more than 10-15% more than a normal metro coach. 
The government has taken a privatisation stance in Railways, which is a re-rating of the sector. What impact will this decision will have on the shareholders?
I believe that the Pune Metro Contract which was awarded to us is an opportunity for us to enter into the passenger segment with Italian technology. Titagarh Wagon started its journey in 1998 as an ordinary wagon manufacturer with a capacity of 150 wagons/annum, which has increased to 8,000 wagons/annum in 22 years. So, we have been able to create a mark in Wagon segment and can grow as per the normal market growth. But, this passenger train segment is a high-technology segment, which can be termed as a clear blue sky platform. So, the opportunity to grow in the segment is enormous. So things will depend on the way in which government policies are unfolded. Government has been working with an agenda of corporatisation or private participation or restructuring and it is something that makes me bullish that this market will emerge as a big market in the next 5-6 years. If you have a look at worldwide passenger trains like Alstom, Siemens and Bombardier, then their order book and revenues are in billions of Euros and they manufacturing passenger trains. But, no private sector player has been engaged in developing private trains in India. I think Titagarh is the only Indian company that has its own technology through its Italian subsidiary and will be able to built trains of European standard in India.
Update us about the railway's order of 6,500 wagons which would be about to reach in your hands?
A reverse auction exercise of 6,500 wagons was held a month or two back and we are well placed in that, however, the order finalisation has not been completed till date. It is hard to talk about the what tender finalisation timelines, but, we hope that the orders will be finalised in a month or two. We will not receive the order of entire 6,500 wagons but will get a certain portion of the same, which will be known only after the final results are announced. 
Any expectations related to metro?
Several tenders related to metro has been issued and we will be participating in a few of those tenders. Tenders of Kanpur, Agra and Mumbai were announced in the recent past and I was reading that tenders of Bhopal and Indore will be released soon. Thus, tenders of several metros are either out or will be out soon but we will not participate in each of these tenders as we are very selective on the tenders in which we participate. We are selective because as I have mentioned that it is a high-technology product and tender participation is a costly process in itself. So, we will participate in those tenders where the percentage of win ability seems to be high. 
What is your view on the government's decision of disinvestment of CONCOR and will a company like yours will saw its interest in it? Any M&A plans?
When it comes to disinvestment of CONCOR then we don't have any plans to look towards forwarding integration, i.e. wish to go towards operations because we would not like to be seen as a competitor to our customers. Every container train operators are our customers and we would like to see them as a customer of ours and be a supply partner for them instead of a competitor. As far as M&A is concerned then there is no big-ticket M&A that we are planning right now. Ample opportunities are visible in the business segments that we have like freight segment, defence, bridge and passenger transit business. So we would like to consolidate it with an aim to strengthen our position in each of these segments. Secondly, we have a target of reducing the long term debt, which stands around Rs200-250 crore, at the Indian level. We have a target of being a longterm debt-free company by March 2021.