Tata Motors Q2 Results: PAT at Rs 3,764 crore, beats Street estimates; revenue up 32%
Tata Motors registered a 32.1 per cent year-on-year increase in revenue to Rs 1,05,128.2 crore for the July-September period, slightly short of Street expectations.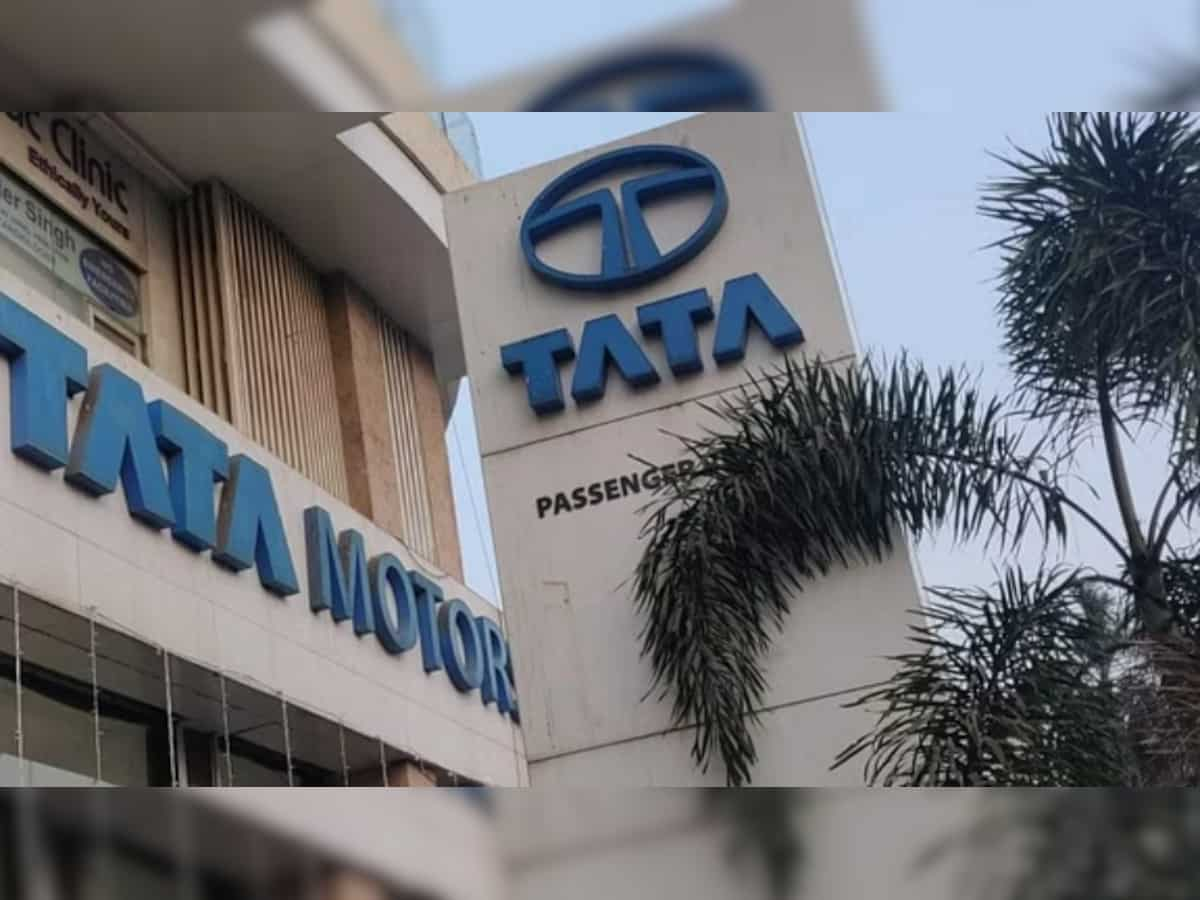 Tata Motors announced its Q2 results on Thursday, November 2. | Image: PTI
Tata Motors Q2 Results: Tata Motors on Thursday reported a consolidated net profit of Rs 3,764 crore for the July-September period, better than analysts' estimates and in stark contrast to a consolidated net loss of Rs  944.6 crore for the corresponding period a year ago.
Its revenue from operations grew 32.1 per cent on a year-on-year basis to Rs 1,05,128.2 crore, slightly short of Street expectations, according to a regulatory filing. 
According to Zee Business research, the Tata group auto giant was estimated to report a net profit of Rs 3,400 crore and revenue of Rs 1.06 lakh crore for the second quarter of the current financial year.
Tata Motors registered Rs 14,400 crore in earnings before interest, taxes, depreciation and amortisation (EBITDA) for the quarter under review, marking an increase of 86.4 per cent compared with the year-ago period. 
Zee Business analysts had pegged the Tata group carmaker's quarterly EBITDA at Rs 13,400 crore.   
Tata Motors said it remains optimistic on demand despite external challenges and anticipates a moderate inflationary environment. "We aim to deliver a stronger performance in H2, due to a healthy order book at JLR, strong demand for heavy trucks in CV and exciting new generation products in PV. Our financial performance is expected to improve further owing to a richer mix, continued low-break-even in JLR, execution of demand-pull strategy in CV and improving profitability in PV/EV," the company said. 
"It is pleasing to see all the businesses deliver on their well-differentiated plans this quarter. With a strong product pipeline, a seasonally stronger H2 and continued focus on cash accretive growth, we are confident of sustaining this momentum," said PB Balaji, Group Chief Financial Officer, Tata Motors.
Tata Motors subsidiary Jaguar Land Rover's revenue for the three-month period increased 30.4 per cent to 6.9 billion pounds, the Mumbai-headquartered auto major said. JLR's revenue for the first half of the fiscal year reached a record 13.8 billion pounds, up 42 per cent on a year-on-year basis, driven by higher wholesales, a better mix, cost reductions, and investment in demand generation.
"I am pleased to announce another strong quarter of financial and operational progress for JLR. We have delivered our best ever cashflow in the first half of this financial year and delivered another profitable quarter due to the strength of our financial performance," said Adrian Mardell, Chief Executive Officer, JLR. 
"These results demonstrate the huge desirability of our modern luxury product portfolio and the skill of our hard-working teams who have increased production to ensure we can satisfy the substantial demand for our cars more quickly," he added. 
Tata Motors said its revenue from commercial vehicles increased 22.3 per cent to Rs 20,100 crore for the July-September period, but that from passenger vehicles declined 3.0 per cent to Rs 12,200 crore.
Tata Motors shares ended 1.5 per cent higher at Rs 636.8 apiece on BSE ahead of the earnings announcement.
The Tata Motors stock grew 5.9 per cent in the September quarter, sharply outperforming a 2.4 per cent rise in the headline Nifty index but underperforming a 6.8 per cent gain in the Nifty Auto gauge.
Updated: Fri, Nov 03, 2023
02:58 pm
New Delhi, ZeeBiz WebDesk