SpiceJet focuses on profitability instead of market share: Ajay Singh, CMD
There were several states that hiked the VAT on ATF when crude prices were on a decline. For instance, VAT on ATF was hiked to 25  per cent  from 20  per cent  in Delhi.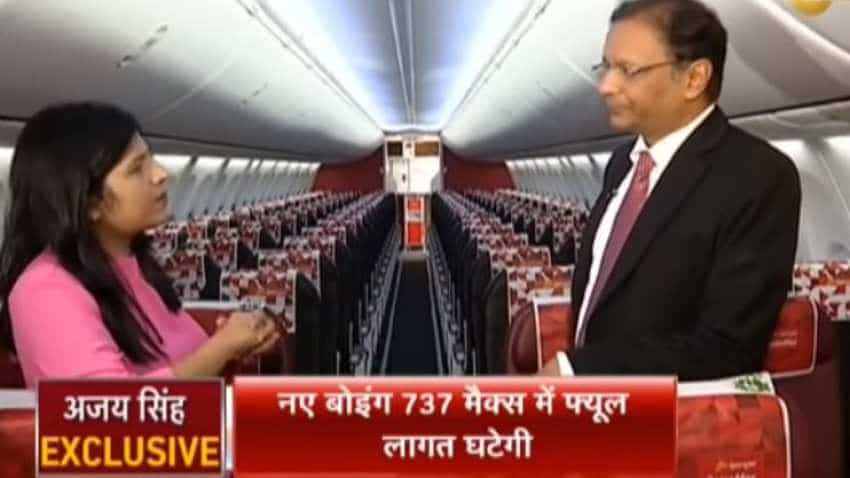 SpiceJet has a market share of nearly 13 per cent but we focus on profitability instead of the market share, says Ajay Singh.
Updated: Sat, Oct 13, 2018
04:57 pm
ZeeBiz WebDesk
Ajay Singh, CMD, SpiceJet, in an exclusive interview with  Swati Khandelwal, Zee Business, also revealed that the airliner has asked the government to reduce excise duty on aviation turbine fuel (ATF) and bring it back to 8 per cent from existing 14 per cent. Edited excerpts: 
Do you think that the government should provide some relief in ECB (External commercial borrowing) norms? 
A: The excise duty on ATF was hiked to 14 per cent from 8 per cent when there was a decline in crude prices. we have requested the government to bring it back to 8 per cent, under existing situation, where the oil prices are at peak. But it is something that will be decided by the government. 
Similarly, there were several states that hiked the VAT on ATF when crude prices were on a decline. For instance, VAT on ATF was hiked to 25 per cent from 20 per cent in Delhi. However, there are a few states that have been reducing VAT on ATF and are coming up with policies that will help aviation companies to look towards them. I feel this reduction of VAT on ATF will help airlines to increase flight numbers in those states. 
For instance, the government of Uttar Pradesh reduced VAT to 0 per cent on all new routes that are or will originate in the states. Similarly, Telangana government charges 1 per cent VAT at Hyderabad airport and West Bengal government has halved VAT on additional ATF. These efforts are helping us to compensate for our revenues. I hope, that other states will also join the league soon. 
It seems that the rise in fuel prices will lead to an increase in flight fares in the next few weeks or months. I would like to know whether the government is open to the idea of accepting some proposals that have been given by you?
A: See, there is a lot of sympathy for the aviation sector and we are in discussion with the government. I feel, it may take some action related to our demands and I can't disclose the same at this moment as the discussions are on. At the same time, we, the airlines, should also do at our end like an increase in fares between two destinations.
Do you think that the crude prices can reach the mark of $100, as there are predictions related to it? Similarly, the rupee has breached the mark of 74 and there are talks that it can reach up to 80 against the dollar?
A: See, when things get worse then people say that they will get worse. Similarly, at the time of improvements, they predict more improvement. For instance, when there was a decline in crude prices then there were people who said $50 is too high and chances are there that it will come down to $40, $30 and even to the low of $20. Same goes when prices are on the rise. Then there are predictions that crude price may reach the mark of $100 to $150.
We consulted 10 top investment banks while deciding on our business plans and all of them in their suggestion said that prices of crude are going to rest between $52-60 but they went wrong. So, it is very difficult to guess anything on the front with a hope that crude prices will stop at the level and start falling from there, but it is hard to say anything related to it. 
Let us know about the plans of SpiceJet and de-risking strategy for the same that was used in your non-flying businesses like cargo and ancillary?
A: Our first strategy is to reduce our current cost basis. It will be met through the new planes,  you are standing in one of them and rest will join our fleet in next few years, as it is 14 per cent more fuel efficient and requires less engineering costs. In fact, these planes will help us in reducing our cost by 10 per cent or more. 
Secondly, we will also try to increase our revenues in both segments, namely passenger revenues and ancillary revenues. The revenue on the passenger side will be increased by adding new destinations, especially in locations with less competition in our list. On the ancillary front, the revenues will be increased through the seats of Spice Max plane, which are premium economy seats. I feel these seats will help us in increasing our revenues. 
Besides, on the cargo front we have introduced freight aircraft and with it, SpiceJet turns the first Indian airline to have it. One will have to go out-of-the-box while thinking and experimenting with things, however, there is no compulsion that you will achieve success in all of them. 
I would like to know about the current market share of SpiceJet and your efforts to increase it? In addition, you are going to have a completely new fleet and destinations in your list. Can you give some idea about the new destinations that will be added in the list and increase in the frequency of flights? 
A: SpiceJet has a market share of nearly 13 per cent but we focus on profitability instead of the market share, and this is a reason that we have been successful in posting positive results in last 14 quarters. When it comes to flights, then these are being increased as we have launched 42 new flights in the month of October itself and have plans to add 40 more flights to our list in the month of November 2018 and the process of adding new flights is here to stay. For instance, we are flying to Hong Kong from Delhi and have opened booking for the same and the journey will commence on November 22, 2018. In fact, it is the first low-cost Indian airline that will connect Delhi to Hong Kong directly. Similarly, we have also started several flights to Bangkok like Hyderabad to Bangkok and Amritsar to Bangkok among others. There are several unserved destinations and we will add them to our list with the arrival of new planes in our fleet. 
It is a difficult time for desperate measures. Do you think we can see consolidation in the sector once again? In fact, the sector is facing trouble and many airlines are going through harsh times. 
A: Entire sector is in a problem at present. But those who will survive will emerge stronger in times to come. As far as the consolidation is concerned, let's see what happens in future. However, I think that both the airlines and the government should do something for the sector. As in, airlines can reduce their costs and increase their fare and at the same time, the government, both central and state, should come forward to help us. 
You didn't bid in Air India's privatisation. But I would like to know, would you be interested in taking charge of the airline, if you are given the opportunity?
A: The prevalent conditions are not good and at present. I think that we should concentrate on handling and strengthening the business that we have in our hand at present. But definitely will look forward to the opportunities in future. 
Do you think that crude price hike and the depreciation of rupee will have an impact on the results of the quarter that ended on September 30? Also, let us know the level to which you will be able to mitigate these in times to come?
A: I don't want to give any guidance related to the results of this quarter but the quarter has ended and you should wait for the results. However, the sector is in bad shape and this is a reason that none of the airlines will be able to report great results for the quarter. 
Get Latest Business News, Stock Market Updates and Videos; Check your tax outgo through Income Tax Calculator and save money through our Personal Finance coverage. Check Business Breaking News Live on Zee Business Twitter and Facebook. Subscribe on YouTube.