Simple Policy is needed for metal mining; Districts should be empowered to take decisions: Anil Agrawal, Vedanta
Anil Agrawal, the founder and Chairman, Vedanta Resources Plc, spoke about expected growth of his company and provided suggestions for the new government, whosoever comes to power, to take the country ahead during an interview with Swati Khandelwal, Zee Business. Edited Excerpts: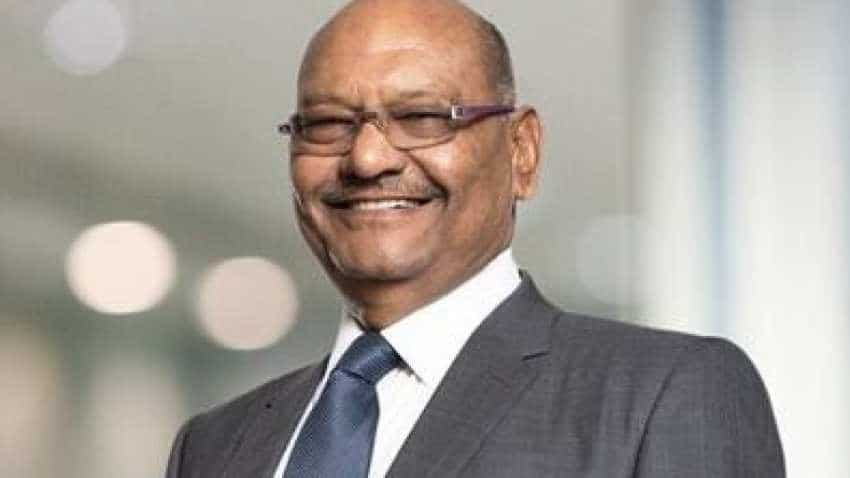 Anil Agrawal, the founder and Chairman, Vedanta Resources. (Image: Twitter)
Updated: Tue, Apr 09, 2019
03:43 pm
New Delhi, ZeeBiz WebDesk
Anil Agrawal, the founder and Chairman, Vedanta Resources Plc, spoke about expected growth of his company and provided suggestions for the new government, whosoever comes to power, to take the country ahead during an interview with Swati Khandelwal, Zee Business. Edited Excerpts:
Q: Let us know about things that the government, whosoever is elected this time, should have in its mind to develop India and how it can be achieved?
A: The world is looking towards India, the largest democracy of the world, where about 1-billion people will vote in a peaceful manner with a surprise that how it can happen. India's election where the nation comes together for a purpose is an example for the world. I wish that it takes us, the country, ahead. Something very important that will happen in this election is that it is going to be a beneficial one for the poor community of the country and it doesn't matters who comes in power as everyone is talking about the poor and ways to benefit them. For instance, someone is talking that Rs6,000/month or Rs72,000/year will be paid to the poor and several schemes for education to health has been announced. They are talking about poverty eradication, which will guarantee access to basic needs like food cloth and the roof. This is a good thing for the nation.     
You were asking what's next, then I would like to say that India is a Golden bird and its cultural values, and people including the women are very special for it. Indian women are special as the country mostly depends on them as it revolves around Lakshmi, Saraswati and Durga. Interestingly, this is not available anywhere else in the world. 
Besides, I have always advocated for poverty elimination and hope that it will be eliminated as there is a ray of hope and jobs should be provided. I have always said few things and would like to repeat it once again and that is that we have worked a lot on earth's surface, in terms of agriculture, and achieved a lot like our country is self-reliant today and it is time when we should within the surface.
Reduction of Imports and Cut off Imports: I think that the money spent on imports should be stopped to further the development works and fulfil the needs of our citizens. For instance, suppose Rs100 is available in the country then Rs50 is spent on imports but if it is clamped down then it can be used within the country. Imports can be reduced/stopped by looking into the lap of Mother Earth, which has several things to offer like gold, oil, copper and fertilizers. Why should we depend on imports for these products at least it is available in the country? In fact, we can export them as we did it in the past, some 200-400 years ago. This will help us in creating employment opportunities as natural resource mining mainly metal mining has the capability to create more jobs. ​
Q: Policy initiatives should be taken by the government. Can you suggest something to the government, at the policy level, to help the country to march on the path of development? 
A: First, the government should come up with a simple policy to explore the metal resources that are available in the country. Districts should be empowered to make decisions and the matter must not supersede to the state or centre level. However, policy decisions can be taken by the state or the centre but when it comes to implementation than the districts should be empowered to take decisions on different fronts like development of sports, mining, industry, culture or something else, as they have the police and you can easily approach anyone to get things done. 
Secondly, banks across the world are willing to increase their micro-finance work. So, I think that anyone with Aadhaar card should be offered a loan of Rs2lakhs for the period of seven to eight years, as records suggest that small loans are easily repaid. The loan can help them in starting a business like buying an auto rickshaw or open a tea stall or buy a buffalo to start milk business. 
Q: Suggest things that the government must not do as they act as they block the path of growth?
Watch this Zee Business video:
A: The business breed/class should be encouraged and supported in going ahead. They should be appreciated and told that they are capable of multiplying things and they will do because they, businessmen, are greedy by nature and we should know the ways to control their greed and inculcate discipline in him/her. This will facilitate growth in the country. Introduce tax reforms that stop the generation of black money. However, GST has simplified things. 
Q: We are going through an interesting transformational phase where everything is changing, and technology is playing an importing role in our life. Under such a condition, I would like to get your view on New India and employment opportunities in the future? 
A: One must forget that they are studying to get a degree but feel that you are a think tank and look on the ways to improve the world. Secondly, we will have to increase the standard of education of our country and offer a world-class education that is seen at Harvard University, Berkeley University or some other universities. If you look on them then you will find that 20 per cent of the faculty members of these universities are Indians. I have talked with many of them and Interestingly most of them want to come back to India. 
Q:  India is accepted as a land of opportunities and people want to have their presence in the country but there are certain concerns that stop them from being here like complex market and unstable policies. What is your view on it? Do you think that the improvement in ease of doing business is also visible on the real ground, if not, then how we can improve on it?
A: It is a good question and I think that in case of Ease of Doing Business the benefit of the doubt should be passed on to the second party and the government must not keep it with itself. 
Secondly, exemplary reforms have taken place and I have seen it in the oil sector. Similarly, reforms in immigration norms at the airports helps people (approx. 1000-2000) do not form a queue on the custom and this can be termed as ease of doing things. So, automation of things can help in it. As I have said earlier, decisions should be taken at one table instead of moving the files from one place to another. 
Interestingly, 50 per cent of the work will be done as soon as the government companies will come out from the government's control. Have a look at airlines, where introduced reforms have helped them in being the best in the world and you can compare them, the private players, with Air India. So, every sector that has come out from the government's control like telecom and the difference is felt between BSNL and private players. Similarly, have a look at the face of airports. 
Have a look at different things and you will find that the sector that has been freed has moved ahead. So, it should leave the control from everything and play a role of regulator and look after the messes and solve it. 
Watch this Zee Business video:
Q: I want your view on the performance of your company in FY20. How important is this year for you and what are your projections for this year?
A: We want to produce 5 million barrels of oil in India and this means that we want to produce almost 50 per cent of oil that is produced in India. We are very ambitious. However, it is a difficult task and no one else can imagine that one can think of producing 50 per cent of oil that is produced in India. In addition, we want to produce 70 per cent of aluminium in India. We also want to produce Zinc (10 lakh tonnes), iron ore (50 million tonnes) and steel (4 million tonnes). 
In the process, our revenue will go up to 30 billion dollars in next two years and profit will stand around 12 million dollars and we are working on the plan and designing a budget for the purpose and for the purpose and it will need an investment of around Rs50,000 crores, which will be made in the next two years. In fact, we have started investing for the purpose. 
Get Latest Business News, Stock Market Updates and Videos; Check your tax outgo through Income Tax Calculator and save money through our Personal Finance coverage. Check Business Breaking News Live on Zee Business Twitter and Facebook. Subscribe on YouTube.